Royal Caribbean is about to change the way you think of private islands. While every major cruise line has gotten into the private-island business over the years, but the stakes are about to be raised as Royal Caribbean invests $200 million in renovations for CocoCay… including a name change to Perfect Day At CocoCay! But that is only the beginning of the story.
Coco Cay Will Get A Waterpark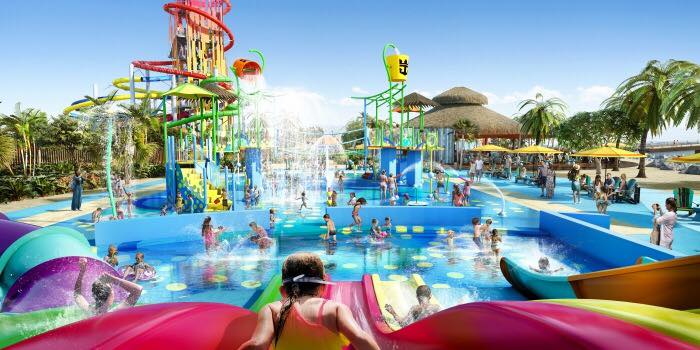 The centerpiece of the massive renovation program will be Thrill Waterpark, featuring two towers and 13 water slides… including the 135-foot-tall Daredevil's Peak, which will become the tallest waterslide in North America. The park will also feature a wave pool and a kid-friendly obstacle course pool. At the Oasis Lagoon — which promises to be the Caribbean's largest freshwater pool — guests will find a swim-up bar and in-pool loungers that will allow you to soak up the sun even as you keep cool.
But wait… there's more, including a 1,600-foot zip line which will let you splash down into the water, and a helium balloon (similar to the one Walt Disney World operates at Disney Springs). No word at this point on whether these thrills will come at an extra charge or be included in your cruise fare.
Two Whole New Beaches

The project will also create two distinct beaches. The first will be known as Chill Island, and it's dubbed as "the ultimate beach escape" featuring white sand and crystal-clear waters. There will also be daybeds and cabanas available for rent. Meanwhile South Beach will be the hot spot for folks who want to play beachfront sport and activities ranging from paddle boarding to zorbing. (Don't worry… we didn't know what that was either. Turns out it involves rolling across the surface of the ocean in a giant, inflatable ball that resembles nothing so much as a huge gerbil ball.
And for those looking to lay out a little extra dough for the ultimate beach day, there's the Coco Beach Club, offering an upscale experience featuring the Bahamas' first over-water cabanas.
When Will The Transformation Begin?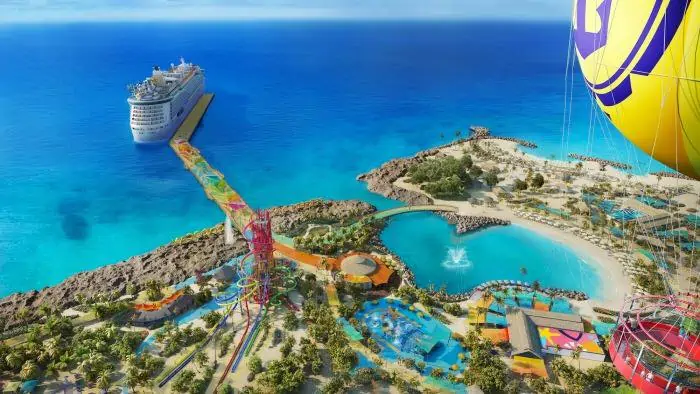 The changes to Coco Cay will be rolled out in phases starting when the island's new pier is completed, with the majority of experiences being opened by the spring of 2019. (Coco Beach Club, the final phase, will not open until around November 2019.)
Royal Caribbean is not investing only in their Bahamas property, as Asia, Australia and the Caribbean will also be added to what's being called the Perfect Day Collection. "We are introducing the Perfect Day Island Collection to deliver the most memorable vacation for adventure seekers on land and on board our ships," said Michael Bayley, president and CEO of Royal Caribbean International. "Once completely, Perfect Day at CocoCay will be the ultimate family destination in the Caribbean."
Why The Move Makes Financial Sense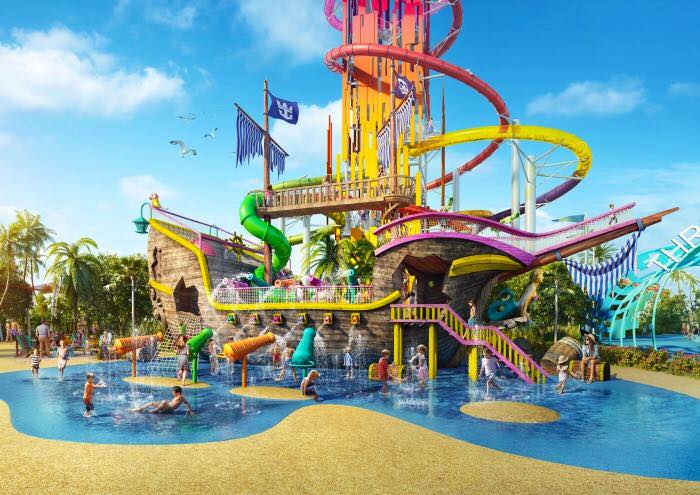 While Royal Caribbean will be investing a huge amount of money in the Perfect Day collection, it's easy to see why they — as well as other cruise lines — believe such investments are worth while. When ships visit ports and passengers disembark, their money goes with them. But any money passengers spend during their time on private islands is still going into the cruise line's coffers. For more on Royal Caribbean's plans for CocoCay, check out the video below!
Photos and video: Royal Caribbean