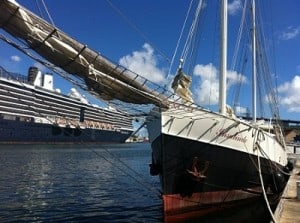 Holland America Line was the recipient of the 2012 Rear Admiral William M. Benkert Environmental Protection Award from the U.S. Coast Guard in recognition of the line's environmental leadership and for successfully achieving several environmental objectives established by the company that exceed standard regulation.
The William M. Benkert Award is the premier marine environmental protection award presented by the Coast Guard to members of the marine industry. The biennial award was created to recognize outstanding achievements in marine environmental protection that go beyond mere compliance with industrial and regulatory standards.
The Benkert Award objectives include:
Improving the environmental performance and overall quality of marine transportation–related companies through a detailed self-assessment process against award standards.
Encouraging the use of the international environmental management protocol developed by the International Standards Organization.
Increasing public awareness of the importance of protecting the marine environment and delicate marine ecosystems.
Providing a means for sharing with other marine enterprises successful methods and techniques used by the winners.
The company first received the biennial award in 2010.
Source: Holland America Line
Subscribe to our Cruise News Updates.