It's pretty hard for us to think about cruising without thinking about food in general and dinner in particular. While at lunchtime we're perfectly happy to swing through the buffet for a salad (Ha!), when dinnertime rolls around, we usually want to be seated and served. For most cruisers, that means a trip to the main dining room. But even before boarding the ship, they'll likely have to make a very important decision: Do we go for traditional (meaning you eat at the same time and at the same table each night) or anytime dining.
You can learn more about Traditional Dining here.
While it goes by different names depending on the line, anytime dining basically means that you have the freedom to eat when and where you want without having to make a reservation. That's not to say you can't make reservations, only that you won't need a reservation in order to get a table.
Anytime Dining Pros
The ability to eat when you want allows for scheduling flexibility, especially when it comes to planning the rest of your evening's entertainment. If a show falls at 7:30 p.m., that might be difficult to catch if you're locked into a traditional dining time.
Anytime dining often affords you a greater range of restaurants from which to choose, as you aren't locked into a specific time and table.
It's generally easier to get a private table with anytime dining as opposed to traditional. People who choose traditional dining while traveling alone or in small parties are often seated with other similarly-sized groups. Restaurants featuring anytime dining tend to incorporate more two and four-top tables into their floor plans.
It's much easier to have a leisurely meal on the anytime dining plan. If you've got an early seating with traditional dining, they need your butt out of that seat in time to clear the table and prepare it for the next group of diners.
Service can feel less rushed because the waiters aren't trying to serve an entire room full of people at the exact same time.
The food is known to be hotter because they don't have to serve 1,000 people at a time.
Anytime Dining Cons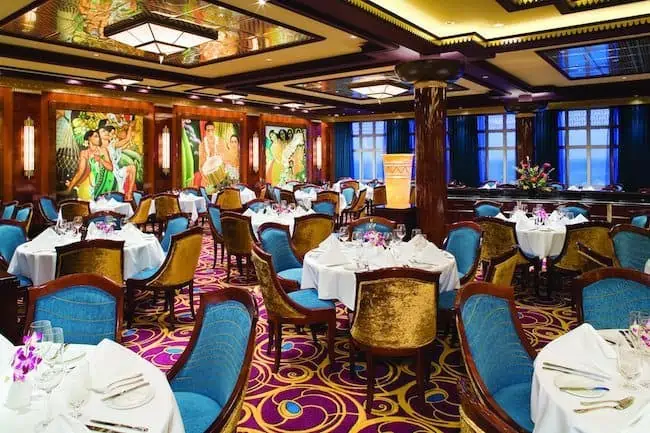 Sometimes, there can be a wait, especially if you decide to show up at your chosen restaurant at the height of the dinner hour. You might wind up being assigned a pager and asked to wait. (Fortunately, there's usually a nearby bar at which to grab a pre-dinner drink!)
Because you are likely to have a different server each night, that person never really gets a chance to figure out your likes and dislikes, making it tougher for them to make recommendations.
It's not always easy to get. Ironically, anytime dining — where you don't need reservations — is one of the first things you should try and reserve upon booking your cruise. On some lines, there are only a limited number of anytime dining slots available. Miss the opportunity, and you'll wind up on a wait list or have to settle for a set dining time.
Do you prefer anytime or traditional dining when cruising… and why?