It was the kind of moment that causes people to whip out their cellphones and hit record. So it's not surprising that videos are popping up around the internet showing the MSC Armonia collide with the pier at Coxen Hole in Roatan, Honduras. And given the damage done by the incident, it's also not surprising that several cruise lines have had to make alternative plans for ships unable to make this particular stop on their itinerary.
How The Cruise Ship Crash Happened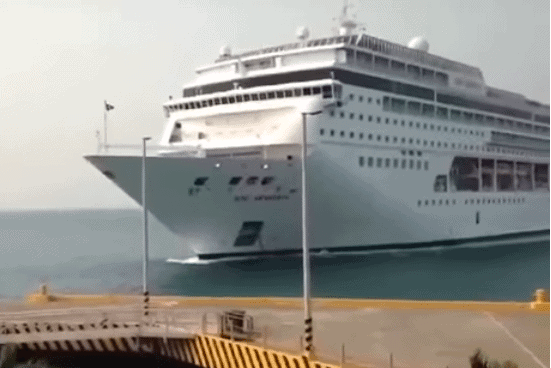 The videos surfacing on social media sites such as YouTube and Facebook show the ship approaching the pier a little bit too quickly and at an odd angle. As it does, you can hear people nearby go from interested to shocked as the situation escalates and the ship makes contact with the pier.
While it is unclear if there was a mechanical malfunction or a technical issue involved, the fact that the captain dropped the anchor in an attempt to slow the ship down indicates it was likely a controlled crash. Despite this attempt to avoid catastrophe, the ship remained on its collision course.
The Ship "Grazed The End Of The Pier"
An E-mail statement released by MSC Cruises reads, in part, "While maneuvering alongside, for reasons that are currently still being duly investigated, the ship deviated from her course and grazed the end of the pier."
According to USA Today, MSC reports that minimal damage was done to the ship, and that no passengers or crew were injured. "There was never any risk for guests or crew on board," MSC said. "There was also no impact for the environment. In fact, while there was a slight delay for our guests to disembark, all who were scheduled to go ashore on excursions and other activities disembarked as planned."
Royal Caribbean's Liberty of the Seas was scheduled to dock in Coxenhole, Roatan on Wednesday but is instead spending the day at sea. Passengers aboard the Norwegian Getaway also reported that instead of Rotan, they would be visiting Belize City.
MSC Armonia is currently home-ported in Havana, Cuba offering Caribbean voyages.
Watch the Video