Carnival Cruise Line thanked the individuals whose quick-thinking helped save the life of a wheelchair-bound passenger who accidentally fell off a dock. The cruise line offered an update on the woman's condition, and on Monday took time to honor the local men who'd served as rescuers.
How The Accident Happened
In a statement to Cruise Radio, a Carnival spokesperson explained the dramatic events. "Last Monday, a guest cruising on Carnival Fascination accidentally fell in the water on the St. Thomas pier, while being escorted in a wheelchair by a family member," it began.
"Two local entertainers who were working on the pier quickly jumped into the water and, with the assistance of our security team, were able to return the guest ashore. The guest was seen by our medical team, and did not sustain injuries. A complimentary replacement wheelchair has been provided for the duration of the cruise."
Carnival then went on to express "our most sincere thanks and appreciation to these individuals for their heroic efforts in assisting this guest."
About The Rescuers
According to NBC news, the two men who bravely jumped in to perform the rescue were Randolph Donovan and Kashief Hamilton. Donovan told the outlet that he was working as a stilt dancer on the pier for the local Department of Tourism when he heard a commotion on the dock.
Seeing what had happened, "I jumped straight in the water from the top level of the dock," he said. "I removed her from the wheelchair because I didn't want the wheelchair to sink with her in it."
Hamilton, who, like Donovan, is a resident of the Virgin Islands, jumped in as his co-worker became fatigued. He said that as efforts to keep the woman from going underwater began to exhaust Donovan, he "went from trying to rescue her [to] trying to survive. I can't lose my friend, so I jumped in!"
Now, both men are rightly being hailed as heroes for having helped avert what otherwise could easily have been a tragedy. In fact, on Monday, Carnival held a special ceremony aboard the Fascination to honor the men who so bravely jumped into the water without thinking of their own safety.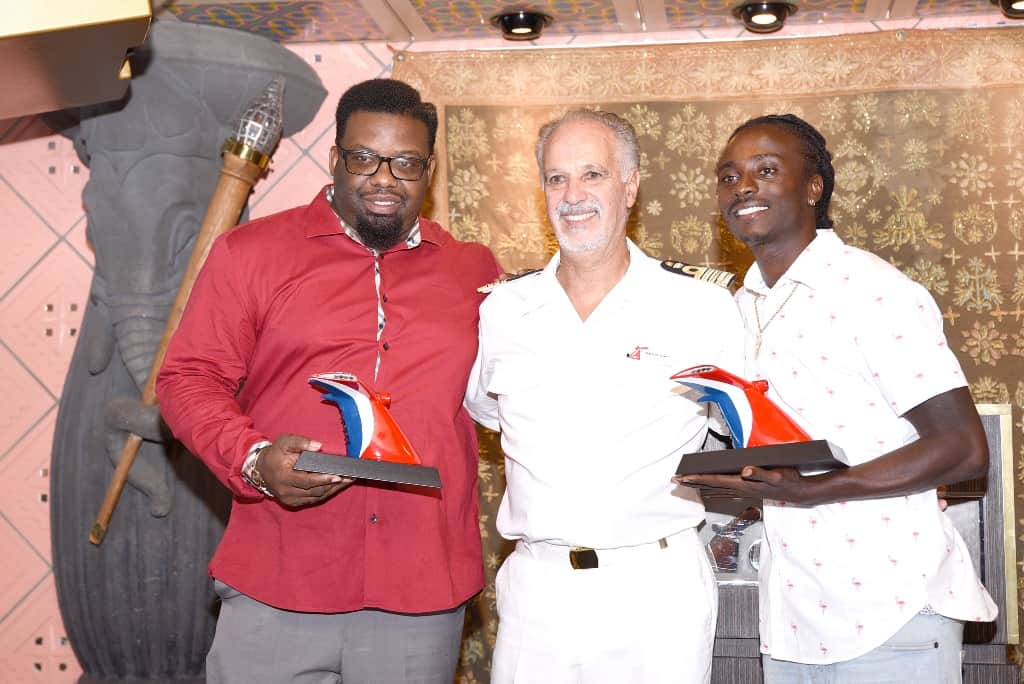 "There is no greater love than laying down one's life for one's friends," said Commissioner of Tourism Joseph Boschulte, who was aboard the ship for the ceremony. "In this case, these friends sprung into action to ensure a life was saved. We give thanks to them and to God for their selfless act of bravery, which has inspired our community in the U.S. Virgin Islands and the world at large.