There's joy at Cunard, as the first of its iconic ocean liners prepares to set sail next month after more than a year of inactivity. But travel restrictions in many international ports have resulted in more itinerary changes and cancellations.
Cunard President Simon Palethorpe broke the news — both good and disappointing — in a video message on the Cunard website.
"On the 19th of July Queen Elizabeth's crew and I will be welcoming guests on board as at long last we return to sailing. This will be a momentous day for Cunard as we finally get back to doing what we do best, hosting guests for fantastic holidays," Palethorpe said.
READ MORE: Cunard Announces 2022 Themed Cruises
But the cruise executive says despite encouraging signs that the world is beginning to open up again thanks to "vaccine programs and other effective measures to manage COVID-19," the return to international sailing is still filled with obstacles that have forced more changes and cancellations.
"Sadly, the path for a return to sailing across international waters is less clear and we are extremely sorry for the huge disappointment cancellations will cause for all guests who have been affected. Unfortunately, there are simply too many international ports of call affected by the ongoing complexities of COVID-19, which has sadly led to this decision."  
Following is a list of cancellations announced by Cunard today:
The line has made the tough decision to cancel 2022 World Voyages on both

Queen Mary 2

and

Queen Victoria

. The company said in a statement: "Due to the number of affected international ports of call, and uncertainty as to when restrictions in each will be lifted, it is highly unlikely that we will be able to operate world cruises early next year as planned. There are simply too many international ports of call affected to deliver a Cunard world cruise experience."

After completing a series of 'UK Staycation' voyages in October,

Queen Elizabeth

was scheduled to return to Australia for a five-month homeport season. But Cunard says that with the current forecasts for the lifting of restrictions in Australia, this will not be feasible. As a result, sailings on

Queen Elizabeth

between October 18, 2021 and March 9, 2022 have been canceled.

The cruise line also announced that "due to the practicalities involved in returning the full Cunard fleet to service, we have made the decision to cancel

Queen Victoria

's current scheduled 2021 voyages." That ship will now remain out of service until late April 2022. The good news here is that five of

Queen Victoria

's sailings will transfer onto identical voyages aboard sister ship

Queen Elizabeth

. These voyages are V126, V128, V129, V130, and V201.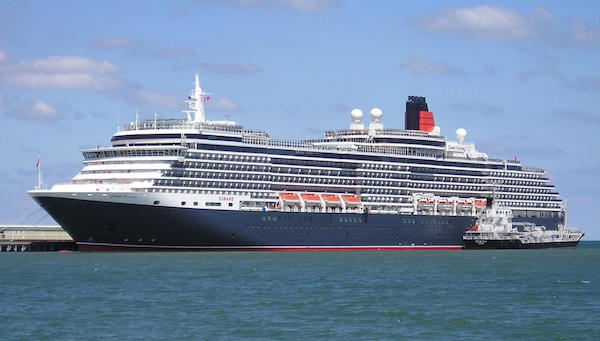 Cunard also announced several new options for its guests:
After completing its summer season of UK voyages from Southampton,

Queen Elizabeth

will begin sailing internationally on October 13, with new voyages heading to the Iberian coast and the Canary Islands.

Queen Elizabeth

will leave the UK in mid-February 2022 to resume her previously scheduled season in Japan from April 13. 

Queen Mary 2

will resume sailing with a Transatlantic Crossing on November 14, 2021 as per her existing schedule, but will now sail on a series of voyages around the Caribbean between January and April 2022, with embarkation options from Southampton, New York, and Hamburg. She will resume her existing published schedule on April 24, 2022.

After being laid up for a long stretch,

Queen Victoria

will embark on three new voyages departing from Southampton from April 22, 2022. Destinations include western Europe, the Baltics, and the Iberian Coast. The ship will resume her existing published schedule on May 20, 2022.
READ MORE: Carnival Staffing Entire Fleet — 'We Want to Bring Back More Ships'
"We're really excited about the new itineraries, such as Queen Mary 2's sailings around the Caribbean, and hopefully these will appeal to those looking for some much needed winter sun and those looking for adventure later this year and in 2022," Palethorpe said.
All new itineraries described above will go on sale in July. Guests whose cruises have been canceled will automatically receive a Future Cruise Credit worth 125 percent of the standard deposit terms, and 100 percent of any additional payments. Alternatively, a 100 percent refund is available.