Cunard and The New Yorker magazine have partnered to offer guests a fun opportunity to explore the world of cartoons on Queen Mary 2. During select transatlantic crossings this year, celebrated cartoonists from the acclaimed magazine will host exclusive panel drawing sessions, workshops, hands-on demonstrations, and caption contests for passengers. The New Yorker has offered a signature mix of news, culture, and the arts since its founding in 1925.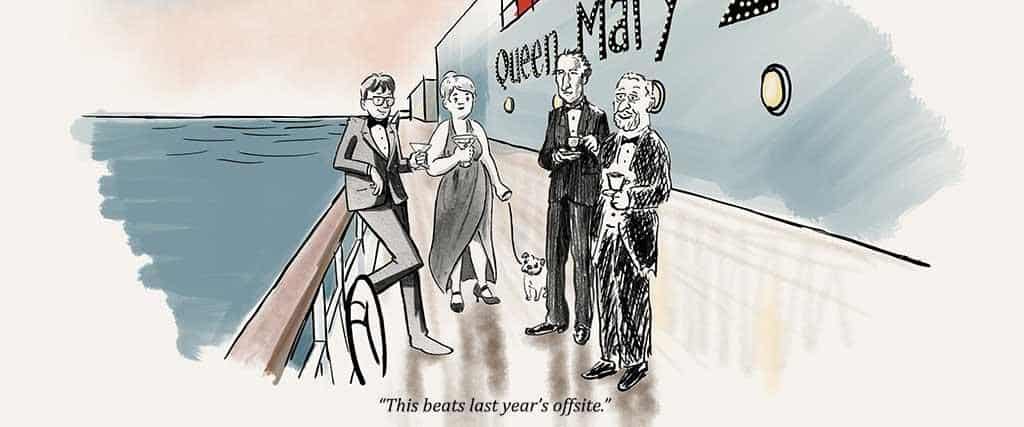 Details
The experts who will be joining the special voyages include:
Emily Flake – July 20, 2018 voyage – Flake has been cartooning for The New Yorker since 2008 and is also the author of "Mama Tried: Dispatches from the Seamy Underbelly of Modern Parenting."
Matt Diffee – June 10 and November 11 voyages – Author of Hand Drawn Jokes for Smart Attractive People and editor of three volumes of The Rejection Collection: Cartoons You Never Saw and Never Will See in The New Yorker, Diffee has been contributing cartoons since 1999. His work has also appeared in a number of other publications, and he recently received the Silver Reuben Award for best single-panel cartoonist of the year and was recently named Chairman of the Los Angeles Chapter of the National Cartoonists Society.
David Sipress – August 26, 2018 voyage – Sipress' work has appeared in the Boston Phoenix, Time, Parade, Funny Times, The Washington Post, and Gastronomica. He also lectures on the art of the cartoon and has published eight collections of his work. In 2016 Sipress was awarded the National Cartoonists Society's Reuben Award for Gag Cartooning.
Ben Schwartz – October 7, 2018 voyage – Schwartz has been a contributing cartoonist for The New Yorker since 2012. A man of many trades, he also works as an assistant professor of medicine at Columbia University Medical Center, where he uses art to help educate future physicians on how to provide compassionate and patient-centric care.
Image: Cunard