Cunard's flagship liner Queen Mary 2 had a rare meeting in the New York Harbor yesterday when she met the British Royal Navy aircraft carrier HMS Queen Elizabeth during the carrier's first visit to the US. The rendezvous between the two vessels celebrates the special relationship that the United States has with the United Kingdom and their alliance.
Cunard is known for their history and significant role in both World Wars.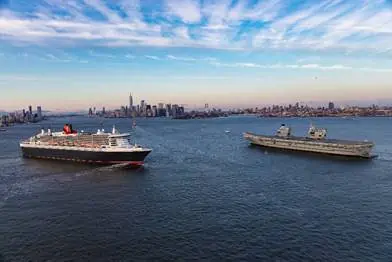 "Cunard launched the first royal mail service route across the Atlantic in 1840, connecting people between North America and the United Kingdom," said Josh Leibowitz, SVP Cunard North America. "We continue to sail regularly-scheduled Crossings between the two countries, which makes meeting the Royal Navy on this side of the pond a particularly significant occasion."
After saluting the aircraft carrier, Queen Mary 2 set sail on her next seven-night transatlantic crossing to England. HMS Queen Elizabeth spent several weeks conducting its first trials with the F-35B Lightning II fighter jets onboard. When she departs New York, the 65,000-ton ship will head down the east coast and conduct the second phase of developmental trials.
Learn more about HMS Queen Elizabeth on Wikipedia.