For the first time, Cunard has collaborated with Ancestry.com to offer guests the opportunity to trace their family history on flagship liner Queen Mary 2 while crossing the Atlantic Ocean.
Cunard played a critical role in the immigration movement to the US in the late 1800s – 1 in 5 immigrants who came through Ellis Island arrived on a Cunard ship. This special voyage offers an opportunity to follow in the footsteps of one's ancestors and experience sailing across the Atlantic like so many immigrants did.
The seven-night voyage will be November 4 to 11, 2018. Four genealogists from Ancestry will be onboard to assist guests in learning who they are and where they came from. These experts will show guests where their family originated, how to sift through census and military records, and determine their ethnic mix through AncestryDNA.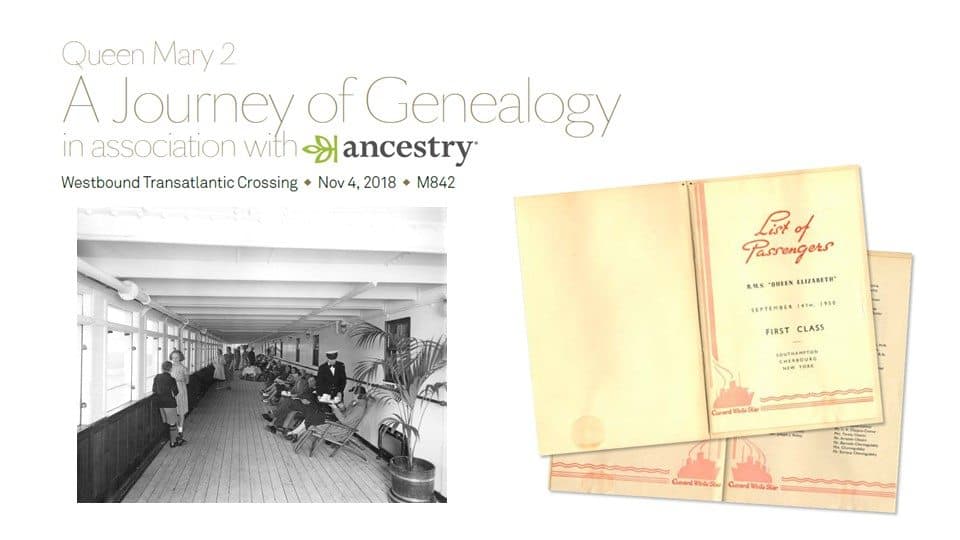 The Experts
Jennifer Utley, director of research who oversees Ancestry.com research for the television shows Who Do You Think You Are? and Long Lost Family.
Angie Bush, genetic genealogist who uses her knowledge of traditional genealogy and genetics to solve complex questions of kinship and identity. Her areas of expertise are DNA, unknown parentage, 20th century, and the Midwestern United States.
Crystal Beutler, part of Ancestry ProGenealogists, specializes in US Southern and Mid-Atlantic research, lineage society research, and works on episodes of the genealogy show Who Do You Think You Are?
Simon Pearce is also part of Ancestry ProGenealogists, and specializes in researching military ancestors from the first and second World Wars.
Post-Voyage Tour
Additionally, Cunard is offering a two-night post-cruise tour of Ellis Island and New York's Ancestral Trail, which offers insight into the early history of New York in downtown Manhattan including historical landmarks such as Wall Street, the New York Exchange, Federal Hall, and the Trinity Church. A detailed 90-minute guided tour of Ellis Island will include the immigration halls and immigrant hospital buildings.
From March 1 through August 31, 2018, guests who book the post-voyage historical tour can save up to 40 percent off a balcony cabin on the November 4 Ancestry Crossing.