Carnival Cruise Line has announced details on the Playlist Productions shows for their newest upcoming ship Carnival Horizon. They're partnered with leading creative directors from Broadway, Los Angeles, and London's West End to create three brand new shows.
The new productions make maximum use of the ship's interactive LED screens while showcasing the performers' talents to deliver high-caliber entertainment. The three new shows are called Soulbound, Celestial Strings, and Vintage Pop and will debut when the ship enters service this April. A fourth show, Amor Cubano: A Caribbean Dance Romance, has been brought to the ship as well following its debut on Carnival Vista last year.
New Show Details
Soulbound: Hosted by Horizon's own "soul catcher," this fun, high-energy show offers a gothic-inspired journey through New Orleans with stops at recognizable Crescent City landmarks like a haunted paddlewheel ship, an apothecary shop, and cemetery with levitating chairs and other spooky illusions. Spirits are playfully captured and brought back to life through special effects while cast members belt out R&B favorites like Superstitious, Soul Man, and Born Under a Bad Sign.
Celestial Strings: Billed as a "breathtaking performance beyond your wildest dreams," Celestial Strings merges the beauty of classical music with modern pop beats that take place in an enchanting garden that transforms from season to season. Visual imagery, 3D cast interactions, and aroma-infused sets bring the garden to life. Celestial Strings is the first Playlist Productions show to feature a live string trio, and is a multi-sensory symphony for guests to enjoy.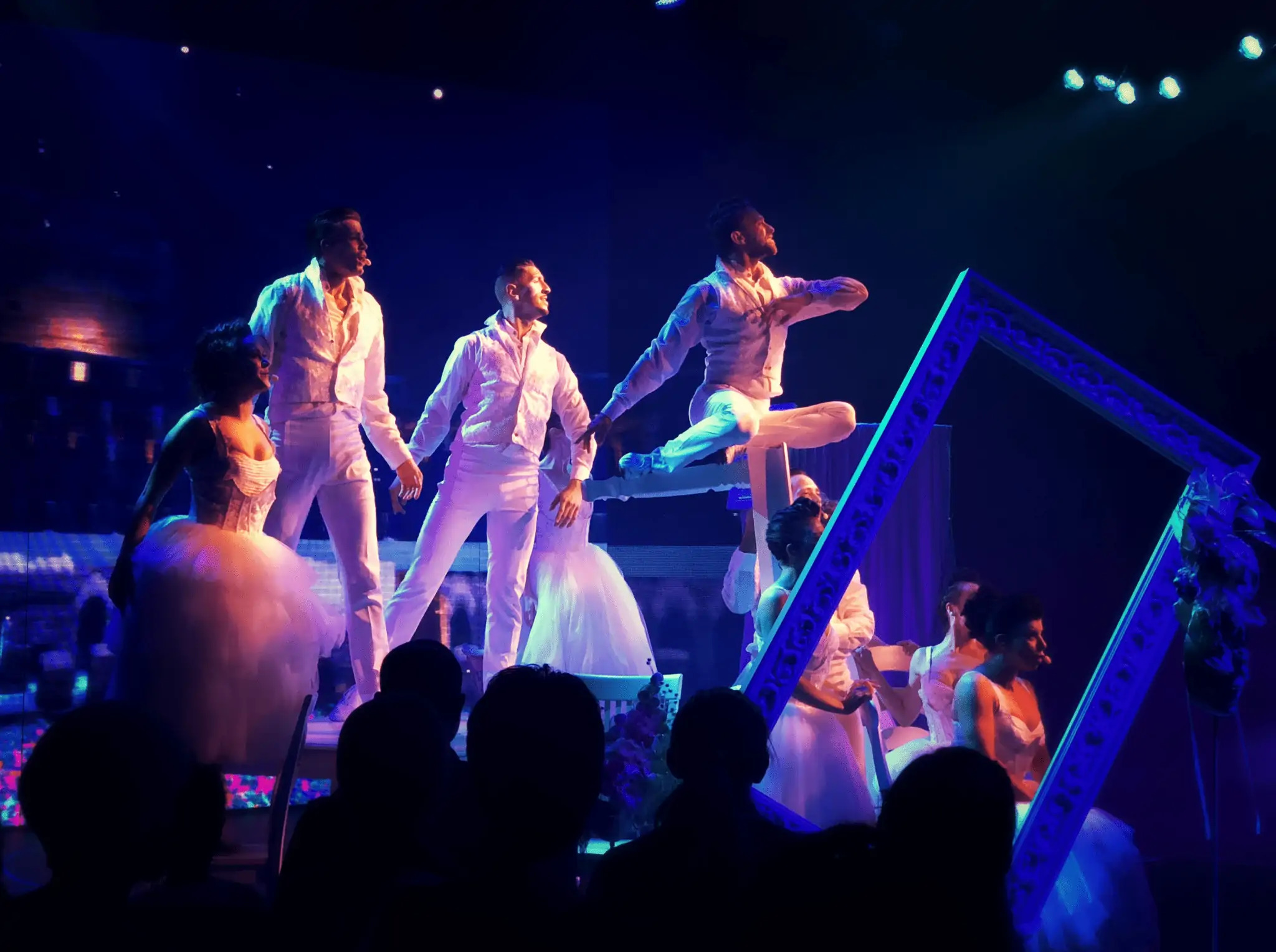 Vintage Pop: Taking viewers back to the Great Gatsby and Cotton Club era with contemporary songs like That's What I Like, Work, and All About That Bass transformed into classic jazz interpretations, this show features a toe-tapping six-piece live band performing in a modern-day speakeasy. Highlighted by  show-stopping burlesque number, Vintage Pop ends with a rollicking afterparty in the atrium where passengers can dance and interact with the flapper and zoot suit-outfitted cast members.
Amor Cubano: This exciting show blends classic Latin songs with today's hits, and features a reproduction of Carnival Horizon's sizzling Havana Bar. The show is highlighted by a seven-piece Cuban-inspired band that performs songs by Gloria Estefan, Celia Cruz, and others amid a tropical backdrop of Cuba and Miami, the latter of which will eventually be the ship's year-round homeport.
Other Entertainment Offerings
Other entertainment around the ship will include comedy shows at the Punchliner Comedy Club, Hasbro, The Game Show with live adaptations of popular Hasbro games, and an IMAX theater with first-run movies and family favorites. The ship will also have a Thrill Theater onboard, which is a multi-sensory experience and part of the Carnival Multiplex.
At night, the adults-only Serenity retreat will be transformed into a South Beach-style club under the stars with lighting effects and a mix of popular music. Live bands along the promenade, solo artists in the new Smokehouse Brewhouse BBQ restaurant, and the line's legendary deck parties will also be offered.
Carnival Horizon will debut on April 2, 2018 with a 13-day Mediterranean cruise from Barcelona, the first of four round-trip cruises from that port. After that she will reposition to New York City on a 14-day transatlantic crossing. Following her summer schedule of four-day Bermuda and eight-day Caribbean departures from the Big Apple, Horizon will shift to Miami for a year-round schedule of six and eight-day Caribbean cruises beginning on September 22, 2018. The ship will also offer a special two-day cruise to Nassau from Miami from September 20 – 22.
For more information on Carnival Horizon, click here.
SaveSave