As expected, Disney Cruise Line used their annual D23 event to reveal news about both their next ship and their second island destination. We've got details about what they (with a little help from Tinker Bell) had to say about both!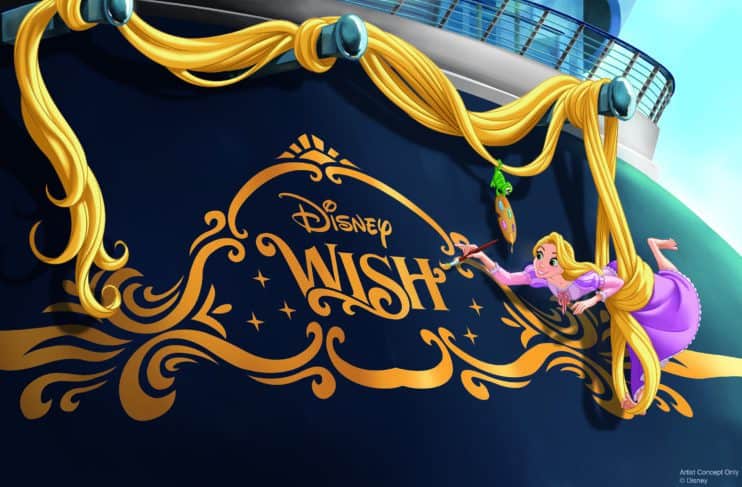 Meet The Fifth Ship In The Disney Cruise Line Fleet
At the huge annual event attended by Disney fans from around the world, the company announced that the Disney Wish will join their expanding fleet in 2021, with her first sailings expected to take place in January of 2022.  "There couldn't be a better name for our incredible new ship, because making wishes come true is part of the Disney DNA and is at the heart of so many of our cherished stories," said Bob Chapek, Disney Parks, Experiences and Products Chairman.
The company then unveiled a rendering of the upcoming ship's atrium, described as "a bright, airy and elegant space inspired by the beauty of an enchanted fairytale" which will "serve as the gateway to an unparalleled vacation filled with experiences designed especially for families."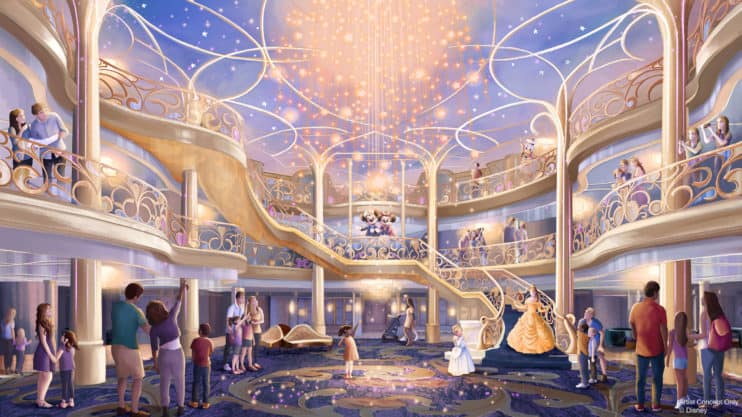 Also revealed was which iconic character would grace the ship's hull. In this case, that will be Rapunzel, who, appropriately enough, embodied the wish and desire to see and experience the world, even while locked away from it in the tower from which she would drop her enviably long hair.
This is the first of three ships slated to join the Disney fleet in coming years, each powered by liquefied natural gas and, at approximately 144,000 tons, being slightly larger than the Disney Dream and Disney Fantasy. "Each Disney Cruise Line ship is unique," Chapek said, "with a name that embodies the excitement of sailing with Disney and the power of our stories. The new ships will have the experiences our guests love, as well as all-new magic."
Disney Gets A Second Island Resort
"With three new ships joining our fleet," Chapek continued, "we thought this would be an incredible opportunity to add another unique destination to our ports of call. We looked all over the Bahamas and Caribbean for an ideal location that would enable us to create new experiences, while celebrating the culture of this amazing region."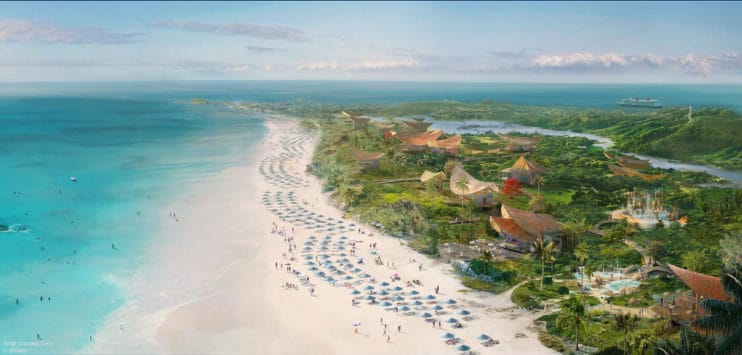 The new island destination will be located, as Cruise Radio has previously reported, at Lighthouse Point on the island of Eleuthera. Legendary Disney Imagineer Joe Rohde has been doing a deep-dive into the culture of the Bahamas in order to infuse the new hot spot with as much authenticity as possible. "The Lighthouse Point site is so beautiful and so full of nature that we want to preserve this and use our designs to call attention to the extraordinary quality of the place itself," he explained. "We will be directly involved in conservation efforts to preserve and protect the environment that creates this beauty, and we will be working with artists of every kind, much like we did with Aulani in Hawaii, to create a unique destination that is rooted in Bahamian culture and imbued with Disney magic."
Although concerns have been raised by locals regarding the environmental impact of Disney's plans, DCL has committed to developing less than 20 percent of the property and taking actions such as creating an open-trestle pier to avoid dredging a channel big enough for ships. Once the necessary environmental impact studies are completed, it is expected that construction on the destination will begin in 2020 with an eye toward welcoming guests in 2023.