Passengers sailing on Disney Cruise Line will soon find themselves getting access to the latest news from the House of Mouse thanks to a new show created just for them.
What To Expect From Disney At Sea D23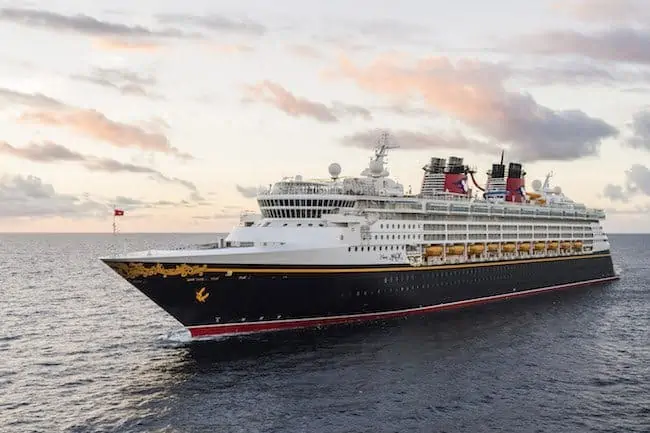 Already, guests aboard the Disney Wonder got a sneak peek at the new 30-minute show, called Disney At Sea D23. And what did they see? A preview of all kinds of projects currently being worked on by Disney's various divisions. This first run of the newly-developed show – which was presented inside the Disney Wonder's Buena Vista Theatre – offered up the latest Captain Marvel trailer, filled guests in on how Disney will be celebrating Mickey Mouse's 90th birthday at locations all around the world, and even gave a glimpse at some of the newest concept art for the most buzzed about project to hit Walt Disney World and Disneyland in ages, Star Wars: Galaxy's Edge.
READ MORE: Disney Cruise Ship To Sail From New Orleans 
The fast-paced show also took viewers behind the scenes at Disneyland's Tropical Hideaway, as well as the upcoming expansion at Tokyo's DisneySea. All of which might seem like advertising to the average person, but remember that guests on board Disney's cruise ships tend to be big fans of the company behind these various projects, making Disney At Sea D23 a perfect fit for this particular audience.
According to a story from D23 – aka the official Disney Fan Club – the show will soon be rolled out across the entire fleet of Disney ships. It is also expected to be updated every month or so, which means it's likely that future passengers will enjoy previews of the currently-under-construction ships which will join the fleet over the next few years.
The best way to find out if Disney At Sea D23 is being shown on your Disney cruise? Keep an eye on the Navigator, which is the daily newsletter left in the staterooms on Disney ships.
SaveSave