Disney Wonder is headed into dry dock this fall, from September 9 to October 23 in Spain.  The newly refurbished ship will debut on sailings starting November 10 from Galveston, and enhancements will include new spaces for kids, a jazzy restaurant, and an English pub.
Highlights of the ship's new features are as follows:
Tiana's Place Restaurant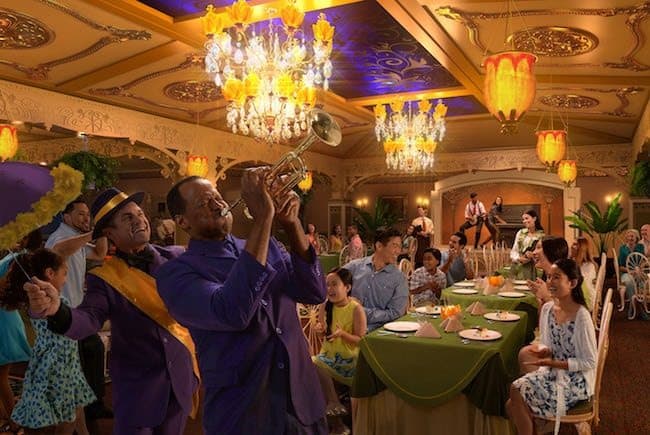 A first for Disney's ships, Tiana's Place will transport guests to an era of spirited jazz, southern charm, and street party celebrations.  The menu will be southern-style, and will provide food for the body and soul.  Inspired by the princess in "The Princess and the Frog," guests in the restaurant will be treated to live music on a main stage in the restaurant, with rhythmic notes of jazz, swing, and blues setting the tone for the French Quarter supper club atmosphere.
Chefs will whip up Tiana's recipes, drawing inspiration for flavors and ingredients from the Louisiana bayou.  Of course, in typical Disney style, there will be little Tiana touches throughout the menu, design, and entertainment of the venue.  From Tiana's family photos, to water lily candleholders to her framed culinary awards – all will help tell the tale of her journey from waitress, to princess, to restaurant owner.
Marvel Super Hero Academy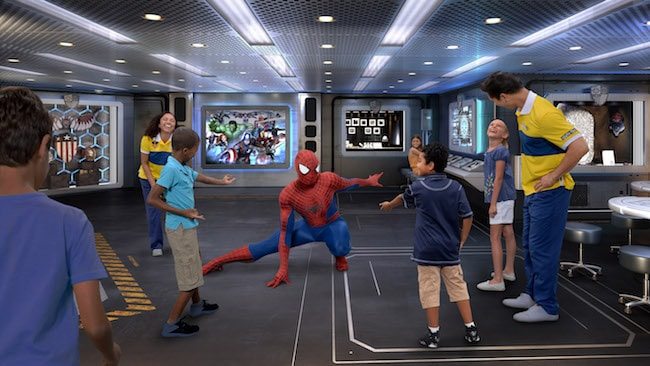 The Marvel universe will come to life in this special academy for youngsters.  Here, kids can train to develop the heroes within, and it's all part of the Oceaneer Club – the space onboard just for children.  The program will offer adventures in which, with the mentorship of Marvel superheroes, young trainees will learn the value of teamwork, bravery, and problem-solving through hands-on plan and programs.
In one mission, Spiderman will help kids hone their spider senses by perfecting their reflex and speed skills.  The high-tech command post is where other superheroes will interact with kids via a digital display; in one program, kids can control the movement of a character on screen to practice skills such as repulsor blasting.
Throughout the academy, displays will feature some of the superheroes' most important equipment, such as Captain America's World War II shield, Iron Man's helmet, Spiderman's web shooters, and Black Widow's gauntlets.
More Fun for Young Guests
Disney's Oceaneer Club is available to kids ages 3 to 12, and the fun continues with new play spaces and more character interactions.  Other enhancements to this fun program include:
Frozen Adventures – on a screen, Olaf will lead summery games with a wintery twist and host a sing-a-long of "In Summer."  In another activity, young guests get ready for a coronation and receive an in-person visit with Anna and Elsa.
Club Disney Junior – in Club Disney Junior, favorite Disney Junior characters, storytelling, and games happen.  During one activity, Doc McStuffins visits the club to help kids diagnose and treat stuffed animals.
Andy's Room – this space is where kids feel toy-sized.  The multi-level play space is themed to "Toy Story," and as a special treat, Woody appears in person to join kids in a hoedown, and Jessie stops by to join in a scavenger hunt.
It's a Small World Nursery – this new nursery will delight the youngest cruisers with a whimsical world inspired by the style of the classic Disney theme park attraction.
Cheers, to an English Pub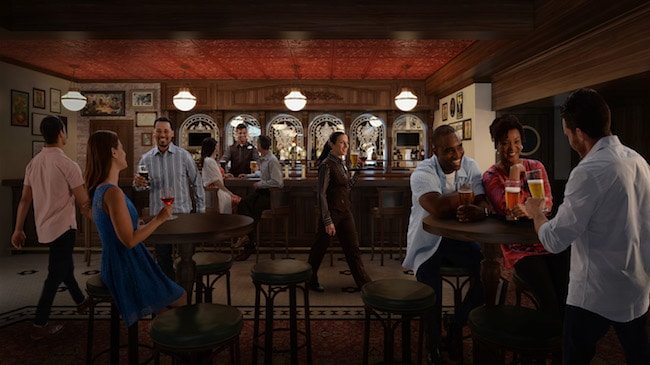 The adult district of Disney Wonder will include a brand-new pub reflective of an English tavern.  It will feature dark woods, plush leather furniture, and brass accents, as well as a selection of British and specialty beers, as well as cocktails and a special brew made just for the pub.
As always, it wouldn't be a Disney venue without Disney touches, and subtle nods to classic Disney films set in London can be found in the artwork, props, and other features throughout the space.
Other Enhancements
After Hours is the new adult district that will feature the pub mentioned above, a new nightclub, and a new model of the popular Cadillac Lounge
a reimagined Senses Spa & Salon and new Chill Teen Spa
Animator's Palate main dining room will be updated to introduce the "Drawn to Magic" and "Animation Magic" dinner shows
D Lounge for family games and entertainment
Bibbidi Bobbidi Boutique will provide makeovers for kids
Edge club for tweens
Cabanas casual dining location
Palo specialty restaurant makeover with Venetian-inspired décor
The upper decks will also be redesigned for water fun, including a Twist 'n' Spout water slide, Dory's Reef splash zone for toddlers, and an interactive water area and pool for kids and families called AquaLab.
Disney Wonder will continue to sail from Galveston to the Bahamas and Caribbean, until the ship sails to San Juan on January 20, 2017.  On January 26, a three-night cruise will take guests from San Juan to Port Canaveral, where the ship will homeport for the spring.
Renderings: Disney Cruise Line