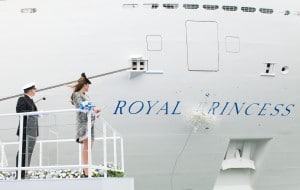 Her Royal Highness The Duchess of Cambridge Kate christened Princess Cruises' new Royal Princess today in Southampton when she released a bottle of champagne that smashed against the ship's hull.
Standing on the naming platform with the ship's Captain Tony Draper, The Duchess pronounced, "I name this ship Royal Princess. May God bless her and all who sail in her." She then cut the rope that sent a giant Nebuchadnezzar-size bottle of Moët & Chandon champagne toward the ship, welcoming Royal Princess into the Princess fleet.
The ceremony included both maritime tradition and contemporary elements, reflecting the innovative spirit of Princess's newest class of ship. The festivities included musical performances, including British pop singer Natasha Bedingfield singing her hit "Unwritten," as well as an original song by British actress Kerry Ellis. Internationally renowned percussive orchestra Mass Ensemble performed and The Band of Her Majesty's Royal Marines Portsmouth and The Pipe Band of 1st Battalion Irish Guards opened the event. Reverend Tim Dakin, Bishop of Winchester, blessed the ship.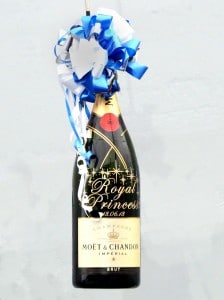 Following the ship's maiden voyage to Barcelona on June 16, Royal Princess will sail the Mediterranean during the summer, followed by Eastern Caribbean cruises beginning in this fall.
A replay of the Royal Princess naming ceremony is available at www.princess.com/royalprincessnaming.
— Simon Duvall
Simon Duvall is a luxury cruise expert and agent and co-host of #CruiseChat, the only cruise-centric community chat on Twitter. Visit www.CruiseChatLive.com and check out #CruiseChat every Tuesday at 2 pm ET on Twitter.