Ever have a sense of appealing familiarity about a place but then discover fantastic new things about it? That's precisely how I felt in late July walking onto the gangway and entering the new 596-passenger Silver Moon, Silversea's newest ultra-luxury ship, docked in Piraeus, Greece.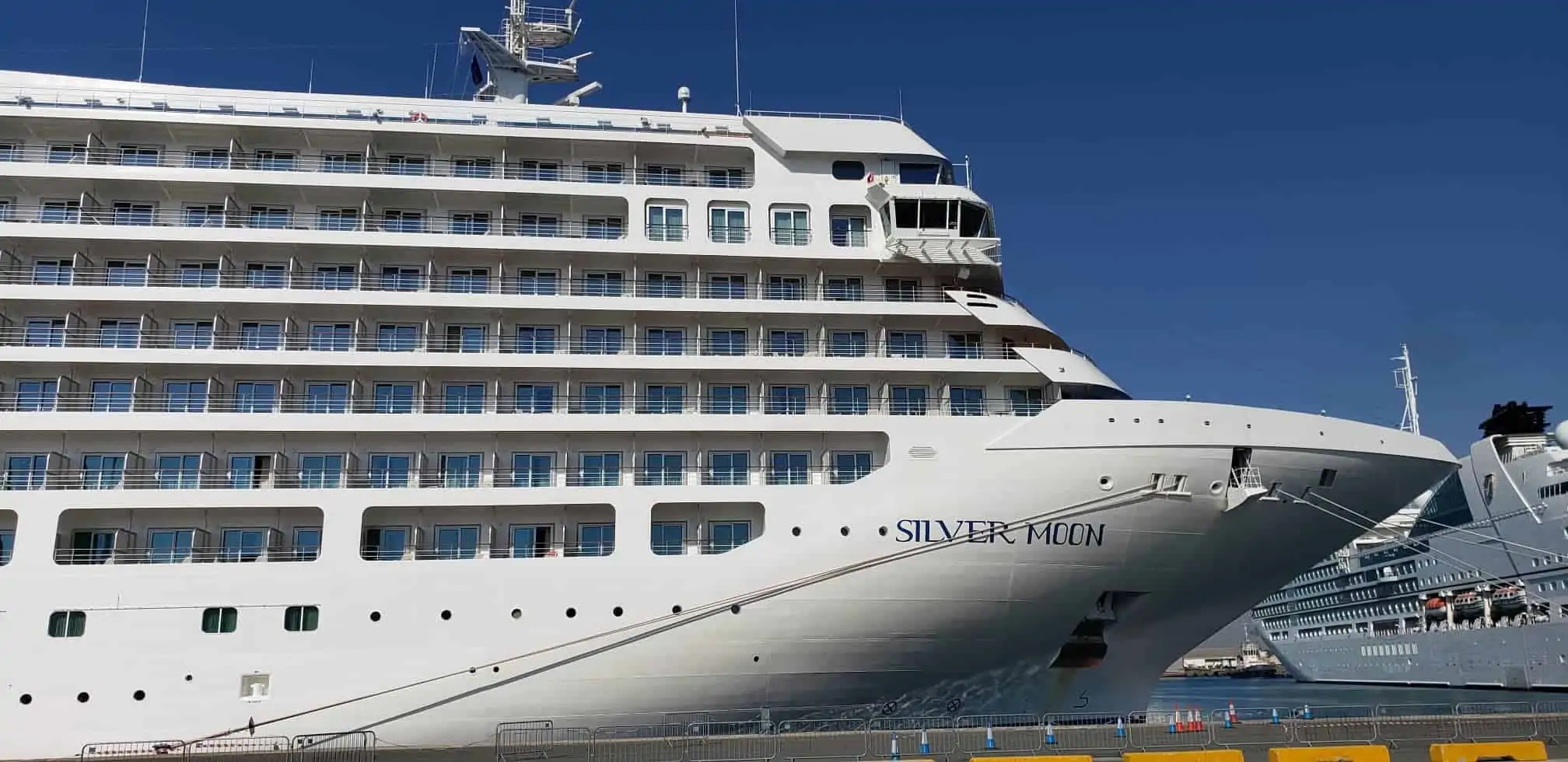 It certainly has much of the look and feel of its sister ship, Silver Muse. But while repeat cruisers will find this new ship's basic layout, light-and-airy interior, and corridor carpeting (with those attractive green swirl accents) decidedly familiar, this baby has its own style and new spaces too – mostly created for the debut of the line's new S.A.L.T. (Sea and Land Taste) culinary program.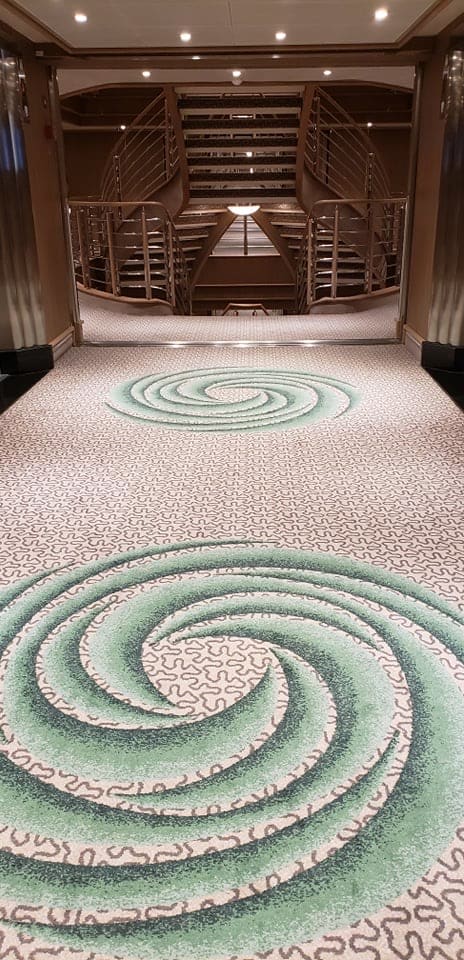 Built by Fincantieri's Ancona, Italy, shipyard, the 40,700 gross-ton Silver Moon is now sailing seven- and 10-night Greek Isles cruises roundtrip from Piraeus, which is the port for Athens. Starting in September, the ship will begin operating voyages between Greece and Italy.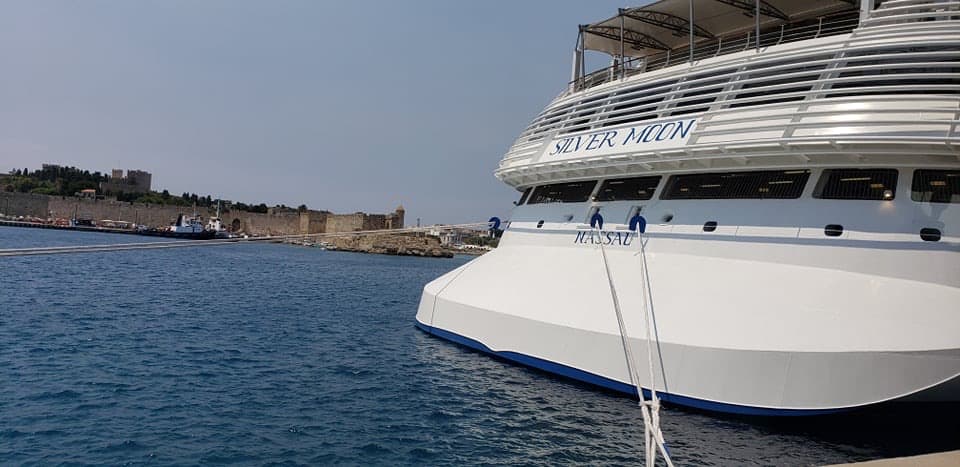 Here's the first of several updates – this one about the pre-boarding process and what's new hardware-wise on the ship.
Pre-Cruise & Boarding
Our pre-cruise hotel reservation arranged by Silversea was at the Intercontinental Athenaeum Athens, overall a comfortable, upscale property. The front desk staff were quite helpful, and it was a relaxing pre-cruise stay with breakfast included. My hotel room was spacious and the hotel not too crowded.
One unique hotel feature was a lovely, outdoor rooftop restaurant and bar. Don't miss the opportunity to head upstairs to that restaurant, even if you're not dining there. It's a great spot to snap stunning photos of Athens' ancient Acropolis, particularly as the sun sets or after dark.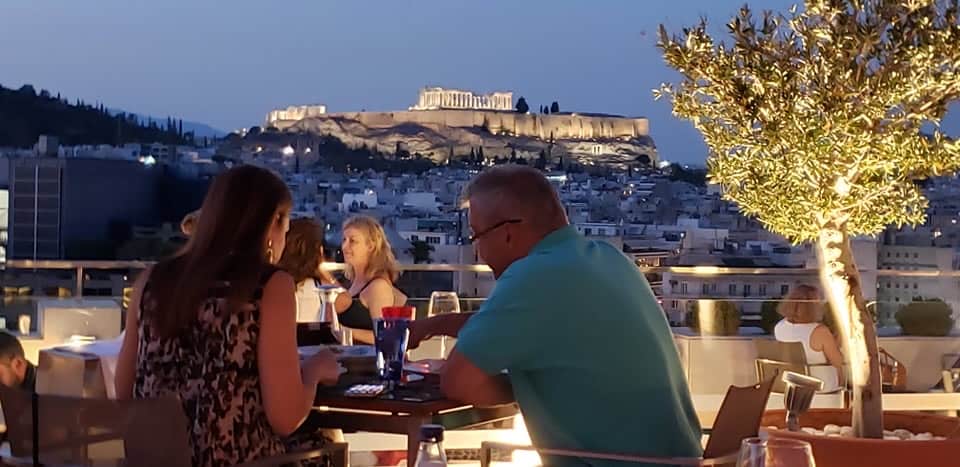 On boarding day, Silversea offers comfortable motorcoach transport to the Piraeus pier for embarkation. Upon arrival, cruisers enter a large, white outdoor tent where guests present their passports before heading to another checkpoint inside the tent for additional checking of documents and to complete a health form.
Then it's onto a COVID-19 testing area for an antigen nasal test and "out the other side" to a waiting area. Guests receive a number for their test, and when results are "in," that number is displayed via a number on a large screen. When my number showed up, a nurse came over to tell me I was negative and asked to see my vaccine card, which she verified on a paper she signed.
I'm told the process usually takes less than an hour, and at the time I was there it was far less. When I was cleared to exit the tent, I walked next door to the cruise terminal. Next, I went through the normal security screening for hand-luggage and passengers. Amazingly quickly, I exited the rear of the terminal onto the pier, and presto, it was just a short amble to the ground-level gangway.
It was a great feeling, for sure, to hear, "Welcome Aboard." I headed off with a friendly crew member to reception where I received my key card and my butler was called to escort me to my suite.
READ MORE: New Luxury Option As Seabourn Ovation To Base In Miami This Fall
What's New on Silver Moon
When guests board Silver Moon this summer and fall, what will they find different from the "hardware" perspective? Certainly, the biggest hardware changes reflect the debut of Silversea's new S.A.L.T. (Sea and Land Taste) culinary program, created by Barbara Muckermann — the line's chief commercial officer, and culinary journalist Adam Sachs — former editor in chief of Saveur Magazine.
In my third story, I'll talk about that exciting, new program in greater detail and provide examples and photos of dishes and drinks. But first, let's look at what's happened "hardware-wise" with this new ship's design and new public venues.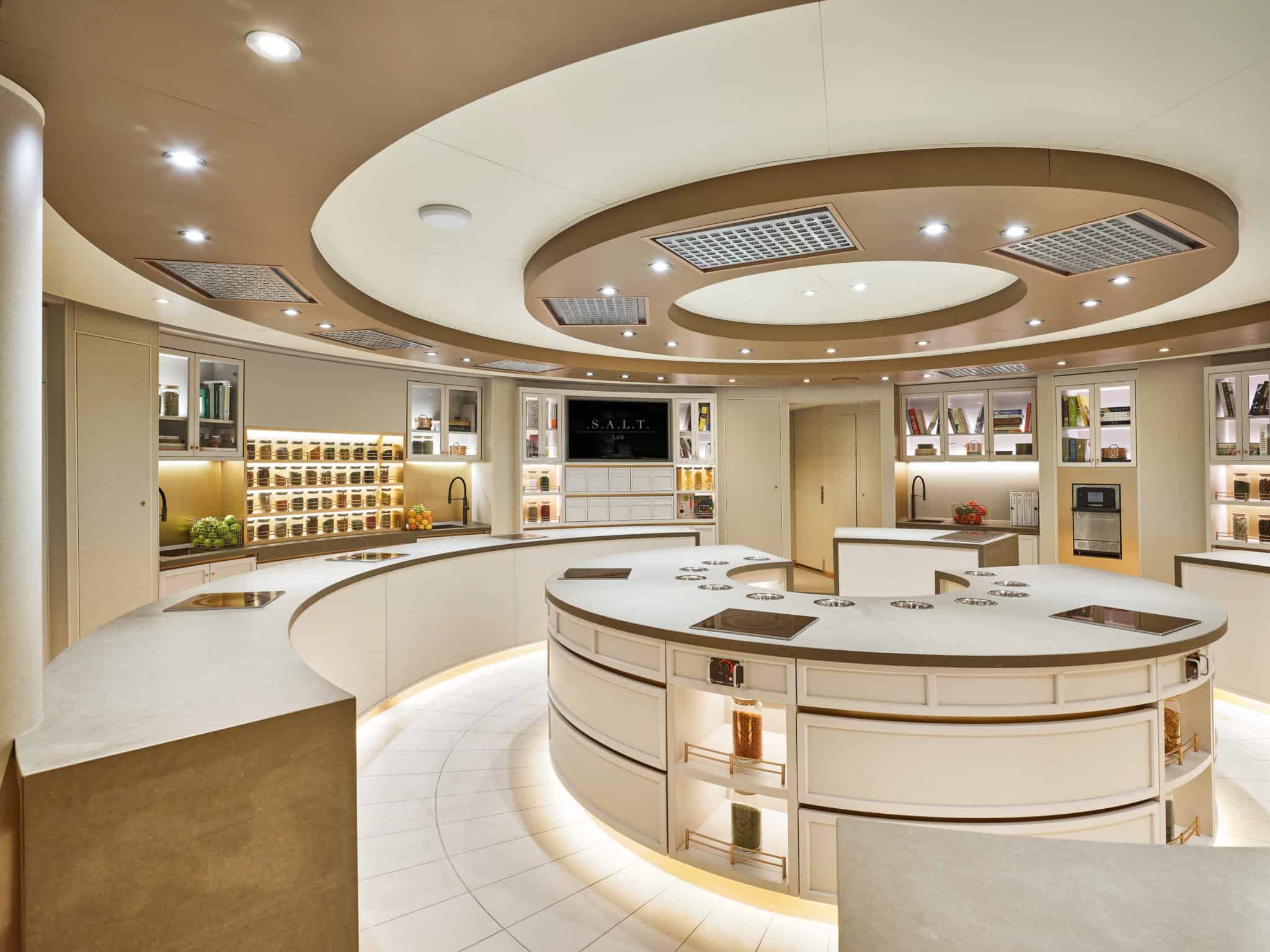 On Deck 4, in the space where Teppanyaki is located on Silver Muse, guests sailing on Silver Moon will instead find the new S.A.L.T. Lab, offering hands-on culinary classes.
In that same area of Deck 4 (in the spot where Silver Muse's fine dining French restaurant, La Dame, is located), Silversea has also added a new dining venue, S.A.L.T. Kitchen, to Silver Moon. This restaurant specializes in the local cuisine of the region of sailing, but also has menus that change daily to reflect the specific destination visited that day.
Fans of La Dame shouldn't worry, though, as Silversea simply moved that popular fine-dining restaurant upstairs and enlarged it on Silver Moon. So now it has 60 or so seats, compared with the 24 available on Silver Muse.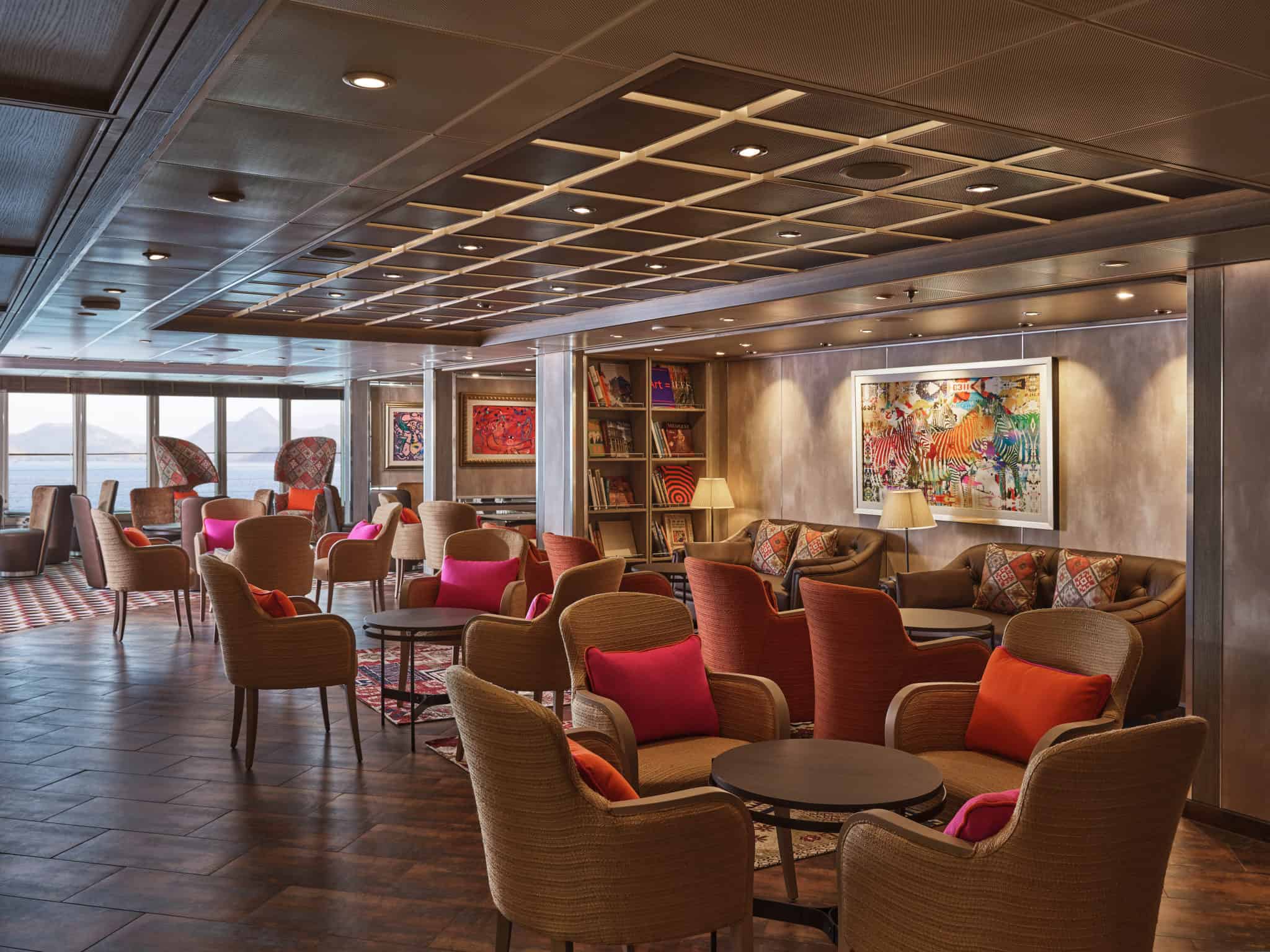 The popular and cheery Arts Café that's located on Silver Muse's Deck 8 now occupies the space adjacent to La Dame on that deck.
In addition, the Connoisseur's Corner cigar lounge has been repositioned just aft of the Arts Café. Guests on our cruise liked the welcoming outdoor area, complete with an outdoor fireplace, noting that it was really nice spot to relax with a drink and a cigar.
Guests sailing on Silver Moon will also find an enlarged gym and spa, which is now lengthened (from what's on Silver Muse) toward the stern. In addition, certain decks on Silver Moon have more height.
So now that we've set the stage, look for additional stories on Silver Moon, including one focused on ship's accommodations and, specifically, #931 — an accessible Silver Suite. Another story will dive more deeply into S.A.L.T., and a final piece will cover all dining, onboard activities, and more.
READ NEXT: Cruise Line to Convert Luxury Ship Into Expedition Vessel