Matt Dunn gives us an MSC Seaview review on this Cruise Radio broadcast hosted by Doug Parker. He discusses his honeymoon cruise from Barcelona, Spain, in July 2023. This transcript has been edited for clarity. 
You can listen to the entire episode here.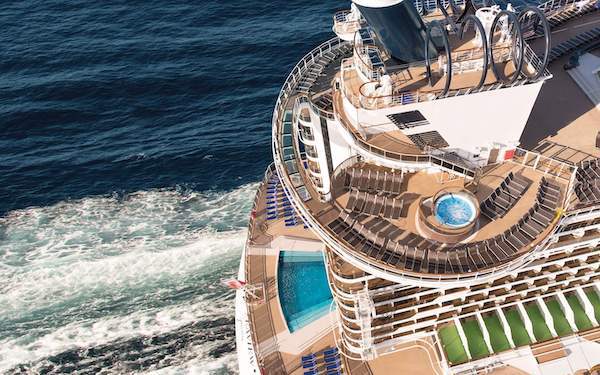 MSC Seaview Review
Question: Give us some pre-cruise thoughts. What made you want to jump across the ditch for a seven-night honeymoon cruise?
Matt: We wanted a traditional week-long cruise that started on either a Saturday or Sunday for travel purposes again, not to stretch into a second week of missing work. And then number two, a balcony cabin with a drink package, specialty dining, and Wi-Fi for under three days. So that was kind of what we were looking for.
Matt: So just to kind of give you some background here, Doug, if I can, 
My father and I cruised the Med on the Norwegian Epic in late June or early July of 2019, and we were able to fly from Miami to the embarkation port city of Barcelona on Trans Air, Portugal, with a stop in Lisbon at the time for like $900 for a round trip for both of us.
Well, my wife and I had a lot more trouble finding affordable flights this time around that we needed than my father and I did four years earlier. So once we decided on the cruise we would take, we underestimated the challenges of finding flights that fit our wallets and the times we were looking for.
So we chose this French-Canadian carrier called Air Transat, which included a stop in Montreal, Canada, before continuing to Barcelona. So Doug, my wife, and I live in Tampa, so we had to fly to Miami and then wait in Miami to catch the flight to Montreal, Canada, just to get to Barcelona.
Matt: That was certainly, I guess, a stretch that I think we wish we could have back. So we left with the time change. We left on May 25 and arrived in Barcelona on Friday, May 26, one day before our cruise departure on Saturday, May 27. So, like I said, the trip originated in Miami with a scheduled three-hour layover in Montreal.
However, we were 2.5 hours delayed leaving Miami due to aircraft maintenance issues, which made our connection paper-thin in Montreal. So we politely mentioned this concern about making the next flight, along with our baggage being transferred to the flight from Montreal to Barcelona, to the flight attendant, who, of course, told us not to worry, as 27 others were making the same connection, many of which come to find out what be on the same cruise that we were.
So once we landed in Montreal, a gate agent was waiting for us and the 27 others above to catch the flight to Barcelona.
Matt: And it turns out we had to run back to the, I guess, the spot where customs is done, right? When you checked in to Trudeau Airport in Montreal, we were 27 Americans sprinting through the Trudeau Airport with some laughable French comments from many of the staff there at Trudeau Airport.
So again, we made the flight, luckily, but we asked the flight attendant again about our bags, and she said, oh, yes, the captain is seeing to it that all the luggage on the next flight is going to be put on this, you know, from your previous flight. It's going to be put on this flight. But once we arrived in Barcelona, we discovered that no one of the 27 connecting passengers had their luggage. So that. It was kind of the way that our honeymoon cruise began.
Doug: Do you use any air tags or anything for your luggage?
Matt: So I can hear my wife kind of laughing in my head about this.
Matt: She had it on hers. I did not have it in mine. But obviously, we figured that, you know, that our bags were together and we just, you know, by the time there wasn't sufficient to my recollection, there wasn't sufficient Wi-Fi on the Air Transat flight.
Or maybe we just didn't pay for it, I can't remember. And so we didn't really get it together that our bags were still again in Canada until we got to Barcelona. So we could see obviously that they were not in Barcelona.
Doug: So, how far does your cruise leave the next day? When did your bags arrive?
Matt: Well, I have that as a part of the later story. But I'll tell you, it was not until the fourth day of the cruise that we finally got our luggage. And again, my wife, um, God bless her, who is eight and a half years younger than me, was much better prepared because she had packed a few things in her carry-on bag.
Matt: I just did my carry-on bag like shoes and belts and things of that nature. So, Doug, I'm not a small guy. I'm six five, 250 pounds. So I don't know if you knew this or maybe your listeners know this. There's not a whole lot of double xls in Europe, right? You kind of look around a little bit to find stuff. So we lucked out a little bit.
The hotel we were staying at in Barcelona the night before the cruise was the Hampton by Hilton Grand Fria, which is about a seven-minute Uber from the cruise port there in Barcelona. The concierge there was really helpful. And there was a shopping mall, a kind of traditional style mall in Barcelona that was about a ten-minute walk.
And I was able to get a few things there and to get me by. And the other luck we had was that there was only one themed night on the cruise along with the Captain's Club, you know, more formal night.
Matt: And both of them were backloaded. So, luckily, we do have a good kind of ending to the lost baggage story. With that, we did get them back in time to at least have the theme party and the formal night covered. So that was good, at least good.
Doug: Gosh. So you make your way on board the ship with some new clothes. How was your embarkation process there in Barcelona, and how long did it take you from the pier to the ship?
Matt: Doug, thank you, by the way. And embarkation was very easy, especially with very little luggage, by the way. Yeah, we had a I don't know if people are familiar with this. I'm sure they are if they have taken a Mediterranean cruise. But Barcelona is pretty much like Miami or Lauderdale of the Med. I understand it is not as big in terms of how many cruises go in and out, but it's only about a, like I said, 5 to 7-minute Uber.
Matt: Uber is kind of weird in Spain. It doesn't take you right to Uber. It takes you to one of the cab services, but it's still the same. Um, when you get to the Barcelona airport, and it looked like there were about, pardon me, the Barcelona cruise port, it looked like there were five other ships, including ours, that were in port, and all of them have their own terminals.
So everyone in our terminal, for instance, was getting on the sea view that day. So there's, as long as you're headed to the right terminal, it's very easy to navigate. And most of the time, your Uber driver knows exactly where to take you.
We arrived slightly early, and they weren't letting people board yet. After about 30 minutes, we boarded with the first wave of people, given our MSC black card status. And so all in all, curb the ship was about 40 minutes, again, had we shown upright, you know, right at the right time instead of early? Doug, It might have been 15 minutes.
Doug: So you make your way on board. Seaview. What were your first impressions of the ship?
Matt: It's gorgeous. The ship was absolutely beautiful. And I remember taking its sister ship, the Seaside, which is in the same classification.
I love this class of ship, mainly because there are so many outdoor spaces. I love how you've got multiple pool decks, whether it's the main pool deck up on the top or the sunset pool in the back of the ship. I believe it was on deck seven. I also love how a nightclub spills out into the back pool deck when it gets dark. It's kind of like a cool neon-lit party at night while seeing the ocean right behind you. So it's a nice touch on this class of ship.
Also, with any newer MSC ship, you will notice the ship's glitzy glam decor and interiors. The famed crystal staircases throughout the center decks of the promenade highlight this.
Matt: She's just a gorgeous lady. MSC, Doug, as we know, certainly has its faults, but I don't think that you can question how nice their newer ships are. My wife and I don't spend a lot of time in our cabin other than to sleep, you know, alone time or to get dressed. So we just, you know, went for your standard balcony cabin, which was on deck ten. It was great.
No complaints and it suited our needs. Plus, having the balcony gives you those great Mediterranean views in the mornings, which were nice to wake up to. And I was tempted. I'm kind of rewinding here for a second. Given that this was our honeymoon, I was tempted to go for a suite or junior suite, but we just decided that we were good with the regular balcony.
Doug: Now, you said you have the black card with MSC. So let me ask you this. I want to take a couple of steps back here. So when you were pricing, you had that $3,000 budget.
Doug:  Were you looking at other cruise lines, or were you like, you know what, we have the black card with MSC. We're going to sail with them.
Matt: So I'll give you a loaded answer to your question, Doug. We were open to doing other cruise lines. My wife happens to be a big fan. Just to kind of give you some cruise background with us. I've been on 27 cruises, and I'm 35 and didn't start till I was 19. And so, as you can tell, with missing two years, obviously from the Covid shutdown, um, essentially, I've taken, you know, 4 to 5 a year.
I think five is my max. And most of the time, it's been three, you know, since I was 19. And I also love celebrities. I just think it's kind of the most modern kind of bang for your buck that you're getting, even though it's considered, you know, air quotes, a premium cruise line. My wife is a big fan of Royal, and she's been on eight calls before this, and six of the eight have been royal.
Matt: And so we were open to other lines. I steered us towards MSC mainly because we were trying to stick with that budget. And if you book directly with the cruise line and are a MSC Cruises black card holder, I believe you get 25% off. And so that's kind of the selling point.
And then, on top of that, as I mentioned, MSC has its faults again, and I'll get into that a little bit later. However, I had heard that they do Mediterranean cruising just about as good or better than anyone. So I wanted to say I had sailed them numerous times in the Caribbean but wanted to give them a shot over on their home turf.
Doug: Yeah, it's also a lot to like with Costa. Costa has a crap product in the U.S. when they sail from here, but over in Italy, I've sailed them three times in Italy, and it's spot on. It's one of the best cruise lines I put up against Carnival Royal in Norwegian in Holland, America, who have all sailed in the Med.
Doug: Has it done MSC yet? But something must be said about sailing a cruise line on their home turf.
Matt: Exactly. And they seem to be? How would I say this is slightly more well-respected in Europe? Again, as I keep going back, they've got their faults or issues in the US. They are kind of what Carnival or Royal Caribbean is in the US.
That's what they are in Europe. So they tend to get a good port placement at various European ports, etcetera. So again, kind of one of the things that was one of those many factors as to why we went with them.
Doug: So you enjoyed your room. So, let's talk about the dining on this ship. So, did you do any specialty restaurants? But first off, let me just ask you, let's talk about the main buffet, the Lido buffet, as we call it, back here in the US. How was that experience, and doesn't this class of ship have two levels of buffets?
Matt: Yes.
Matt: Yeah, the buffet was fine. We usually go there because we've only been on two other cruises together because, again, we met on a cruise in early 2020, about four weeks before the industry-wide shutdown. And then we had gone on a short cruise out of Port Canaveral, about six months earlier than this, about 5 or 6 months before our wedding.
Um, and so we usually, when we cruise together, we only do the buffet for breakfast. And it was good, a good variety if you've sailed this class of ship before; as you mentioned, Doug, they do have two buffets. The larger one is on deck eight, and the smaller one is mainly with sandwiches, burgers, hot dogs, and go items near the pool deck on deck 14. And so the buffet was fine. I didn't have a problem with it. Good variety, etcetera.
Doug: How does MSC do the main dining room in this class of ship? Are you assigned one dining room and one dining time, or is it like at any time type dining?
Matt: Given our black card status, you are assigned a main dining room.
Matt: We did have any time dining, which we love, especially when you're doing the Mediterranean, and it's so port intensive, and you're getting back to the ship, especially if you take an excursion, you're getting back to the ship kind of at all various times of the day. And so it's good to have any time dining if I can, or are we good to go into the main dining room because for.
Doug: Sure, launch into it.
Matt: You got some. All right. I'm about to launch into MSC for this one. Okay. Anyway, um, one of the most talked about subjects, Doug, as I've hinted earlier in this episode, one of the most talked about things with MSC and their controversies is their food. If there's anything more controversial and major cruising than MSC food, I'd love to hear it. And this cruise kind of lived up to that reputation. On the first night of the cruise, we ate in the main dining room, the black sand dining room.
Matt:  And the food was atrocious. And the service was also equally as horrific. Now, we're not the Karen complaining types. It's just it's just not our character to bash hard-working crew staff. But this was just awful. I don't have any other way to say it.
My wife's fish was undercooked and poorly plated. I had it with little or no seasoning. My beef bourguignon was overcooked, dry, and almost unpalatable. Even the appetizers were marginal at best.
In addition, my wife, Michaela had to ask for butter for her bread three times before they finally brought it out towards the end of our entrees after serving the bread that was served right when we sat down. It was just an unfortunate experience.
And right up there with one of the worst main dining room experiences I've ever had, they just can't seem to get it together, Doug, when it comes to their main dining rooms. And that's fleet-wide. And I first sailed MSC as a 21-year-old college student in 2009.
Matt: They can't seem to get it together in their main dining halls. And again, this is my eighth MSC cruise. So we tried it again on the third night of the cruise just to give them the ultimate benefit of the doubt. And it was slightly better, but just marginal at best.
We decided at that point that it would be our last night in the main dining room. And I don't know, Doug, I've heard this rumor and try not to laugh too hard, but it made me think that they truly are trying to tank their main dining halls to send people to specialty restaurants because it worked for us.
Doug:  Yeah, it's just a percentage, though. I mean, I guess. I guess it's kind of a stupid move if they were trying to do that because a percentage, you know, skews to go into the main dining room. So I don't know, like I've heard of cruise lines doing that before, but it seems like a stupid business move because food is one of the reasons you cruise, right?
Matt: Yes.
Matt: Yes. And again, we were hoping, going back to why we chose to do a line on their home turf, we were hoping that the food would be better in Europe, given that, again, maybe the suppliers that don't know, whatever the case is and you know, I grew up in Louisiana, so I just love food. We're foodies, both my wife and I are. And so it was just unfortunate.
But you asked about specialty dining, and we entered the cruise, planning on doing two specialty dining restaurants. We had a third specialty dining option, which included a free tasting menu at a restaurant of our choice, which, again, you get with your black card status with MSC.
So, given what I just said about the main dining room, we ended up doing five nights of specialty dining. The first night that we did specialty Dining was night two of the cruise, and we utilized our free tasting menu option for this one at the Asian market, which is their Asian fusion restaurant.
Matt: Now, this is not the hibachi grill. That's also two restaurants within one. This is kind of their, um, variety of Chinese, Japanese, Thai, and Vietnamese cuisine that they do. And the food was awesome. Everything we tried on this tasting menu was great. It was filling. We both loved it. The drinks were great. It was a great time.
It is very well presented and just a beautiful area of the ship. And if you're thinking about doing a tasting menu or have that option with your black card status, take advantage of it at the Asian market because they'll give you a lot of variety on nights.
For four of the cruises, we did Ocean Cay Seafood again, which is, of course, their seafood restaurant. And again, Doug, even though I live in Tampa, I'm from Louisiana, so usually, I'm not the world's biggest fan of seafood outside of the Gulf South because I grew up with what I think is the best Creole and Cajun cooking around.
Matt: But we had arguably our best cruise meal that night at this restaurant. My wife had the clams that I had, the snapper, and we also had a variety of great seafood appetizers, and the service was phenomenal. So again, you can kind of see the trend here. The specialty restaurants so far were incredible on night number five of our cruise.
We had gotten back pretty late from Rome that day and stuffed ourselves with some Neapolitan-style pizza on land. So we did not eat. But on night six, um, we ate at the Hibachi restaurant by Roy Gucci, again a part of that Asian fusion market.
But again, it's separated from the other part of the restaurant. It's kind of a strict, you know, hibachi area. So, just to give you a heads up, though, because of the limited space, they're very strict on seating times and don't wait until the cruise to book a bucket unless you want to eat it at 10 p.m. The food was awesome.
Matt: The chef was entertaining and made us laugh a lot. He was very funny and even got many of the season-to-bocce lovers who had heard the same jokes from the chefs on different cruises to laugh. Again, it was a great experience, and I wish I could remember the chef's name, but the food was about as good as his act. It was amazing. And then, on the last night of the cruise, we ate at Butcher's Cut Steakhouse.
This was kind of our last, you know, kind of honeymoon celebration dinner. The food was good, but not great in their defense. I feel like it's hard for cruises to offer that incredible steakhouse experience anymore because steakhouses are a dime dozen now.
And you've got them on every corner and every major city across the US. So again, it was good, not great. I had a rib eye, and my wife had a filet. They overcooked mine and undercooked hers, but they tried to make it right, and we didn't make a big deal out of it.
Matt: So again, it's still good. It was not great, for four of our five specialty restaurants were sensational.
Doug: You know, I'm so glad you said that about the steakhouse because, like, I was on Norwegian Prima a couple of weeks ago, and yeah, I like Cagney's Steakhouse. It's good, but it's not like a top tier for me because, like, in my studio right now, I'm also looking at Ruth's Chris across the river in Morton's right here. So you can get a great steak on land for about the same price you'd pay on the Norwegian ship.
Matt: You really can. And I remember, and of course, you've been on many more cruises than me, but I remember, you know, circa late 2000 when I began cruising through 2018 before the pandemic. I remember the steak houses used to be something special.
And again, I'm not sure if it supplies, if it's just that there are so many specialty restaurants now, or if it's just that, again, we have so many steakhouses in the US all over the place that it just doesn't feel kind of as special as it used to be if that makes any sense.
Doug: No, it does, because it used to have the supper club-type theme, right? Like it was, it was an event. You would just dress up. You wouldn't roll in there with jeans and a T-shirt on. You'd be sent away.
Matt: No, no, I completely agree. 100%. Yeah.
Doug: Now I feel like I'm old and like those kids that are changing things.
Matt: Yeah. My wife is only 26 and said I'm 35, so I feel you. We're kind of on the opposite ends of the millennium's, you know, millennial spectrum. I'm an older millennial. She's a younger millennial. So anyway, I feel yeah.
Doug: So how about the entertainment on board for these seven nights? I know that, like with Europe, it's more of a port-intensive itinerary, so they don't tend to offer a ton of entertainment or if they do, it's just very limited. So, what was the experience at MSC? Seaview for the Seven Nights?
Matt: Yeah, I do give MSC credit. They did have a full slate of production shows.
Matt:  And you know, your Broadway-style shows and the things that MSC is known for. I will be honest that we only did three nights of the shows because that's all we could make. Um, you kind of hit it right on the head. Um, we got back a little late.
I think I want to say three nights of the cruise. We got back a little late, and I got, you know, kind of had to get dressed real quick for dinner, or we just wanted to, you know, hit the nightclubs or whatever the case was. And so we missed it.
The shows that we did see, we saw a Broadway production, and then we saw an opera show and kind of just a dance and singing show. All of them were fine. I won't pretend that Michaela or I that's necessarily our thing. But the shows were good. The theater is nice if that is your thing. I think this cruise, you'll enjoy this.
Doug: And how were the sea days regarding crowds and congestion? And also, how was the smoke situation in and around the casino?
Matt: The days were fine. We only had one day, as I'm sure many people have cruised the Med, if you're doing a week-long cruise like this, we only had one day, and that was on day six, I believe. Which day? 5 or 6, whatever. It's the second to last day. That day, when we were leaving Rome and our Qhubeka, I could never pronounce it right and heading over to Majorca.
And so that was the only day that we had. We did get up relatively early, you know, in preparation, that we would have a little more trouble securing a spot. But we were able to find something right by the main pool deck. Sure. Doug, you know, you're going to have your, you know, towel clips and magazines that hold chairs for hours and so on.
Matt: Like most cruise lines, MSC's pool attendants try their best to discourage this. But it was, you know, still mainly pretty full. But they do have that back pool, which really kind of, I think, relieves some of the pressure on the main pool deck. So I did not find it overly crowded at all. I thought it was fine, and the ship was full. I asked.
Doug: The two pools are now set up like a normal midship pool and then a back pool with the amphitheater type seating.
Matt: Yes, correct. They do not have an amphitheater back there. I know. Kind of like, for instance, the Norwegian epic comes to mind with their, you know, back pool deck. They've got kind of the theater set up back there, too. And obviously, they've got their Grand Water Theater thing back on the royal mega-ships. This is just the back pool on deck seven, and it is a much smaller pool, but it's kind of a sunset pool thing they've got going on.
Matt: And what's cool about it, again, you've got a nightclub right there that opens up and kind of spills back into the pool area, and they kind of start the music there kind of in the late afternoon, just kind of prepping for the night, if you will. So it is a little bit, I would say, more of an adult crowd back there. We thoroughly enjoyed both pools, though.
So, yes, to answer your question, it was your traditional top deck, you know, mid-range pool or mid-deck, I should say midship pool. And then down on deck seven, they've got the back deck, you know, pool. Plus, of course, they do have a full solarium with another pool. So, three pools on a ship of this size. Pretty good.
Doug: Any luck in the casino?
Matt: Neither my wife nor I are gamblers. People on your show go into the casinos and win these free cruises.
Matt: I need to learn how to do just that. And maybe I'd be more into it. I do like to. I like the sports bets here and there, but other than that, I can't tell you how much of a card player or like the slots or anything like that. And the same thing happened to my wife. You asked us about the smoking situation. Let me tell you that I give a whole lot of credit to somehow making it seem like there's not a lot of cigarette smoke because the Europeans are great.
They have the best food in the world. There are some of the nicest people in the world, but they're one vice. They smoke like chimneys. And somehow, someway, nowhere on the ship seemed like there was a lot of cigarette smoke. So that was a little bit of a relief. I did enjoy a cigar on the ship,  but other than that, no problems with smoking.
Doug: Okay. This is a heavy and port-intensive itinerary, as you mentioned.
Doug: So we'll talk about the ports of call here. And we'll give us a port call, give us your highlight, and then just move to the next one.
Matt:  Absolutely. So, our first port of call after leaving Barcelona we went to Cannes. I know many people pronounce it like the French pronounce it Con, so we went to Cannes on the French Riviera. My wife and I did not have an excursion planned for Cannes, mainly because I know the city well. As a junior at LSU in college, I did a semester abroad in Canne, so I lived there for about six months.
So I wanted to show my wife, you know, where I lived and show her a few of my favorite places in the city. And given the baggage situation, we kind of diverted and did a few more, you know, shopping things here and there to just kind of give us a little more clothing.
Matt: And until our bags, we're supposed to show up. Plus we had a beautiful lunch near the water, near the Film Festival Museum. Of course, it is known for the Cannes Film Festival. We also spent the end of the day at the beach near the port, which was very nice. And the people on the French Riviera, Doug, kind of would remind you of people in the southern United States.
It's as opposed to, say, the reputations of Parisians. When you're visiting Paris, it's still one of my favorite places on Earth. I just love this little city on the French Riviera. Our next port, which was the very next day, day three of the cruise, was Genoa.
Instead of taking our ride to Portofino or trying to catch a ferry there, we had some friends who recommended it. I hope I'm saying this right, boy, which is another beach city or beach commune that looks similar to Portofino.
Matt: But here's the thing. Portofino is about an hour from Genoa, is 20 minutes outside of Genoa, and has about half the tourists. So we loved it. You have to walk down this kind of cliff area between these colorful buildings that look like they're out of an Italian postcard. We just laid on the beach and enjoyed Italian cocktails; the beach was completely free. And you could set up towels anywhere you wanted to.
And there were beautiful little shops and restaurants along the wall and near the beach. We just loved it. Very Mediterranean-looking. It's just a cool place. We spent most of the day there before heading back to the ship.
Our next cruise, Port de Four, was to Livorno. This was our first excursion on the cruise. Livorno is the port. We booked it in advance if you want to visit Florence or Pisa. We did the Florence and Pisa tour that included both cities. We booked this through MSC.
Matt: It was a charter bus with a tour guide to, again, both Florence and Pisa. You do board first thing in the morning, and just the heads up. It is a long day if you're doing this type of excursion. I had done this excursion again with my father in 2019, and it was the same way.
You start in the morning, and it takes about 45 minutes to get to Pisa from Livorno; on the way, the tour guide explains everything about Pisa and gives you some insight into a lot more than just about the tower. I wish I could remember her name. She was great, but Pisa was cool.
Especially, you know, how the whole town is devoted to the leaning tower and the buildings and the college that surrounded my wife enjoyed seeing the leaning tower and enjoyed the shops and the surrounding, you know, the walls there and the area. The only drawback to doing this excursion is that you only get about an hour and a half in Pisa before it's time to board the bus to head to Florence.
Matt:  But it is well worth it. It takes about an hour and a half from Pisa to get to Florence after you finish again at Pisa. And then the bus lets you off with the tour guide right near the heart of the city.
With all of the attractions, you're probably about 4 to 5 blocks from the Duomo, which is, of course, the famous dome in Florence that everyone listening has probably, if you haven't seen it in person, seen on postcards or on Italian movies or whatever the case is.
Doug Florence is just beautiful, one of those great cities in the world. If ever there were a place that summed up Italian art and food, it would be Florence. We loved it. The weather was great, and we stuffed our faces with Italian food in the main square. You're in Florence for about four hours, and the tour guide spends the first hour with you, and then you get three hours to do your own thing before having to get back to the meeting point to walk back to the bus.
Matt: It takes about an hour and a half to return to the port. So again, it's a long day. Doug, You're looking at about 12 hours when you do it all on the same day, but it was well worth it. Our next port Day five of the cruise was then again, I never can pronounce this port city, but. Vecchio, if I say it right.
Doug:  You know what? We'll roll with it.
Matt: There are a lot of vowels in the name. This is the Port of Rome. As most people know, it's about 45 minutes to an hour's drive from the port to Rome. So just keep that in mind if you don't book an excursion through the cruise line. We did book another excursion through MSC called Rome on Your Own. So essentially, you're just paying for a charter bus from the port to Rome, and to get you back to the ship on time, we also purchased the red bus ticket.
Matt: We did that on our own. And that's essentially a hop-on, hop-off double-decker bus with tons of buses throughout the city that stop nearest all the sights. I think it was $25 per person. Well worth it. It allows you to do the sights you want to see and kind of skip the ones you don't.
Rome is too big to walk alone, even if you're fit. Some things are just a little too far, in my opinion. It was my second time in Rome and my wife's first, so we were trying to do it all.
The Colosseum, the Spanish Steps, Trevi Fountain. We saw those three things, along with doing some shopping and eating as well. Rome may not have been built in a day, but we tried to see it together. So anyway, again, you're gone pretty much most of the day there. And then you get back to the port city, like I said, shortly before the ship leaves.
Matt:  Then we had a sea day again, our lone day of the cruise, day six again, had a good time on the ship, really did a lot of exploring on the ship, a lot of day drinking and partying on the ship and really enjoyed some time in the sun and finally on day seven was Majorca. We ran into a bit of trouble on this cruise stop, Doug.
We were booked on a Catamaran to enjoy a fun day in the sun off the coast of Majorca. Again, this was booked through the cruise line; right when we got down to the meeting point listed on our excursion tickets, we were informed that the excursion had been canceled due to the weather forecast in the area.
So they gave us a choice actually to either go on another excursion that was still available, such as a Pearl tour, I think, or there was a bus tour of the island or something that was still available, or we could get a cruise onboard credit or a straight refund for what we had paid for the Catamaran tour.
Matt:  We opted for the onboard credit and applied that to the steakhouse that later night. So it kind of all worked out in Majorca. We still got off the ship. Given this update, we decided to go into the city center and just sort of hang out and window shop and walk around and see that grand cathedral that's right there on the water. What was funny about this, Doug was that it was sunny and beautiful for the first two hours after we left the ship.
So we were like, Man, we got screwed out of this Catamaran tour. But then the clouds rolled in, and it started pouring for several hours, sending us back to the ship a little earlier than we had anticipated. So, whoever decided to cancel the Catamaran tour was right. We were wrong. This was the only bad weather day we had on the entire cruise. So, every other day was perfect. So, there's not too much to complain about.
Doug: Awesome. When you were in Florence, did you check out Gosh, I can't remember the name of it, and I'll probably butcher it. Still, it was like it was a bridge over the water, had a bunch of shops on it, the Ponte Vecchio or something like that, where there was this killer bakery at the very end of the bridge.
Doug: But it was a bridge with a ton of like it was almost like an outdoor flea market going over the bridge, the waterway, and Florence. Did you walk to that?
Matt: Doug, I don't think we did. I could have seen it and just not put it together for what you're talking about. But that's what's great about Florence. And again, it's almost unfortunate when you do a Mediterranean cruise.
I love it because you're getting to see so many things quickly. But I also don't like it because you see it in a condensed version. I wish I could do exactly what you're talking about. And trust me, one of these days we're going to go back and just do, you know, 3 or 4 days in Florence, 3 or 4 days in Rome. But no, unfortunately, I didn't see that.
Doug: So, let's talk about dark. You make your way back to Barcelona. How was that process?
Matt: Very easy again. MSC seems to have a fine placement with whatever their terminal is.
Matt: It's very, very easy. It's right next to the celebrity's terminal right there. Again, Barcelona seems kind of like a Miami or a Lauderdale or Canaveral of Europe. They've designed it so well that traffic flows almost perfectly in and out of there. It was very, very easy. We used one. I can't remember exactly which app it was, but we used one of the daytime hotel types just because we didn't fly out of Barcelona until late that night and had to be off the ship, I think, by 10 a.m.
And so we explored Barcelona, which gave us a chance to treat Barcelona like another port stop. And so, of course, we went to the Gaudi, the Gothic church and saw many sights in Barcelona. And then we still had about 3 to 4 hours to kill, even after that, before it was time to go to the airport for a red-eye flight. And that's when we decided to do one of those daytime like I said, hotels and kind of catch a two-hour nap before it was time to head back to the States.
Doug: Yeah, two ones I enjoy using. The two hotel apps I like to use are hotels by day and day use. Both of those are excellent and have tons of options.
Matt: I think we used day use. Yeah, that seems to be in my head somewhere, and certainly, I could pull it up. But yes, that's all we use, and that's a great thing. I remember, as I'm sure you do. I remember, you know, getting off a cruise, especially before I lived in Florida, getting off of a cruise in Miami and, you know, having seven hours to kill or something like that before it was time to catch a flight back to New Orleans. And I can tell you, I wish those would have existed about ten years ago.
Doug: Well, as we walk this interview down, any first-time tips to offer?
Matt: You know if you are on the East Coast of the US, and again, my wife and I live in Tampa, if you're on the East Coast, you have many different options to get to Europe for a Mediterranean cruise.
Matt: I still think it is probably the best way for the price and the time that you're going to have to see Western Europe and the Mediterranean region and guess Central Europe at that, to see that region, it is so worth it. Understand the ease of taking a Caribbean cruise. I get it.
Especially, again, if you're in the Southeast or live on the East Coast, just hop a quick flight down to somewhere in Florida and go to the Caribbean. Well, the cool thing about taking a Mediterranean cruise, certainly if you're watching your budget and so on, is that it pretty much excuses me and costs the exact same to take a Mediterranean cruise.
The difference is trying to get over there, which is very competitive. I would be careful about choosing who you fly with and where you are where you could end up as a stop with going there. But other than that, it is well worth it to do it.
Doug: Yeah, I've done some crazy ass routing myself when it comes to saving $1000 or $2000 on airfare, like coming back from the Philippines.
Doug: It was damn near $4,000 for a one-way ticket back to New York from Manila. But I managed to do it in under a thousand, going from Manila to a day in Dubai and then Dubai 15 hours to New York City. I did it in, like, I think, like $888 instead of close to 4000 US.
Matt: If we had the opportunity, we would do some crazy routes. On the way back, we were looking, I think, at Amarok Royal Air Maroc and doing like a day in Casablanca, you know, heading back from Barcelona to there and then on to Miami.
We decided to spend some extra money, flew back to New York, and hopped on that very easy JetBlue flight from New York to Tampa. Nonetheless, there are some crazy routes they will send you to other parts of the world. Yeah. Before you make it over there. So choose wisely, as someone very much smarter than me would say.
Doug: Exactly. So, looking back, what was the biggest highlight of this cruise for you all?
Matt: It was just spending time together. Not to sound like a hopeless romantic, but we met on the MSC Meraviglia in January of 2020 and began a long-distance relationship that went right into a pandemic into which we flew 42 times back and forth from Tampa to New Orleans and back to see each other when no one else was flying, including, you know, taking a flight. I remember taking a flight in April of 2020 where the flight attendants outnumbered regular people.
And we had so many odds against us. And there was always that love of cruising and how we met and kind of the way that spawned this idea that the only logical choice for a honeymoon was to cruise together. So I appreciate the work that you do.
Cruising is still the world's best vacation, in my opinion. It's still the best value vacation, and it's people like you and the romanticism that even exists nowadays that, look, I'm only 35 if I don't remember the days of the love boats or what cruising used to be, I only know it here in the 20 teens and now.
Matt:  But I can tell you that young people think it's the greatest vacation ever, just like some older folks do. And so that's all I got, buddy.
Doug: In closing here, we'll wrap this thing up and put a little bow tie on it by asking you, what are your final thoughts of MSC Seaview?
Matt: The ship is great. It still is one of my favorite classes of ship with how many outdoor spaces there are. I love, other than, you know, the nightclubs and things of that nature. I do love how MSC still has a traditional formal night.
I guess I'm old school in how I dress up every now and get those cool pictures and photos. MSC Doug still has some work to do. I hope eventually, they get their act together to where we can consistently place them with the royals, the Norwegians, and so on, and be one of those crew players until they fix some of their issues.
Matt: They're always going to be right there, kind of. But don't regret this cruise at all. I don't think my wife does either. It was a magical time celebrating our honeymoon.
Doug: Very good. And congrats again, Matt. We've been talking with Matt about his seven-night cruise on MSC Seaview out of Barcelona. Matt, thank you again for coming on the show. My friend, it was great speaking to you.
Matt: My pleasure, Doug. Take care.
Read Previous Transcript: Review of Carnival Glory in the Western Caribbean