In 2019, Ocean Cay MSC Marine Reserve joined the lineup of private destinations, owned by various cruise lines, in the Bahamas.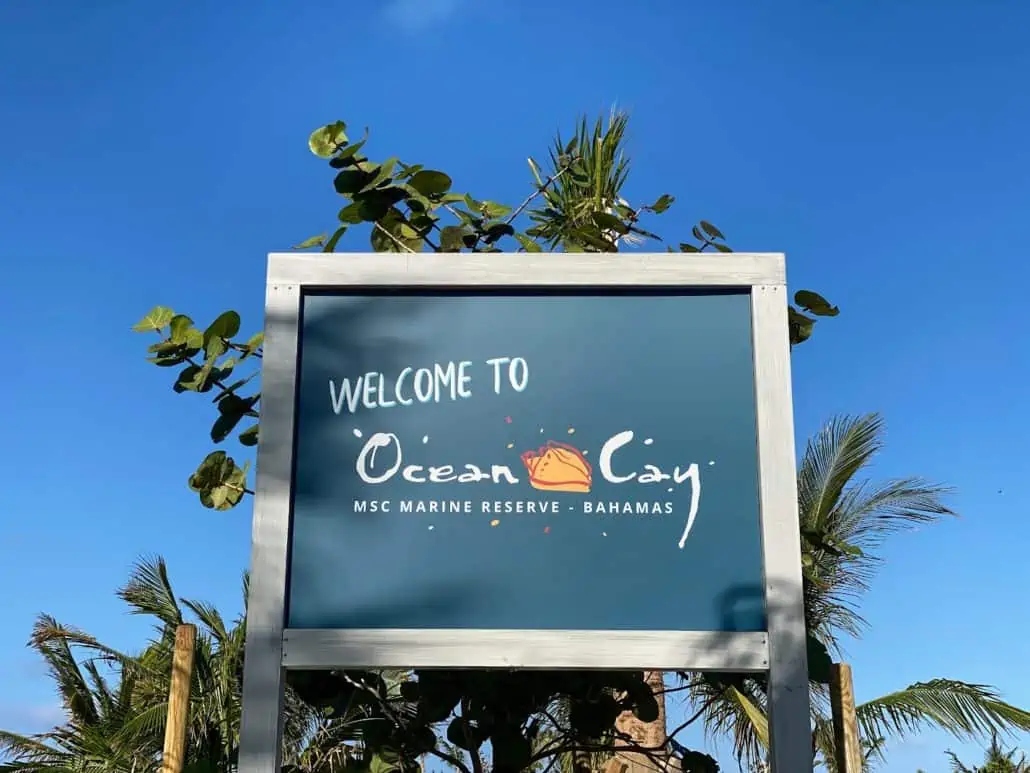 After numerous construction delays and a few stumbling blocks, the island — which gained a lot of buzz from the start due to the fact it was taking a different approach than other such projects — opened in late 2019.
Vessels that currently call at the island include MSC Meraviglia, MSC Divina, and the new ship MSC Seashore. Prior to the cruise industry shutdown, MSC Seaside and MSC Armonia were also routinely visiting. Ships visit the island from both PortMiami and Port Canaveral.
And of course, the lineup is, like the island itself, constantly evolving depending on which ships are deployed where.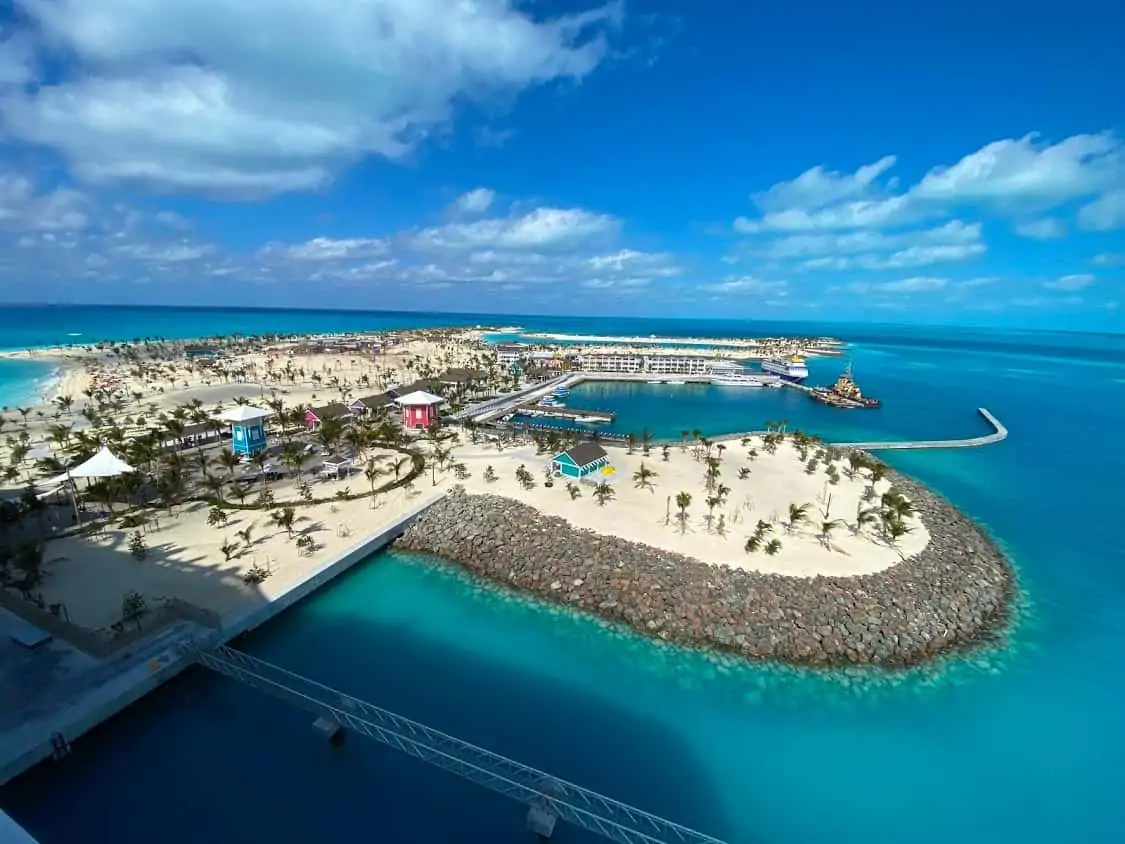 From Dumping Ground to Tropical Paradise
Ocean Cay MSC Marine Reserve has an origin story that's as unique as any you're likely to hear. For decades, the area had been used as an industrial dumping ground. Where others no doubt saw an environmental wasteland to be written off, the folks at MSC saw a challenge… which they promptly accepted.
The process of reclaiming the island would not be an easy one. For each piece of discarded equipment or waste extracted from the ground, excavators would find tons of scrap metal needing to be removed.
Ultimately, delays would see the opening of the island moved from 2017 to late 2019. With the debris removed, the island is once again thriving with marine life.
But by late 2021, the island had not only been welcoming guests, it actually played host to the christening ceremony for MSC's newest ship, Seashore, which was overseen by no less a luminary than actress Sophia Loren.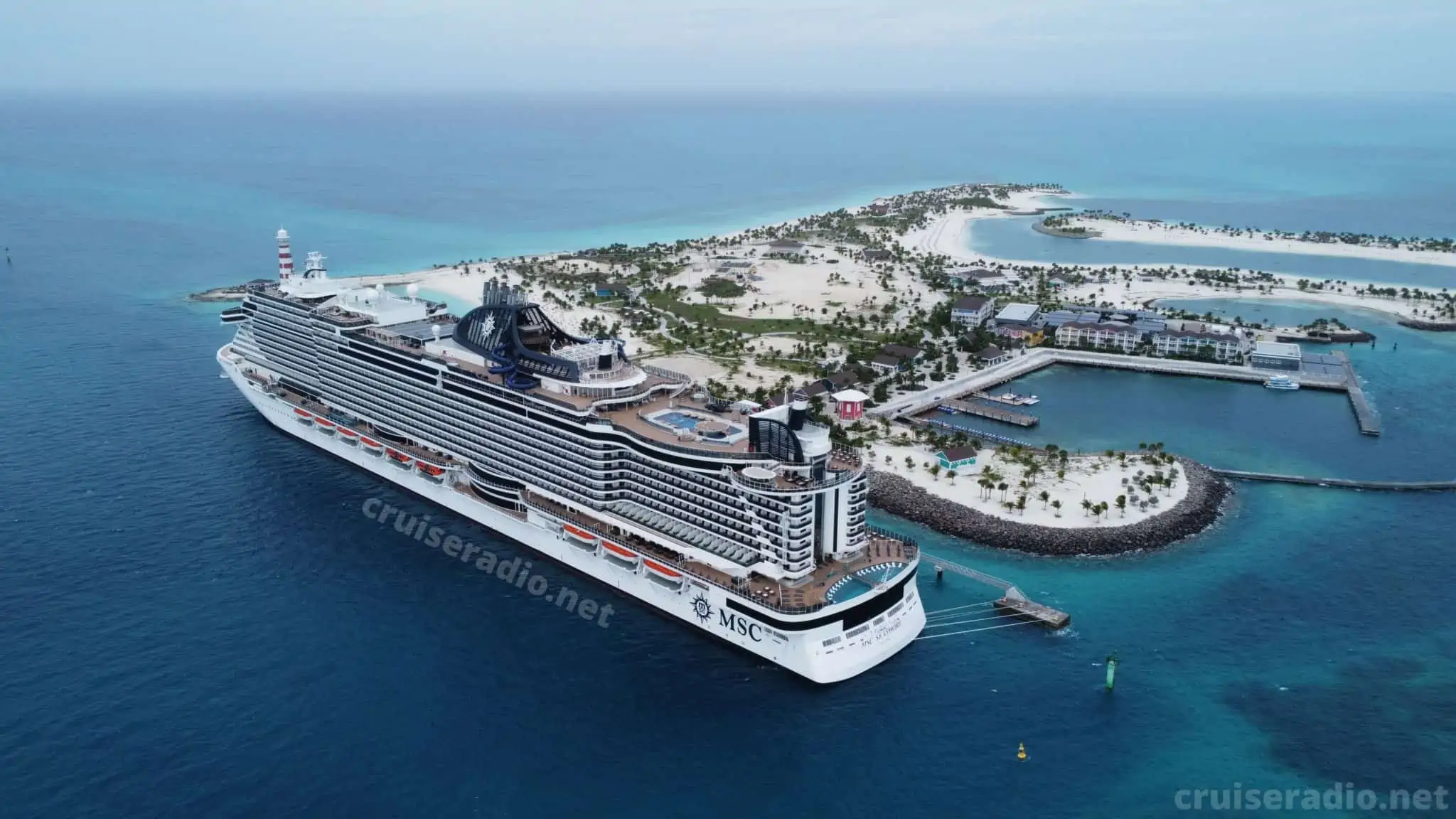 Where It's Located
One of the things that have made many of the private islands owned by cruise lines so popular is their proximity to Florida… especially given how many ships leave from the Sunshine State's ports.
That's the case here, with Ocean Cay being approximately 50 miles off Florida's coast. This means that MSC's ships can allow passengers to hang out on the island long after dark and still be back at PortMiami in the morning.
For context, Ocean Cay is located just to the south of North Cat Cay, putting it 22 miles south of the Bimini Island cruise port where Virgin Voyages and Carnival Cruise Line ships dock.
Arrival at the Pier
One very appealing aspect of Ocean Cay is that arriving ships pull up to a pier. In other words, there's no need to take a tender boat back and forth to the island.
Because the cruise line owns the island and basically developed it from scratch, they were able to control every aspect of the environment. While many private destinations in the Caribbean have typically required passengers to rely on tender boats, Ocean Cay visitors can disembark the ship directly onto a pier the same way they would in ports such as Nassau.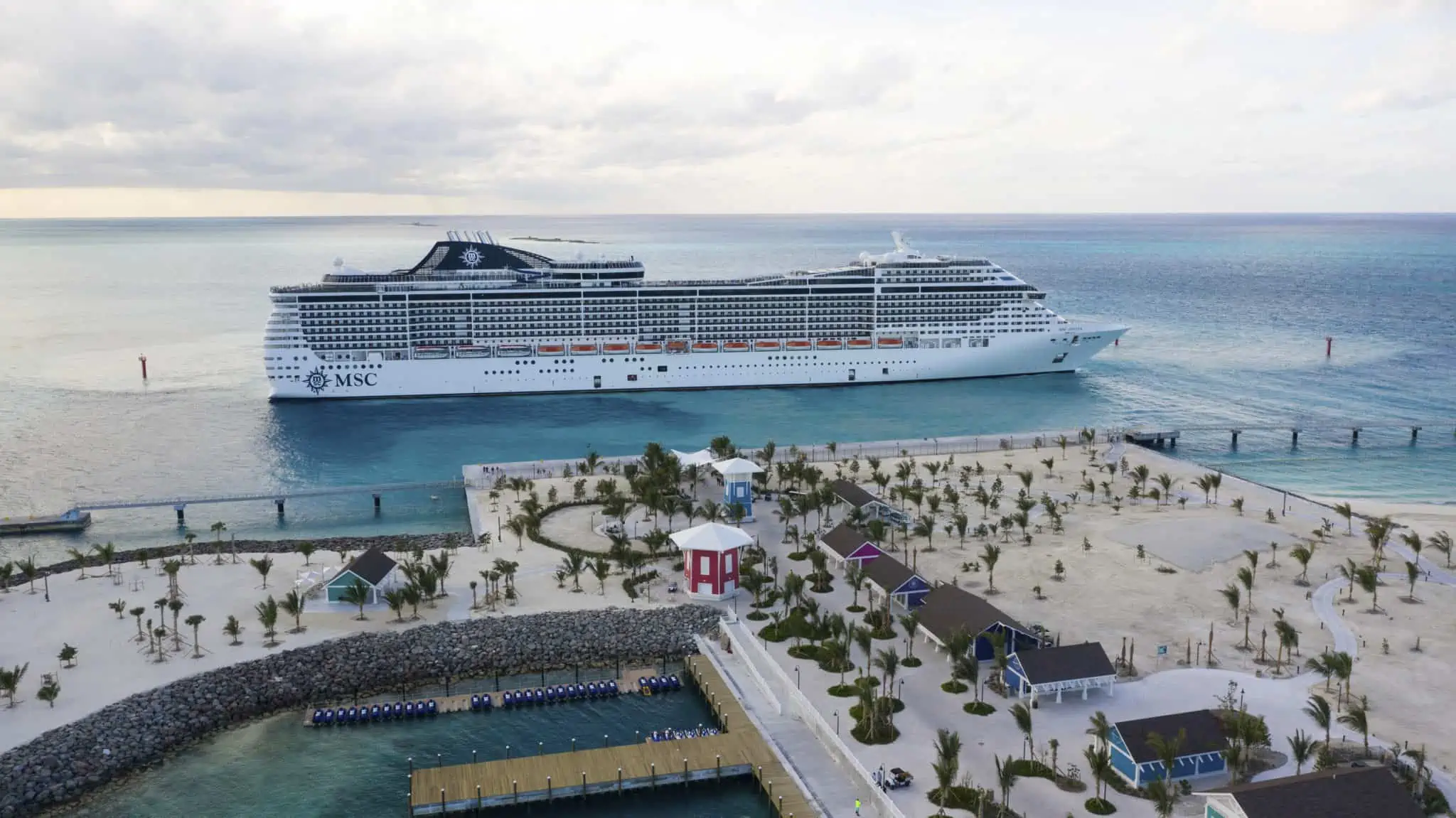 When ships arrive at Ocean Cay, they typically back into the slip with the starboard side bordering the dock. Since the island is both owned and operated by MSC Cruises, everything is managed by the cruise line. This means that when you step off the ship, you won't be barraged by taxi drivers and souvenir-hawkers. (The same can't necessarily be said for photographers, who will be there to snapshots you can later buy.)
Because Ocean Cay is, unlike some destinations, truly a stand-alone island, you are not required to bring a driver's license or passport with you upon disembarkation — only your keycard.
Weather at Ocean Cay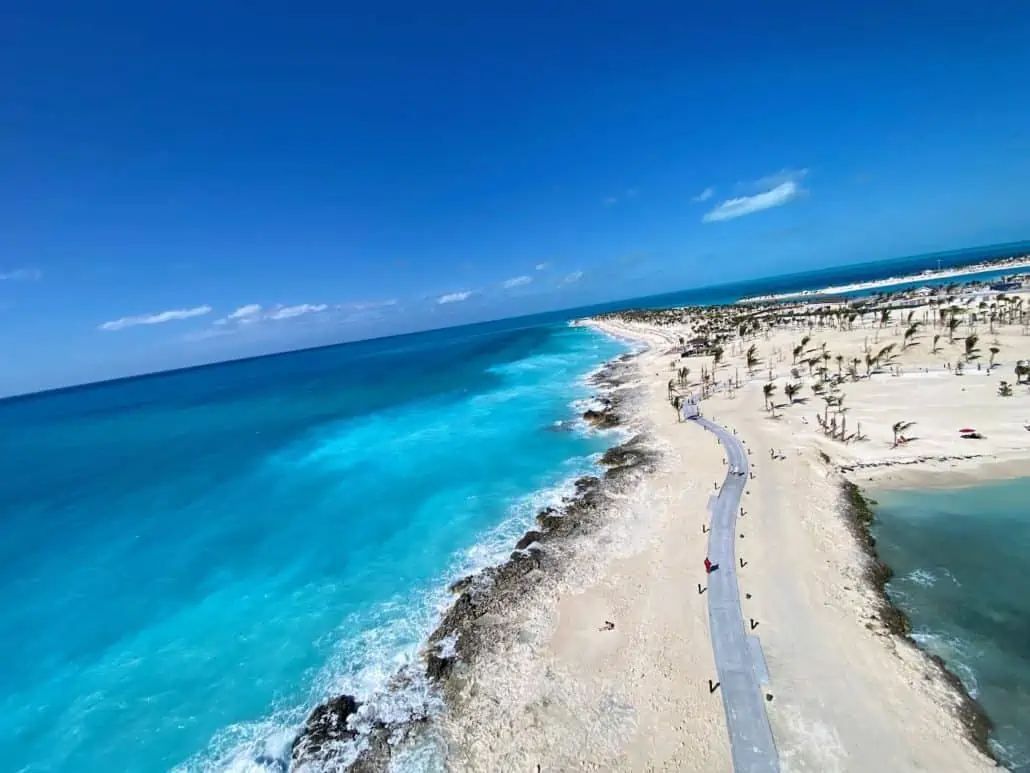 Being right off the coast of South Florida, you can expect the same type of weather that you would experience in Miami. The temperatures can get as cool as 60 degrees in the winter and above 90 during summer. The sea breeze helps kick down some of the humidity, but natural shade can be tough to find with the island being relatively new as a leisure destination and therefore not home to a vast amount of vegetation.
The water temperatures average between 77 degrees in the winter and 87 degrees in the summer.
If you think the weather is too hot for you during your visit, consider renting one of the many cabanas strung throughout the island.
Currency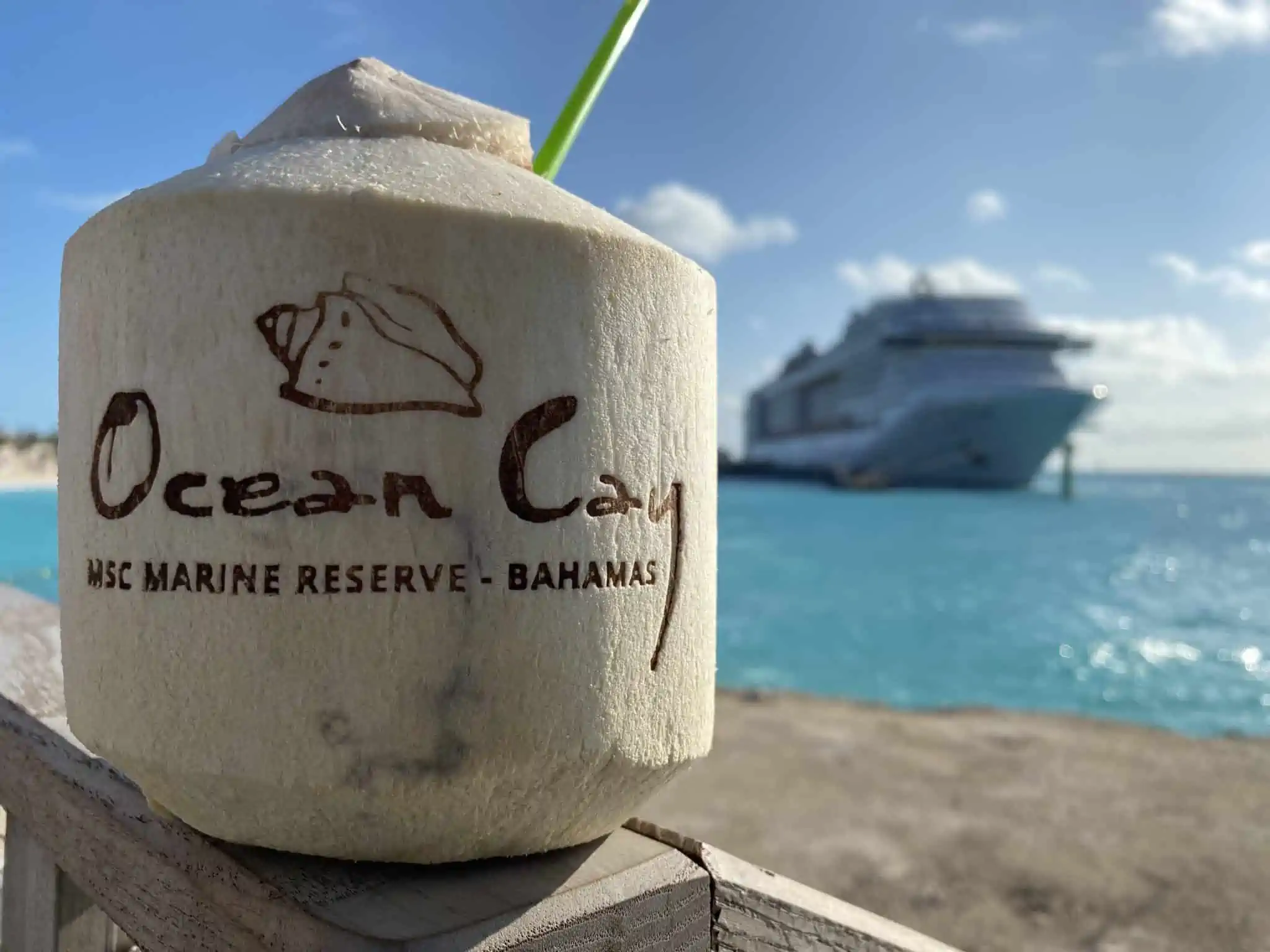 There is no need to take any currency ashore unless you want to extend a gratuity to workers on the island or a crew member working at one of the bars. Being owned and operated by MSC means that the cruise card is accepted everywhere on the island and for everything from drinks to shopping.
But if you're curious about the currency used on the surrounding islands, the Bahamian Dollar ($BSD) or U.S. Dollar ($USD) are each widely accepted.
Getting Around
While the island is very walkable, it could take you a while to make the rounds. But whether you're looking to avoid doing too much strolling around in the heat, have mobility issues, or simply don't feel like exerting too much energy, MSC has a tram system set up to make stops at various points of interest.
For those staying in the Yacht Club — aka MSC's ship-within-a-ship area with dozens of amenities — private golf carts will meet them upon disembarkation and ferry them directly to the private section of beach set aside for Yacht Club guests.
Shopping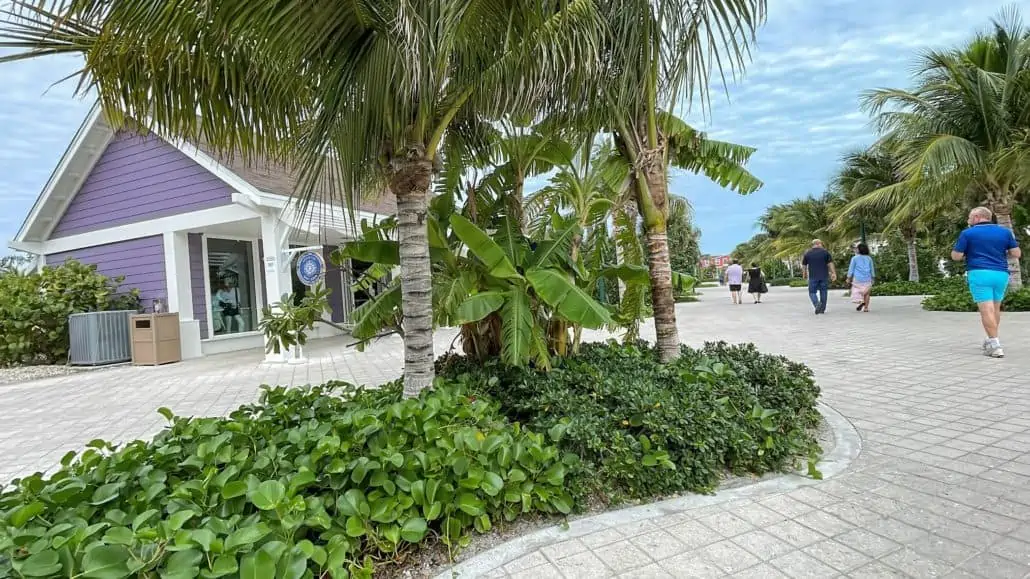 There is plenty of shopping on the island, and you don't have to walk far to enjoy it. Within Ocean Cay Village, several stores sell everything from tee shirts to shot glasses — even plush animals. They accept your cruise card here, so you don't have to worry about having cash or a credit card with you.
MORE: 15 Tips for Visiting Ocean Cay MSC Marine Reserve
What to Do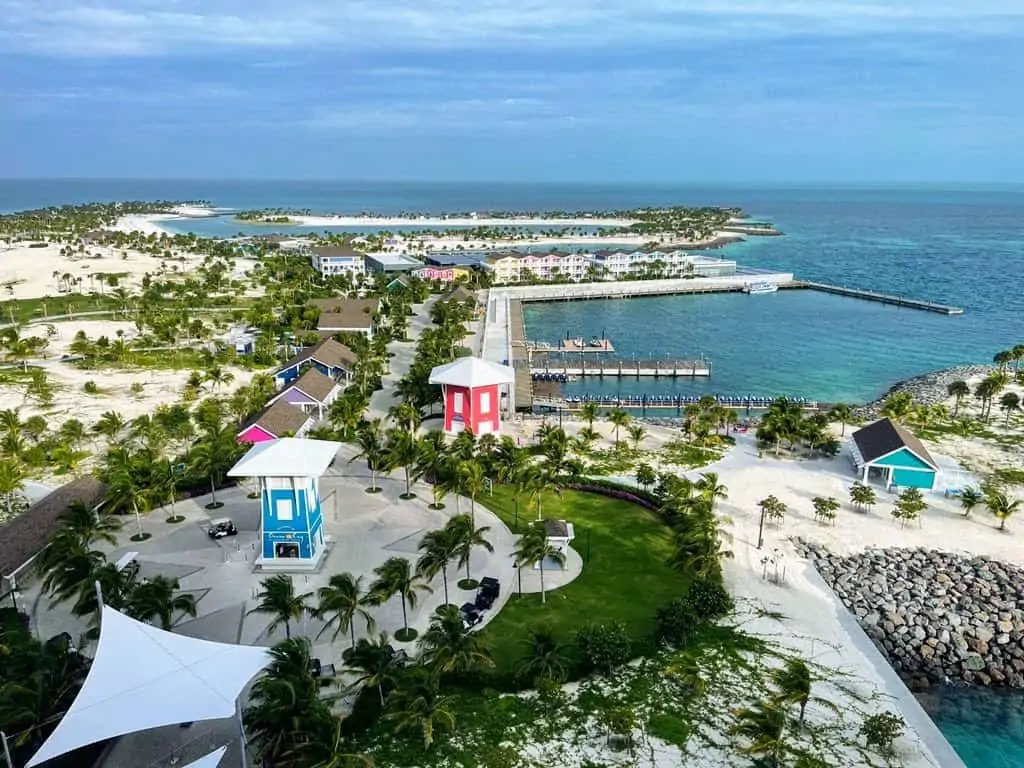 During the Day
With over two miles of sandy white beaches, the obvious way to spend the day here is soaking up the sun and taking the occasional refreshing dip in the crystal blue waters. And while Ocean Cay does not feature the ziplining or waterslides found at the private destinations run by some other cruise lines, there is still plenty to do here, with a real emphasis on the natural surroundings.
When you walk off the ship, you'll come to the Tours and Activities Pavilion. This is the perfect place to stop if you're looking to book a last-minute activity.
Some excursions do sell out quickly, while others will have plenty of availability. It's always a good idea to keep checking your MSC app or the shore excursions desk during your voyage if there's an excursion you're interested in.
Our advice: Book it rather than risk finding out that it's no longer available once you arrive.
Among the activities offered on the island are kayaking adventures, snorkeling, scuba diving, paddle boarding, jet ski rentals, spa treatments, climbing the lighthouse, playing games in the sports area, or just relaxing on the shores of one of the many beaches. There is even a wedding pavilion on the island, should you wish to make arrangements to tie the knot or renew your vows while on vacation.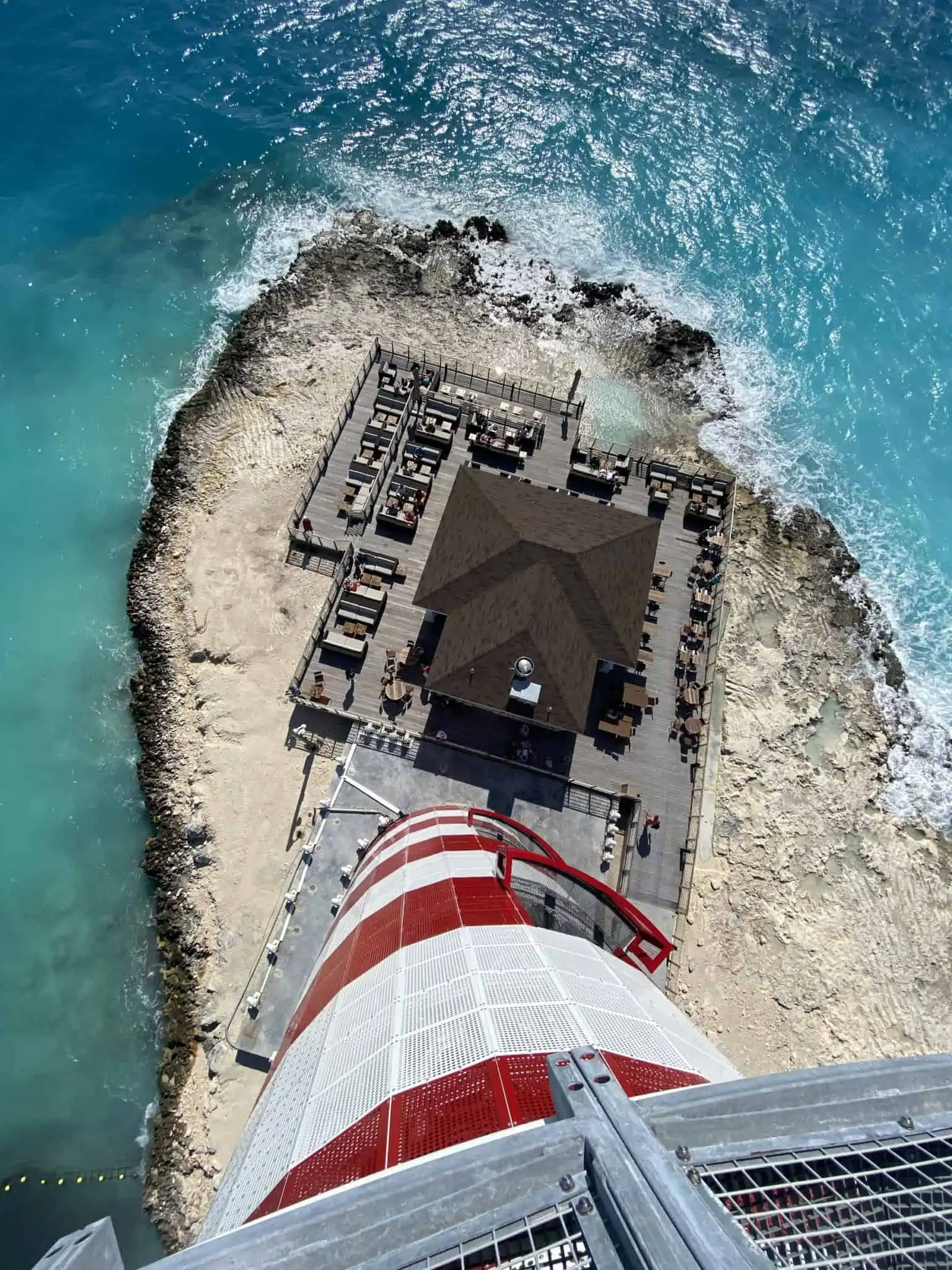 There are numerous beaches and lagoons around the island, so it's worth doing a bit of research before you arrive in order to figure out which one suits your needs. The eight beaches include Bimini Beach, North Beach, South Beach, Seaker's Family Beach, Lighthouse Bay, Sunset Beach, Aurea Paradise Sands, and the Ocean Cay Lagoon.
Family Area at Ocean Cay
Seakers Family Cove is definitely the place to head if you've got young ones in your travel party. The area offers a wide variety of family-friendly activities, including sand castle building contests, treasure hunts, and challenges designed to get the entire family involved. This is also where you'll find both the Family Lagoon and, conveniently enough, Seakers Food Court, which features both American and Bahamian favorites and is entirely complimentary.
Ocean Cay After Dark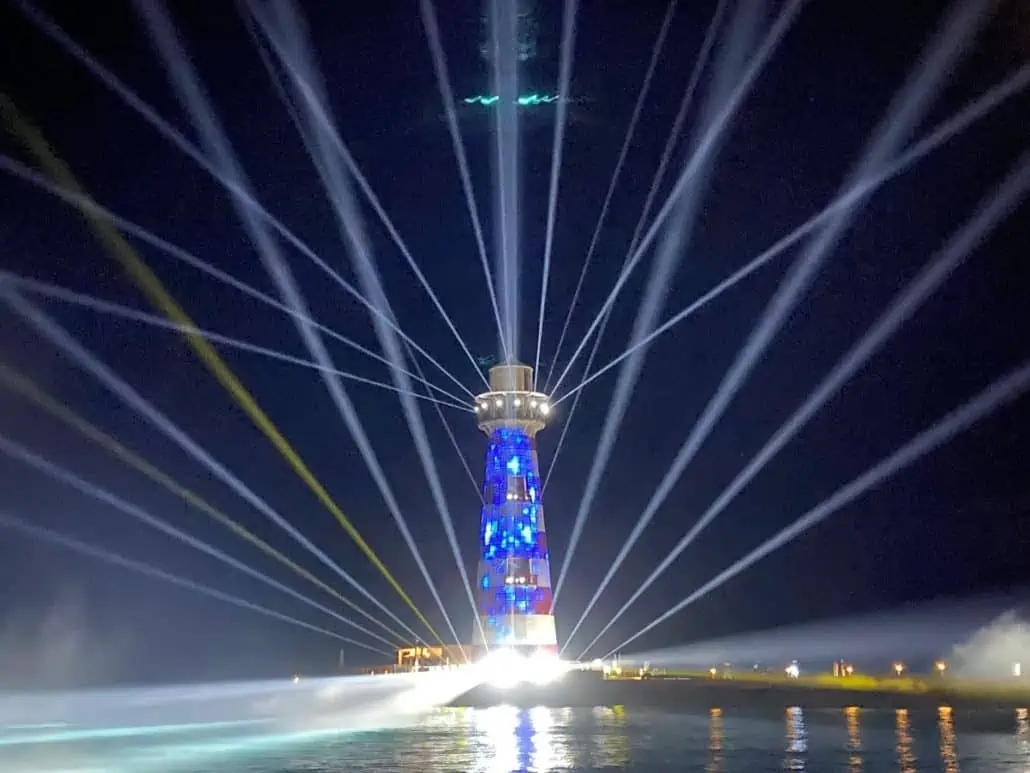 Although it's becoming more common, Ocean Cay was really the first private destination to feature after-dark activities. Many sailings feature visits that last until 1 a.m. or even spend the night.
(It's worth noting that even if the vessel does stay all night, guests are required to spend the night onboard the ship — they are not allowed to remain on the island overnight.)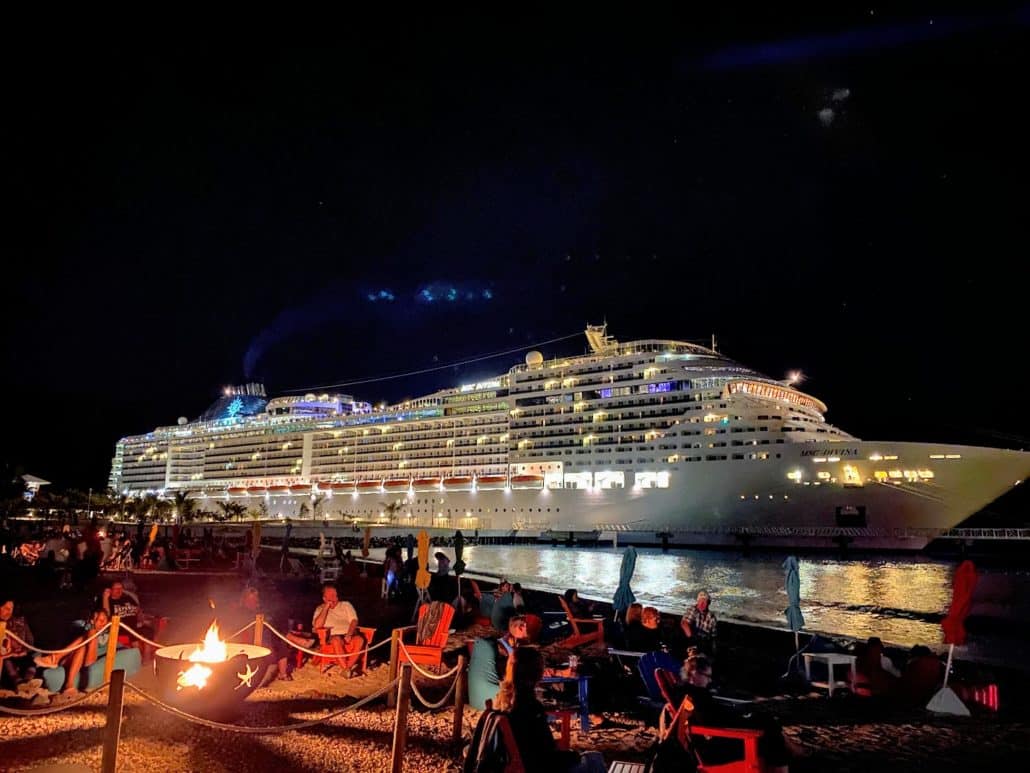 As peaceful as it is during the day, Ocean Cay comes to life at night with the Bahamian Junkanoo Parade, live music, and light show. The lighthouse which anchors the island is covered with millions of LED lights which, although undetectable during the day, cause it to become the center of attention once the sun sets. With a DJ spinning tunes and glow paddle-boarding taking place on the beach, the party goes late into the night.
Food and Drinks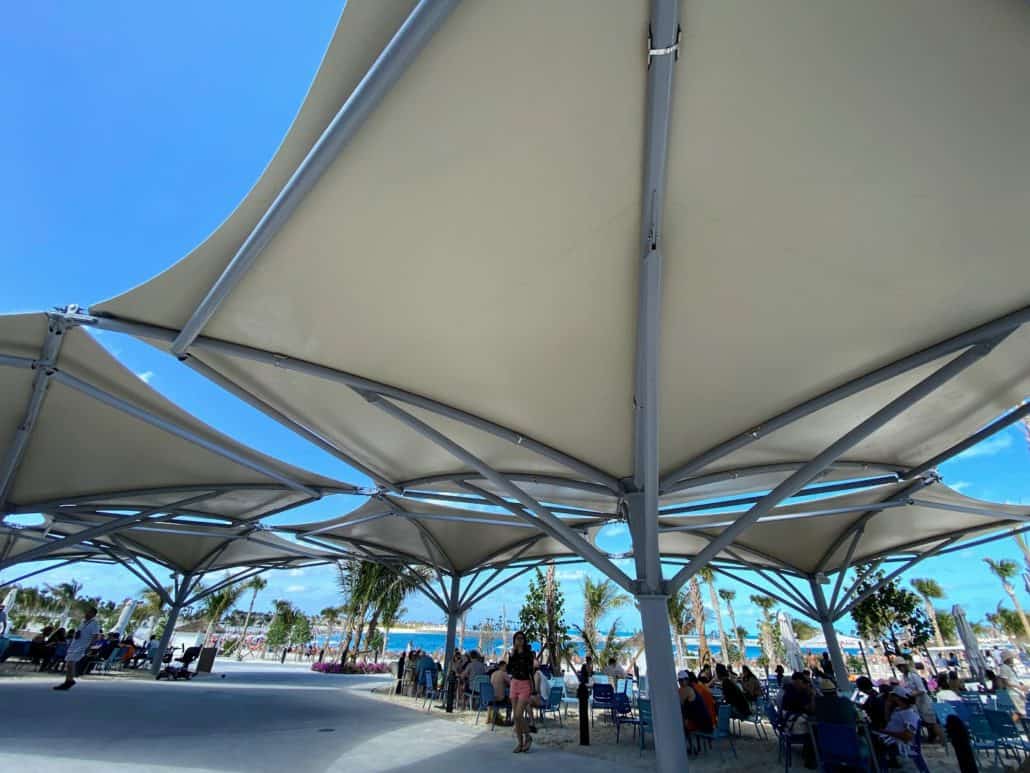 Aside from the previously-mentioned Seakers (which is essentially Ocean Cay's version of an island buffet), you'll also find several food trucks offering a variety of options.
Meanwhile, the attention-grabbing lighthouse has, at its base, a bar with cozy seating (both in the sun and shade), while the marina is home to the authentic Bahamian hot spot Springer's Bar.
Looking for some soft-serve ice cream or maybe some coffee? Head over to the brightly-colored Smiling Fish. And thanks to several beach bars, you're never too far from the kind of treat that'll help you cool down on a hot day.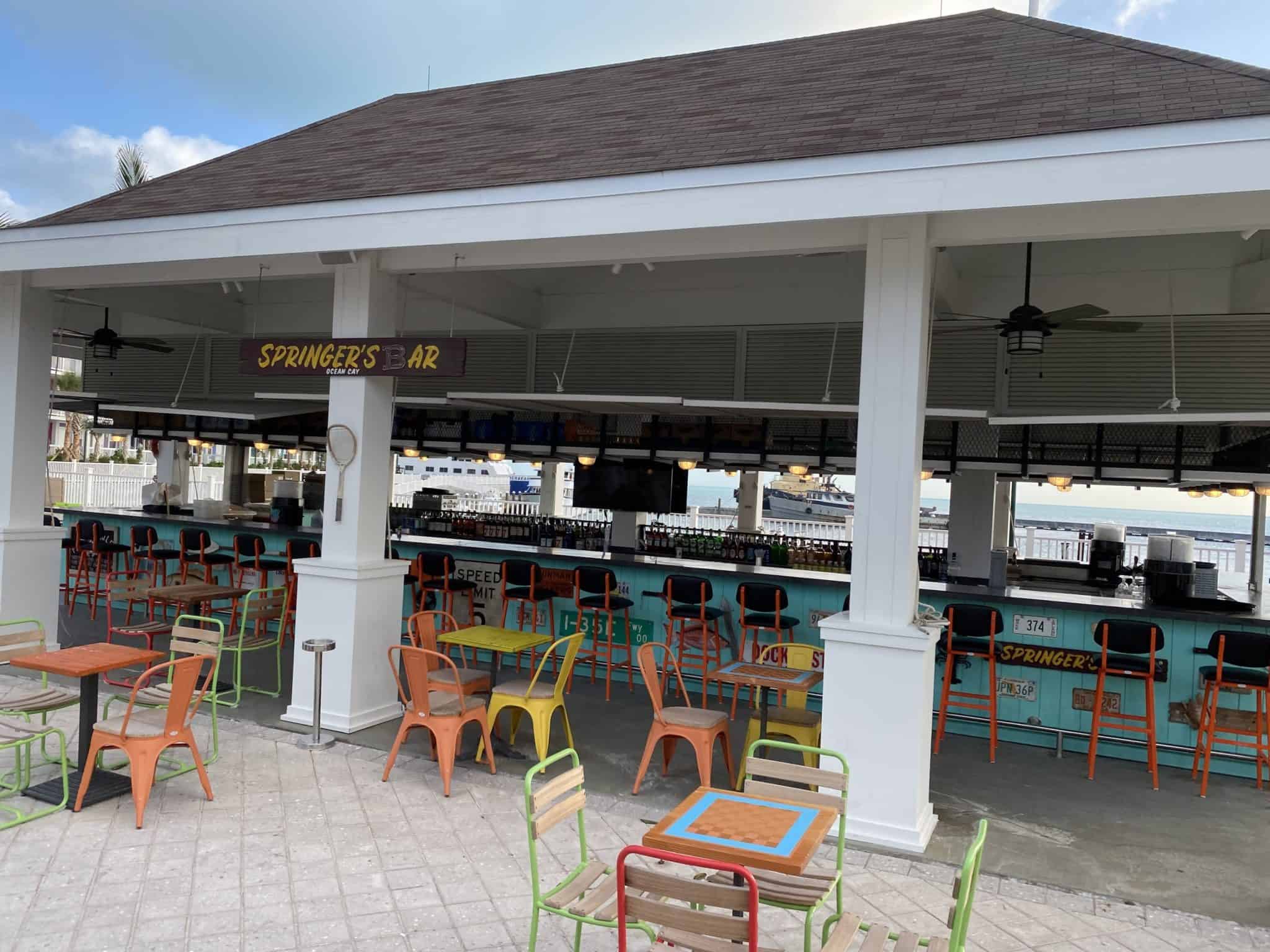 Final Thoughts of Ocean Cay
With Ocean Cay MSC Marine Reserve, MSC Cruises not only earned a place at the "private destination" table, but also established its island as truly unique. An added nod is that the cruise line has teamed up with universities and scientists to help reclaim the coral and marine life around the island. In late 2021, sea turtles came ashore to nest and lay eggs.
Although slightly more low-key than places like Royal Caribbean's Perfect Day at CocoCay, Ocean Cay offers everything necessary for the perfect beach day.
The spot also earns big kudos for its after-dark entertainment, not to mention the pier which makes hopping back and forth between your ship and the island as easy as walking down a gangplank. MSC Cruises' new private island is a huge win for both the cruise operator and its guests.
READ NEXT: 11 Tips For Navigating Nassau, Bahamas
Pin it!