The full transcript of Cruise Radio with host Doug Parker and his guest Heather, who reviews her sailing of Carnival Glory in July 2023. This transcript has been edited for clarity.
You can listen to the entire episode here.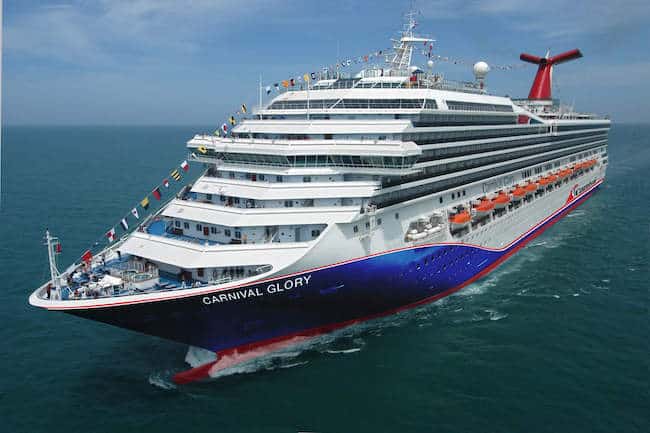 DOUG: What made you want to sail this cruise on Carnival Glory out of New Orleans?
HEATHER: We had the same itinerary last year. And through nobody's fault, it was just circumstances beyond our control. Several things happened that we wanted to redo. And so we looked for different cruises.
HEATHER: I had wanted to go out of Galveston on the dream because we would have had Half Moon Cay added to that. But my husband had just started a new job, and he was afraid that he wouldn't be able to get that extra time. And so I said, okay, we're going to compromise then, and we're going to get a suite on the Glory since we can't go out of Galveston.
DOUG: So you're in Mississippi. You had to make your way down to New Orleans. Did you do any pre-cruise time?
HEATHER: No, We have learned to go to the day before. We always say in Covington, Louisiana, before our cruises. And it's just that we love Covington. It's a cute little town, and that area and a bit of spring. It's a quaint little area that takes too long to get to the port. It's just, you know, basically a straight shot across Lake Pontchartrain down to the port.
DOUG: Okay. Very cool. So you make your way to the port of New Orleans, the Julia Street Cruise Terminal. I believe it is over there. How was the embarkation, and how long was it from curb to ship?
HEATHER: We got in a little traffic jam. It took us when we got close to the port, we were stuck in traffic for about 20 minutes, but that was the longest time we waited. We had early embarkation because we had a suite. We were able to check in early and get the earliest check-in time.
And so when we arrived, hardly anybody was in the waiting area. And so we got checked in and got seated in the suite area.
I guess that was a waiting period because we got there about 10:00, and they were going to start calling people on at 10:45, and right at 10:45, they called the diamond guests first, and then suites were right after that. And so we were on the ship in less than five minutes from when they started calling passengers.
HEATHER: So, yeah, it was nice.
DOUG: Awesome. So you make your way onboard Carnival Glory. I know you sailed it last year as well, but collectively, what are your first impressions walking on board the ship?
HEATHER: Well, I love the atriums, the big open atriums with the glass elevators, and just like the central meeting spot. I just love that design and that the Glory is not really miniature, but it's definitely smaller than the Dream class, but still, you know, amazing to walk into.
DOUG: You said you booked a suite on this one. So, how was the suite over your seven nights, and what did you think about it?
HEATHER: Returning to anything but a suite will be hard because we were a priority. We were able to drop our bags off. We walked in. There is almost like a hallway, but not really. I mean, it's a cruise-sized hallway where you walk in at the door to the bathroom, two big closets in that area with a vanity, and so much storage, we didn't even need it all.
HEATHER: The room, I guess, is about a size and a half the size of a regular balcony room. And then the balcony is just a little bit wider. It's not, well, a little bit longer. I guess it's not wider, but it had room enough for a lounge chair and two other regular chairs with a little table in between.
The only downside to this room that I could find was that there was a lot of paneling that was not magnetic, so I couldn't use a lot of the magnet hooks that I had brought with me. So that was, but that's the only downside we could see.
DOUG: Yeah. Where was your room located? Did you have any noise issues throughout the seven nights?
HEATHER: The only noise we had was from the cabin next door to us that had kids, and they were kind of noisy, but at night, everybody was asleep. I guess it was only during the day that we heard them. But above us, below us, we didn't hear anything.
HEATHER: We were toward the front. Um, that we were on the port side. And so it was. I think it was a good location.
DOUG: Yeah, for sure. Let's talk about the dining on this seven-night cruise, and we'll start at the top there on the Lido deck at the Lido Marketplace Buffet. How was the food through there? And then how about the outside decks like the Guys' Burger and such?
HEATHER: I had no complaints about the selection, the freshness, or the food. Every time, breakfast, lunch, whatever we got, it was always good, and there was a decent selection. Surprisingly, we did not get a Guy's Burger this entire cruise. I could not believe my husband did not want to get one.
And I really, I'll eat one if he wants to go there. But that was not my choice of dining. But he didn't want one, the whole crew. So we ate at the we got tacos at the Blue Iguana. Not really the cantina with that little area.
HEATHER: They don't have a real cantina on the Glory. But we got burritos, breakfast burritos, and some tacos for a few days.
DOUG: Do they have the, I'm trying to think, is it the upstairs with the barbecue on that ship?
HEATHER: I believe so. We never even went up there. But I believe it is still up there.
DOUG: Okay. I got you. Did you go up there last time we were on by chance?
HEATHER: We did not know.
DOUG: Okay. Just not barbecue people.
HEATHER: Well, being from Memphis.
DOUG: How about the main dining room? What time dining did you have, and how was your experience there?
HEATHER: We had early seating at 6:00, and this was the first time we had been seated on a cruise with other people we did not know. And it was we were seated with two sisters, two older sisters, and it was just delightful.
HEATHER: They were a hoot. And we had a great time getting to know them. We had a great dining staff and did not have a single complaint about the meals. They were excellent. Again, much improved over last year.
DOUG: So you sat with two random people, like it's always hit or miss, right? It's like it can go good or bad.
HEATHER: I think we originally were going to be seated by ourselves, but we were off in a corner where we couldn't see anything. And we like to see those shows when they do the show time. And so, we asked to be seated closer to the open dining area.
And I guess they had to compromise and put us with two other people. So we originally were like, Oh, this is not going to be fun, but it ended up being great.
DOUG: Oh good, that's awesome. So, did you do like the steakhouse or anything on your cruise?
HEATHER: We didn't. We had just a good enough experience with the food that we didn't feel we needed to go to the steakhouse. It was great.
The actual steaks that we had on Steak and Lobster Night were excellent. So we just, you know, we didn't feel like we needed to spend the extra money. We would rather, you know, do other fun stuff.
DOUG: Yeah, no, I hear you 100%. So, let's talk about the entertainment on your seven-night cruise. What did you all think of it again?
HEATHER: And I'm going to reference our cruise from last year. It was so much better this time around. The playlist productions cast. Every show we went to was so good, and they just seemed like they were this cast had been together forever.
The music was great, and we know the same shows we've seen several times, like Epic Rock and Getaway Island, which is the campy little show with all the Jimmy Buffett music and everything.
HEATHER: But everything was so good, and the singers were great. We enjoyed each one that we went to.
DOUG: How about the music around the ship or any comedy clubs?
HEATHER: We didn't go to the comedy club. I think we just kind of ran out of time. One of our favorite things to do was to go to the atrium and just try to find a seat and listen to the Glory Rock Band because they were always so good.
You know, our favorite is, of course, the 80s music. Anything they would sing, the whole crowd would get into it. And that was a lot of fun. I think they had some violin players. We were there, you know, just to catch the tail end of a couple of their sets a couple of times. But I think that was the only main music, you know, around the ship that we paid attention to.
DOUG: Yeah, I hear you. So let's talk about the days as far as crowds and congestion on board.
DOUG: How'd that stack?
HEATHER: Getting a seat in the atrium to listen to the band was hard. Or if we were going to play trivia, it was hard to find anywhere in the atrium. And this was over Memorial Day weekend. So we knew it was going to be crowded.
We just didn't expect it to be that crowded. And, of course, the pool deck was always crowded. We're not full people. So that didn't matter to us. Surprisingly, trying to get an elevator was hardly ever an issue. The only time that was an issue was right after dinner or trying to get to dinner. Besides that, we were in an elevator most of the time by ourselves.
DOUG: Did the ship feel crowded?
HEATHER: Only when we were in the atrium or moving through the pool deck, you know, to go to the buffet or something? We never had trouble finding a table in the buffet.
HEATHER: We had a little trouble getting a seat for one of the shows, but only one. So it did not feel as crowded as I think it probably was.
DOUG: How about the casino regarding the smoke in and around it?
HEATHER: It was pretty bad the first few days. We didn't stay in the casino very long. But we came in a couple of times from the other side. I can't remember if it's the port side or the starboard side where it's; there's not a a true walkway, like it's not open. And so the smoke was pretty bad in that area, but it didn't waft down to the atrium or anything like that.
HEATHER: So I was pleasantly surprised that it was not worse than it was.
DOUG: How about the ports of call you into? This was a Key West and over to the Bahamas, so give us your first port of call, what you did there, and then go to the next one.
HEATHER: We went to Key West first, and we rented a golf cart from Pirate Scooter Rentals, which was the best way to get around Key West, in my opinion. They, of course, the only thing with that was you had to pay to park everywhere you went.
We were prepared for that. We did not care. We just wanted a better way to get around than walking everywhere. We went to the Butterfly Conservatory, which was just a beautiful experience. Just you walk in, and the butterfly. It's just the prettiest thing. And they have red and scarlet flamingos, which are, you know, really cool to look at.
And they were being noisy. But it was fun watching them. And, of course, we got our picture taken at the Southernmost point, which I think requires that you have to do that when you're a tourist in Key West.
Then we went to Fort Zachary State Park just to see what the water looked like if we ever got back down there and wanted to go snorkeling or something. And then we ate at Margaritaville for lunch and had a good time there. The food was really good. I expected it to be like a Chili's, but the food was really good. And then, of course, we went to Kermit's and got a chocolate-covered key lime pie on a stick. And that pretty much rounded our day out at Key West.
DOUG: And then you hit up a port in the Bahamas.
HEATHER: Next, we went to Freeport, and we had a pre-booked taxi service because our previous experience was a little chaotic trying to get from the port to Paradise Cove, which is where we were going this time as well.
HEATHER: And so we already just went ahead and pre-booked that service. We went to Paradise Cove, which is also called Deadman's Reef. We had gone last year and enjoyed it so much that we wanted to return. We had pre-booked with them, um, paid for most everything that we could online and got an umbrella and a couple of chairs, and it's known for snorkeling.
And so that's what we did. We enjoy snorkeling wherever we go. And so we snorkel for a little while. I hoped to see turtles, and we were almost ready to get out of the water. And suddenly, I turned my head, and there was a turtle.
And so my husband got the GoPro, and he recorded that. And so we got out of the water, ate some conk fritters, which were delicious, and went back a little while later, and there were three more turtles. And so we got to, I mean, it was like they didn't even care that we were there. They were just, you know, swimming around, eating grass.
HEATHER: And we didn't touch them. We were trying. I had to purposely get out of the way because they were so nonchalant about us being around them. And that was so it was. I stared at him like I needed to sear this memory into my brain because it was so close to us. So that was amazing.
And then, um, we had a little incident because a storm came up, and we could see the clouds coming in. I thought, Michael, we need to get out of the water. So we got out, and sure enough, it started pouring down rain.
The only bad thing was that we had a preset time for our taxi service to pick us up. When I called him, I said, we need to come; we need to go ahead and get back to the ship early because everybody else had left the bus that had been there before. They had already left. So, the people at the resort were ready to go home.
HEATHER: And so we were the only ones there. So I called him and said, can you come pick us up? And he said, I'll send one of my other people that was fine. Well, she finally gets there, and we're leaving to go. We think we're on our way to the port. Then she pulls off and goes to this little store to pick up some food for her daughter. And I'm like, okay, that's different. And, you know, I don't think we had ever really experienced island time. That's a real thing.
So she gets back in the car and thanks us for letting her do that. And we're like, Sure, no problem. Well, then we think we'll go on to the port. And then she pulls off on a side road that looks sketchy. And I just look at my husband. I'm like, What is going on? And so she pulls into this house, and I don't know if it was her or her daughter's house, but she takes the food into this house and then takes us back to the port the rest of the way.
HEATHER: And we just laughed about that. I'm like, okay, well, I guess that's okay. So, that was a very interesting end to our day in Freeport.
DOUG: Yeah, I would say so. And then, was Nassau the last port?
HEATHER: Yes, Nassau was the last one. And we did a snorkeling excursion through the ship. It was later in the day, so we could sleep late and just get breakfast and not do a lot until we had to meet our excursion. We went out to two different places to snorkel, and the only bad thing that happened there was everybody was getting off the back of the boat, and the captain had said, If you're comfortable, you can jump off the front.
And both of us were like, Sure, that's fine. So we had all of our snorkeling gear on, and my husband jumped off, and he was fine. And this other smaller child had jumped off. I went to jump off, and my fin, my snorkel fin, slipped. I lost my balance and fell, hitting my leg on the boat's edge, falling in the water, and losing my snorkeling mask.
HEATHER: The captain had to jump off the boat to dive down, get my snorkel mask, and hurt my leg. And but Michael said, my husband, he said, Do you want to get back on the boat? I'm like, No, I want to go snorkeling. So we snorkeled in that spot. And then, and I mean, my knee was killing me, but I wanted to experience this. So the coral and the fish it was just beautiful. It was so beautiful. I would do it again in a heartbeat, even with a bad knee. It was just it was amazing.
DOUG: I'm glad you were okay, though. That could have been bad.
HEATHER: Well, that was so another first. When we got back to the ship, we would kind of go. I wanted to see the new port because the new port in Nassau had just opened. And so, he was really nice when we got there. You know, we had a specific spot.
HEATHER: They had covered areas for everyone, like an excursion meeting spot. And I wanted to explore the shopping area and everything, but my knee was hurting too bad. And so we had to get back on the ship, and I went to the medical center to see if they felt like I needed to get x-rays.
And he said he felt like it was not, you know, it wasn't anything. It was just kind of a soft tissue bruise or something. So we felt confident that I could wait until we got back home. That was not the last day, but the last Port Day. So it ended up being okay. Anyway, I had a lot of firsts on this trip.
DOUG: Is it back to normal now?
HEATHER: Not quite. It's been almost three months. When I came home, the doctor said he wanted me to attend physical therapy, but I didn't have time.
DOUG: How was the debark process?
HEATHER: I don't know how to return to a regular room. Having a suite made embarkation and demarcation the smoothest we've ever had. They had a note for us in our room the night before demarcation, and it said, we're going to.
You're going to meet in the Golden Dining room at 7:00. And so about 645 we went down and got, you know, our area, and they had everybody line up. I took a screenshot of my clock on my phone, and it was 654 when we got in line to leave the dining room.
And by 7:10, we were in our truck. Now, part of that was aided by the fact that when we got to the port, we tipped the porter at 20, and my husband said, Do you have any recommendations on where we can park? And the porter goes over and lets us in the priority parking.
HEATHER: Friends of ours had told us to do that, and so when we were able to do that, I texted them and said, You have cracked the code. Yeah. So that was a fantastic thing that happened, too. But getting off the ship and not being in the chaos of direction was worth the extra money we spent on the suite.
DOUG: Oh, yeah, 100%. And, you could always go out there and hang out on your balcony and your little piece of real estate, too, if it gets too crowded in the public spaces. Yes. So, any first-time tips to offer anyone sailing Carnival Glory?
HEATHER: I would say when you first get on the ship to get a good lay of the land, so to speak because trying to get to the dining room is at least the platinum dining room where we had dinner. It's a little choppy. You can't just walk just by walking from one side of level three to the other.
HEATHER: You have to either go up or down, but getting a good lay of the land, See how you need to go up and everything. That would be my suggestion to do that. I can't think of anything else except after you do that. Just get a drink and sit in the sun somewhere.
DOUG: I don't know. It sounds like you tipping that guy in the parking lot worked out for you, too, though.
HEATHER: Well, yeah, that too. That's not specifically to the Glory. Anywhere. Anytime you're. You're in that port. That's a that's something we will do from now on.
DOUG: Did you read any reviews about, like, all the break-ins that happened at that port parking lot?
HEATHER: Well, so we were at Erato Street. We weren't in Julia. We weren't on Julia Street. Okay. Gotcha. And so we had not seen anything specific about it. But it had I had seen some about the other areas. And that was what did make me a little nervous. That was another reason I wanted to get better parking, and being on that level, I felt like it was a little bit more visible.
HEATHER: But we got to the parking garage fairly early. Of course, everybody else had the same idea, but we got there fairly early because I wanted to ensure we got a decent spot. But I wasn't nervous on the cruise. I wasn't nervous about whether that was going to happen to us or not. Now, if we had to park in an overflow parking or something like that, I think I may have been slightly more worried about it, but I wasn't. And I don't think I will be if we can park in that same situation.
DOUG: Yeah. So, looking back on this cruise, what was the biggest highlight for you?
HEATHER: Swimming with the sea turtles? For sure. I don't know how long that's been on my bucket list. And it was just it was magical. If I could do that every single time, I would. I don't think it would ever get old. They were beautiful. And I wish we could have stayed in the water a lot longer. That was the highlight for both of us, I think.
DOUG: Yeah, they're certainly majestic creatures. Yep. It's what's so cool watching them swim out there. Well, what are your final thoughts on Carnival Glory?
HEATHER: Well, I would say on her again, I do believe that she is moving. I think liberty is taking her place.
HEATHER: The last I heard, I thought she's going, I think she's going to Port Canaveral. I think. But I would sail on her again in a heartbeat. I don't know that I will ever be able to return to a regular balcony room after having a suite, though. I think I'm going to have to just, you know, try to convince my husband every time if we cruise on Carnival, we're just going to have to get a suite. I have no complaints about that room.
People complain because the law is a little bit older. But I didn't see any problems. And the bathroom was huge. We had a shower tub, and it meant so much. It wasn't the size of a regular tub but much bigger than the regular room showers. So it was amazing.
DOUG: Awesome. Well, it sounds like it was a nice redemption cruise for you compared to Carnival Glory last year. We've been talking with Heather about her cruise aboard Carnival Glory to the Western Caribbean.
DOUG: It's always great talking to you, Heather.
HEATHER: Thanks, Doug.