A potentially disastrous situation unfolded as a huge ferry inexplicably backed into a docked cruise ship in the port of Barcelona yesterday. The shocking incident was caught on camera and is being called, in what seems a masterful example of understatement, "unusual" by local authorities.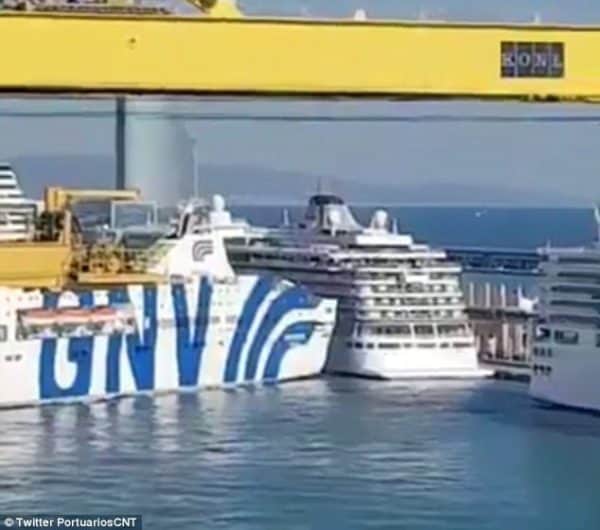 How It Happened
According to the Daily Mail, the ferry boat Fantastica backed directly into the cruise ship Viking Star, which was docked at Barcelona's port. Although emergency services were called to the scene following the slow-motion collision of the two ships, it appears that no injuries have been reported and damage was minimal.
Although an investigation is under way, local officials called the incident "unusual" because these types of events generally occur when visibility is low, which was not the case here. It appears at this point that the Fantastica may have lost power while attempted to dock and drifted backwards into the aft section of the Viking Star. Witnesses report that the ferry apparently dropped anchor in an attempt to prevent itself from hitting the cruise ship.
https://www.youtube.com/watch?v=OiiKvYGPFkk
About The Ships Involved
The Viking Star is a new ship, having begun service in the spring of 2015. Weighing in at 47,800 gross tons, and carries just over 900 passengers (as well as 600 crew members). One of the ship's calling cards is that every stateroom has a veranda. She's also incredibly environmentally friendly thanks to energy-efficient hybrid engines and on-board solar panels. At the time of the collision, the ship was docked, having arrived Thursday morning from Valencia with 820 passengers aboard.
The Fantastica is a 590-foot ferry which the Mail reports had arrived in the early morning hours from Tangier and was preparing to sail on to Genoa. A spokesman for the port of Barcelona classified the incident as a "slight" collision even as the investigation into the cause and resultant damage continued.