A must do on Carnival Cruise Line's new Fun Ship 2.0 roll-out is eat at their new burger venue, Guy's Burger Joint. Back in 2011, Carnival teamed up TV Chef and personality Guy Fieri to create a one-of-a-kind burger joint at sea.
The venue is located pool side and represents an iconic seaside cafe in California.
Other cruise lines have burger joints but what makes Guy's Burger Joint so unique is the fact that there's no charge and the partnership with Guy Fieri. He created these burgers just for Carnival.
So what can you expect on the menu?
Five unique hamburgers
Plain Jane – a normal burger where you design you own at the their extensive topping bar.
The Ringer – a burger topped with super melty cheese, Guy's signature bourbon and brown sugar BBQ sauce, and an onion ring.
Chilius Maximus – lots of cheese, chili, an onion ring, and Guy's Donkey Sauce (a sweet mayo based sauce).
Pig Patty – if you love bacon this is for you! A burger topped with super melty cheese along with another patty made out of nothing but bacon.
Straight up – a 80/20 beef mix with lettuce, tomato, onion, and pickle and topped of with Guy's signature Donkey Sauce.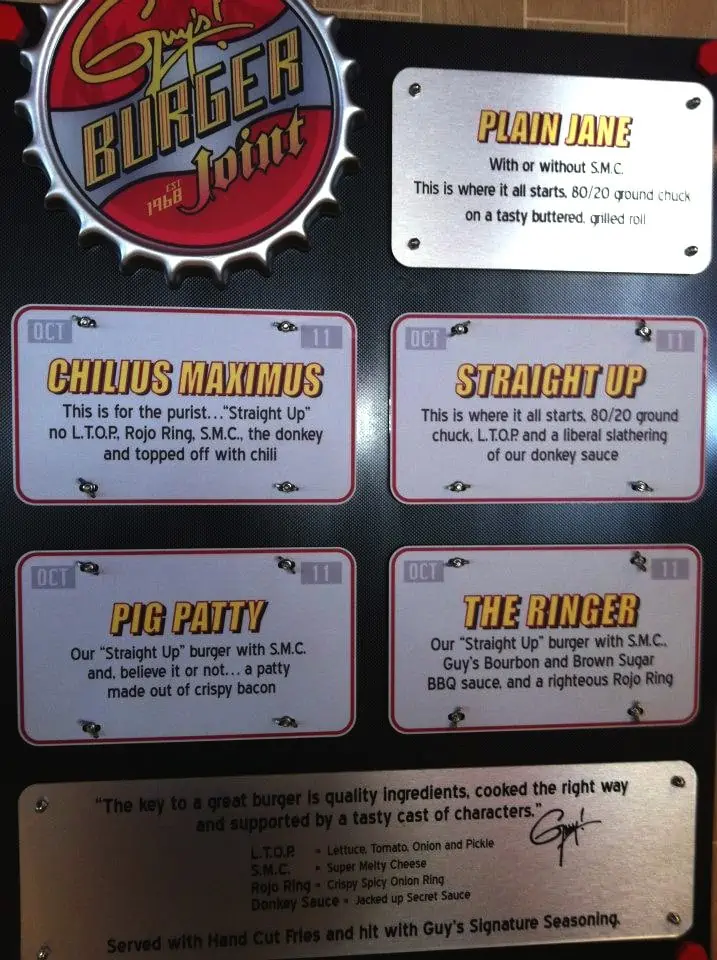 Along with the burger bar is an topping bar that has sauteed onions, mushrooms, bacon, lettuce, tomato, onion, pickles, and a variety of sauces, both sweet and hot.
Guy's Burger Joint also serves fresh, hand-cut French fries with special seasonings.
Throwback Video from 2011: