Carnival's ship Mardi Gras is the cruise line's third ship to feature a Guy's Pig & Anchor Smokehouse | Brewhouse restaurant, following Carnival Horizon and Panorama. 
The venue on this ship, though, is a bit different. Instead of being a for-fee specialty restaurant, Mardi Gras' Pig & Anchor is complimentary and features a smaller menu than previously seen on the other ships.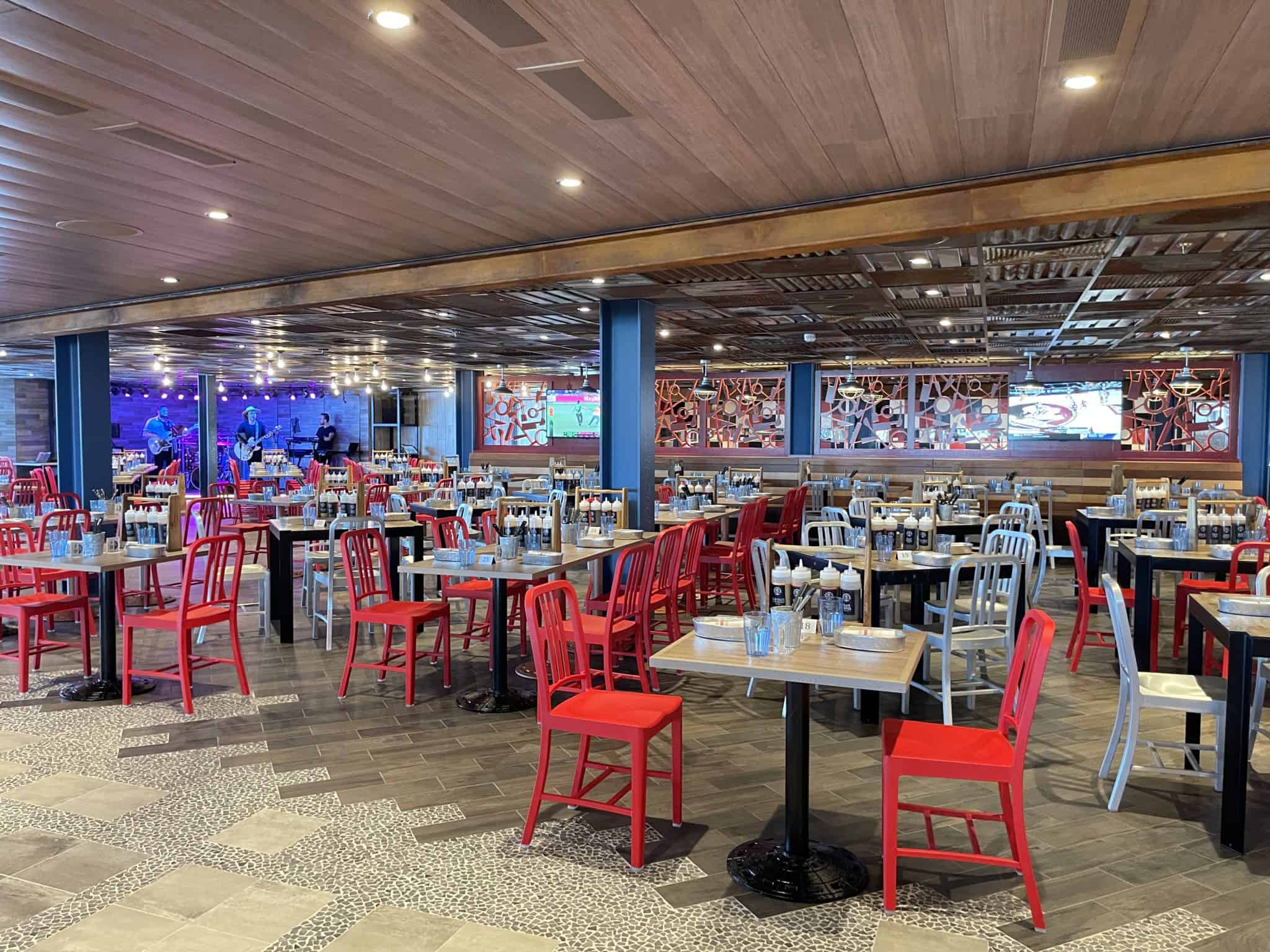 Here is the full menu at Guy's Pig & Anchor Smokehouse | Brewhouse on Carnival Cruise Line's Mardi Gras, complete with selections just for kids.
Smoker Aces
On the Smoker Aces section of the menu, guests can choose any three types of meat and any three sides to create their own custom meal.
Meats
Dark
White – Blue Ribbon Chicken
18 Hour Brisket
Smoked Port Butt
House Cheddar Sausage
St. Louis Ribs
Sides
House Vegetable Pickles
Crispy Onion Strings
Carolina Slaw
Mac Daddy Mac and Cheese
Collard Greens
BBQ Beans
French Fries
Green Beans and Bacon
All Time Favorites
The Pig & Anchor Melt — pulled pork, sliced brisket, double pork belly bacon, smoked gouda, cheddar, pickles, and donkey sauce
Maple & Chili Salmon — cedar planked and lightly smoked Atlantic salmon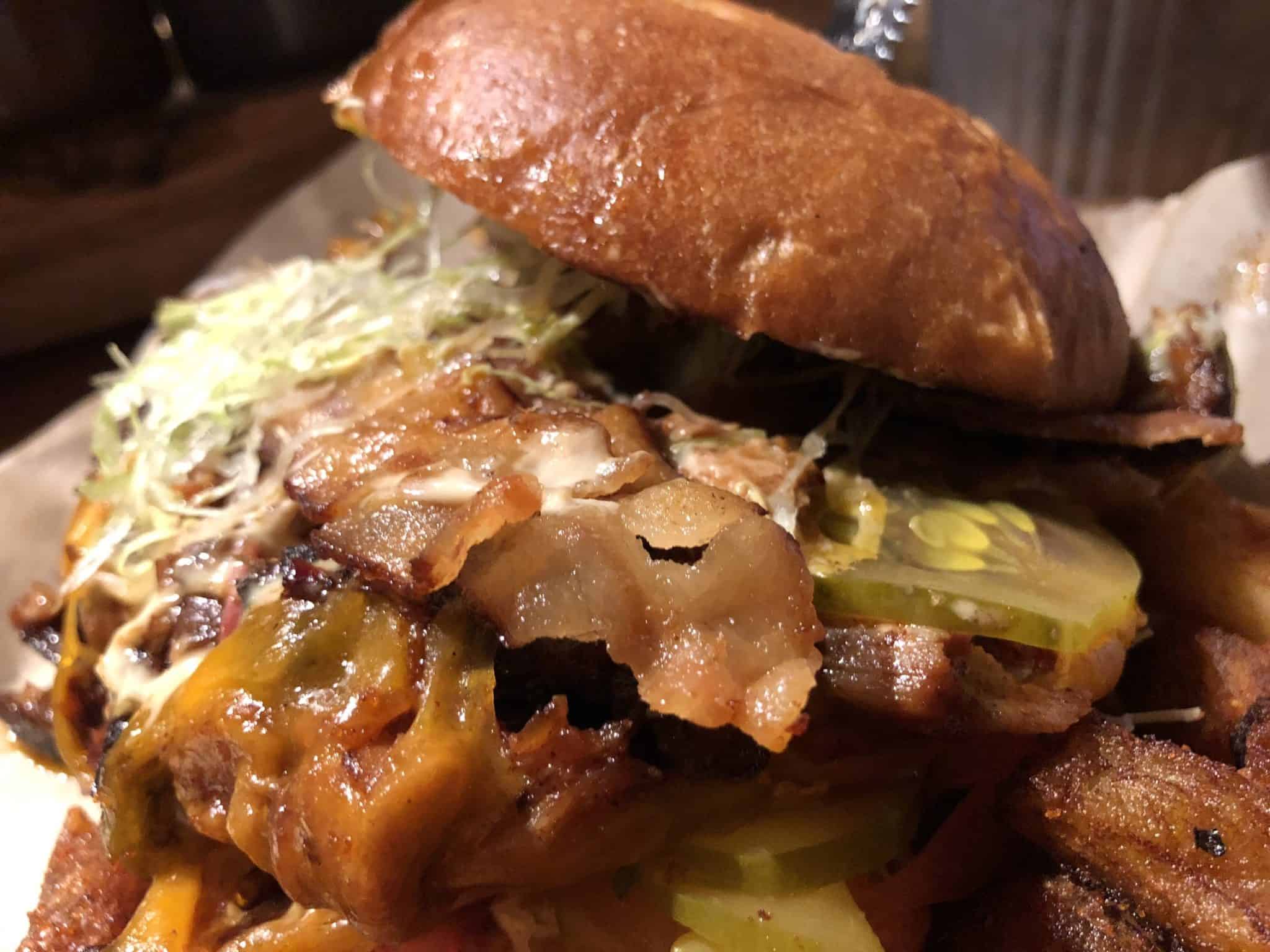 Daily Specials
Sunday: BBQ Filet Mignon — 7 oz KC style whole roasted
Monday: Smoked Cured Strip Steak — 10 oz center cut, chimichurri
Tuesday: Double Down Sticky Pork Belly — whisky and honey glaze
Wednesday: Ale & Brick Half Chicken — buttermilk ranch sauce
Thursday: Char-Broiled Flat Iron — hot mustard
Friday: Pork Chop — smoked & apple cider brined, sausage corn bread stuffing
Saturday: Smoked Short Ribs — onion pepper gravy
READ MORE: Review: Carnival's Pig & Anchor Smokehouse | Brewhouse
Upcharge
These two menu items come with an uncharge.
Broiled Lobster — warm lemon butter — $20
Prime Time Prime Rib — Texas-inspired, generously rubbed, and slow-roasted — $14
Dessert
These desserts are all served with vanilla ice cream and fresh whipped cream.
Bourbon Banana Pie
Apple Cobbler
Mississippi Mud Pie
Kid's Menu
Kid's menu items come with Mac Daddy Mac and Cheese and one other side.
Jr. Ribs
P&A Slider
Chicken Sticks & Fries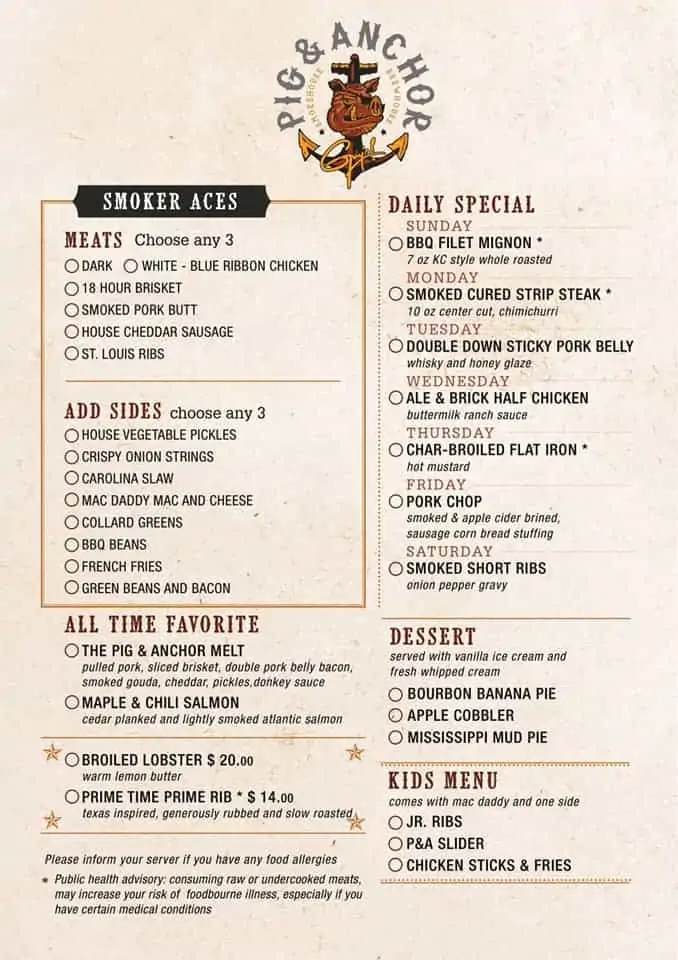 READ NEXT: Two Big Changes to Guy Fieri Restaurants on Mardi Gras
Pin it!