Holland America Line has announced the name of ms Koningsdam's sister ship – ms Nieuw Statendam.
Set to be delivered in fall 2018, Nieuw Statendam will be the sixth ship in the cruise line's history to be called Statendam.  It will be built at Fincantieri shipyard in Italy, beginning this summer.
Nieuw Statendam will include several of the innovative venues that were introduced aboard Koningsdam, as well as some all-new concepts.  The vessel will carry 2,650 guests and be 99,500 gross tons.  Also like Koningsdam, hospitality designer Adam D. Tihany will be in charge of the design aspects of the ship, and bring his unique vision to the vessel.  Several public areas will also be designed by Bjorn Storbraaten, who worked on Koningsdam, Eurodam, and Nieuw Amsterdam.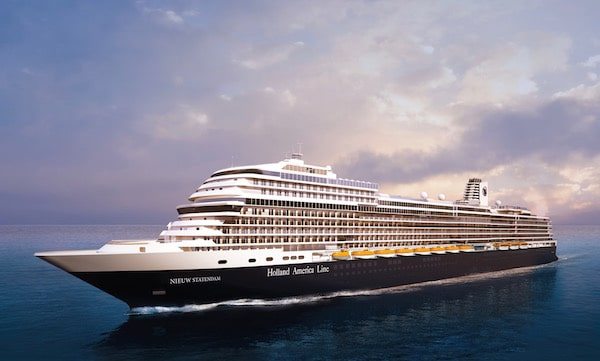 History of the Statendam Ships
The first Statendam was only 10,491 tons and was launched in 1898.  It was in the fleet until 1911, and then the second Statendam was built in the 1910's but Holland America sold it to White Star Line as Justicia before it entered service.  The next Statendam was in service from 1929 to 1940, and then was scrapped after a fire.
The fourth Statendam was launched in 1957 by 18-year-old Dutch Princess Beatrix, who would go on as Queen to name Eurodam as well.  This ship remained in the fleet until 1982, when it was sold to Paquet Cruises.  The fifth ship to carry the name launched in 1993 and was with Holland America until 2015, when it was transferred to P&O Australia where it sails today as Pacific Eden.