A few years ago I was turned on to a way to get extremely cheap flights for a cruise I was taking out of Barcelona. I wound up paying $438 through an airline consolidator for a flight that would have cost $3,091 on American Airlines.
As it turns out, consolidators are quite common – they're also a reason cruise lines can offer cheaper airfare or free-flight promotions.
What is an airline consolidator?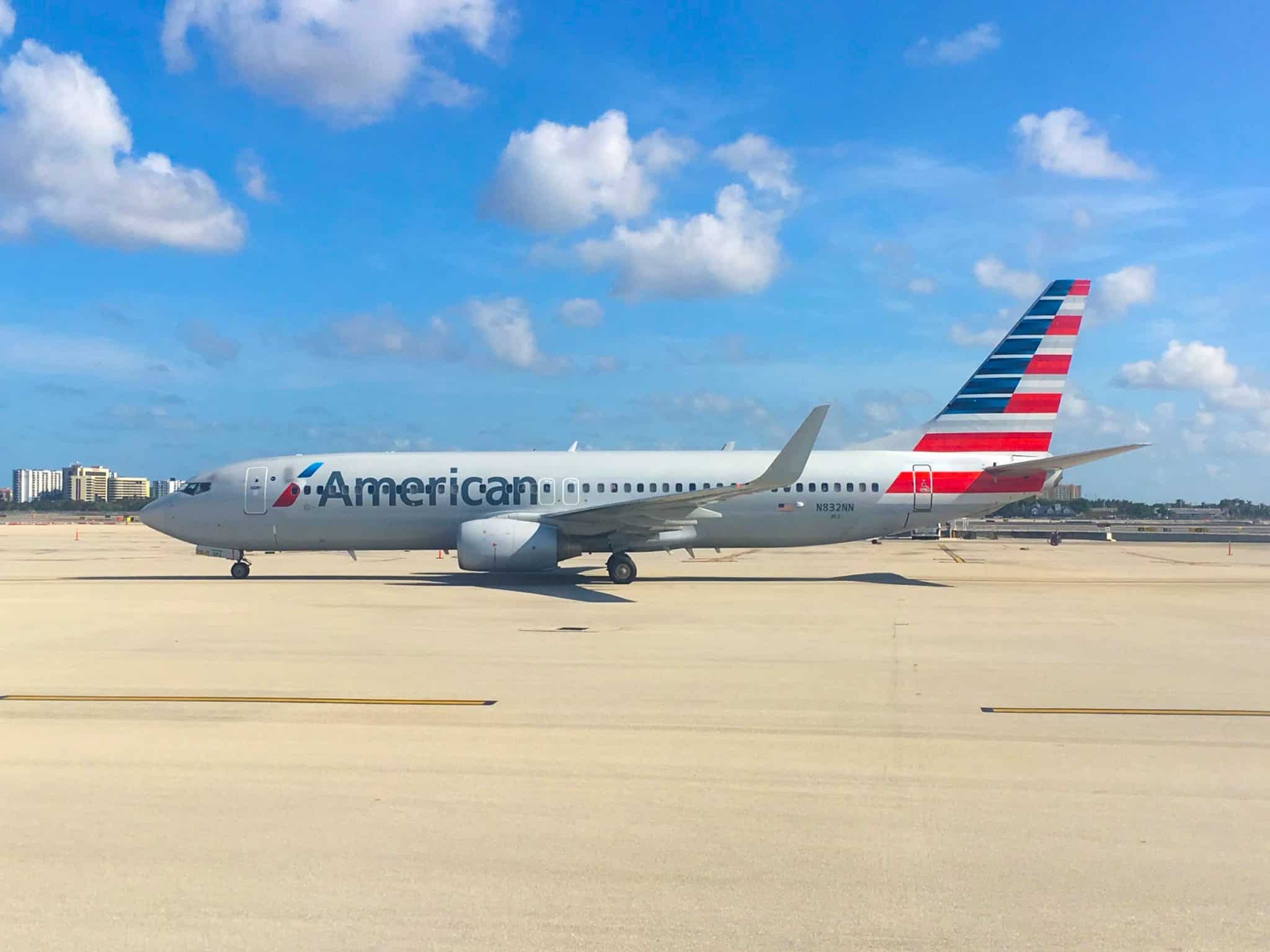 Airline consolidators are companies that buy airfare in bulk from the airlines. Think Sam's Club or Costco. By purchasing hundreds of tickets at a time, they get them at a reduced rate and then sell them at a special discounted price. Some consolidators make special agreements with both the airline and the cruise line so that if you're traveling to your cruise port, they are even more heavily discounted.
Before we get started, you want to make sure you're using a reputable company. I always wind up checking to see if the consolidator I'm using is part of the U.S. Air Consolidators Association, has a physical location in the United States, and check their Better Business Bureau rating. No matter what type of travel I'm booking, I also pay with a credit card for that extra layer of protection.
So, what's the catch? In order to get these get deals, you need to go through a travel agent who specializes in air travel.
Pros of Using an Airline Consolidator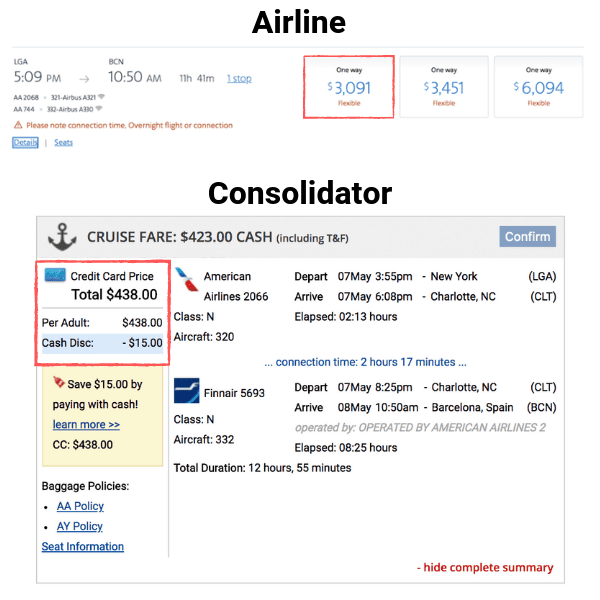 1. You can save a lot of money. In my case, the ticket was 86% off, saving me $2,668 on a one-way flight from New York City to Barcelona.
2. You can book all classes. A good flight consolidator will show you the difference in prices between economy, economy plus, business and first-class. First-class seats still run on the pricey side, but if you're staying in a city for an extended period of time (or are flexible with your travel dates), you might find a good deal.
3. You can upgrade through the airline. Flying over to Barcelona, I paid $78 to upgrade from a middle seat to one on the aisle. Nine hours is a long time to be trapped between two strangers.
All I did was log on to American Airline's website and change my seat. Some airlines may require you to call them in order to make this kind of change. (For example, Swiss Air).
Cons of Using an Airline Consolidator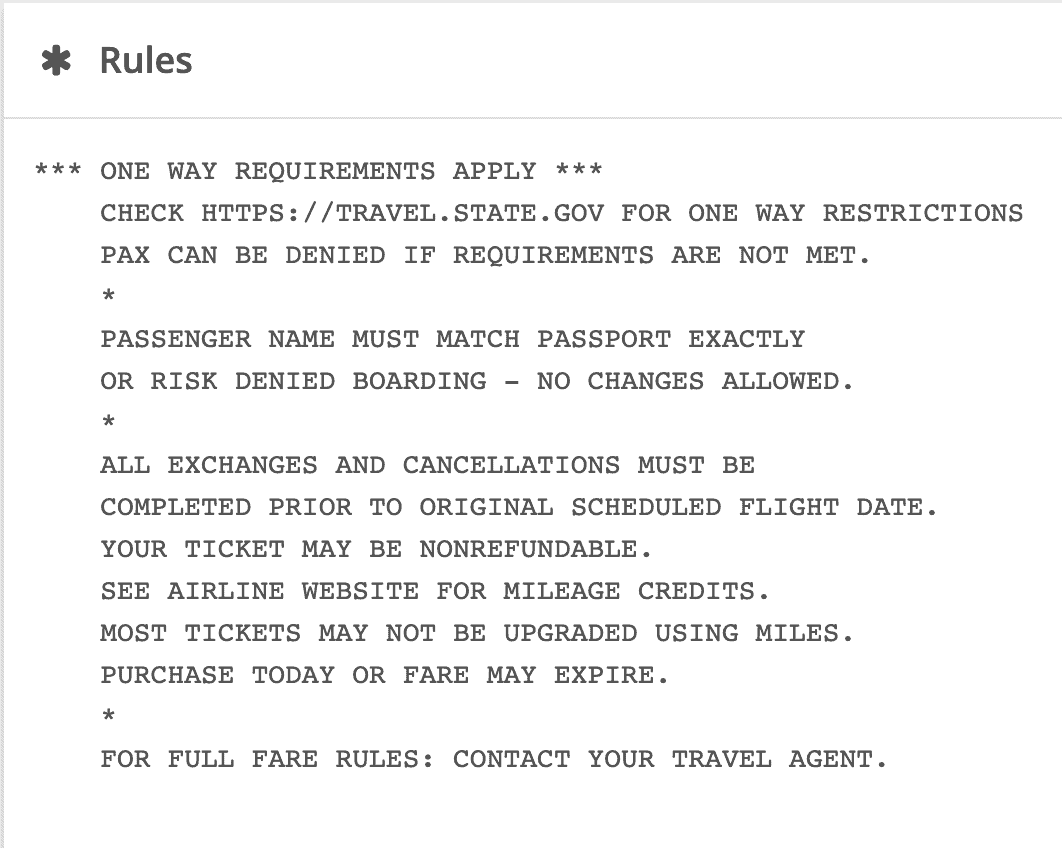 1. They have higher change fees. Given the steep discounts, it's probably not surprising that the change fees can be extremely high, if allowed at all. It will depend on the rate code you booked your ticket under, since every airline has different rate codes.
2. You need proof of documentation. If you book a cruise-related fare, the agent at the airport can ask you for your cruise line boarding pass or proof that you're actually sailing the cruise. This has never happened to me, but the terms clearly state that you can be denied boarding if you can not present proof of your cruise. (This is so that they can prevent people from booking cruise-related deals without actually going on a cruise.)
3. Seat assignments are at the discretion of the airline. The consolidator's job is to sell you a ticket. Where you are going to sit once you're on board will be based on the rate code you purchased and cabin class. You will contact the airline to change or pick your seat.
4. You may not get frequent flyer miles. My flight was purchased under the economy rate code (O), which meant I only got 25% of the miles flown between New York City and Barcelona. I've lucked out and scored rates that have given me all of the frequent flyer miles, but I've also used fare codes that have gotten me zero miles.
5. You have to pay attention to the details. When purchasing the ticket, you'll need the passport spelling of the passenger's name. They are very strict with this rule. A misspelled name could result in the need to cancel the booking and rebook at the current fare. If this happens close to your flight date, it could prove to be a pricy mistake.
6. You could have a connection. As you can see from above, the price on American Airline's website was with a stopover in Charlotte before heading to Barcelona.
Final Thoughts of Airline Consolidators
My travel agent has saved me $1000s throughout the years finding airfare on consolidator websites. It may not be available in every single airport, but most major gateways across the US do offer consolidated rates when flying internationally. At the end of the day, a consolidator is a great way to save a lot of money if you're willing to go beyond the published fares on the web.