Hurricane Matthew is the most powerful storm to form over the Atlantic Ocean in almost a decade and forecasted to hit the Caribbean islands with winds exceeding 100 m.p.h., according to the National Hurricane Center.
Hurricane Warnings are in effect for Jamaica, Haiti, Bahamas, and Cuba.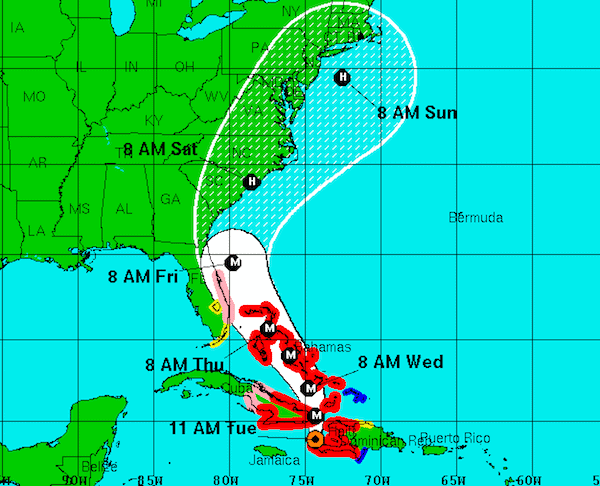 Impacted Cruise Ships
Carnival Cruise Line: Carnival Ecstasy, Carnival Breeze, Carnial Conquest, Carnival Pride, Carnival Victory, Carnival Elation, Carnival Sensation, and Carnival Splendor
Royal Caribbean: Allure of the Seas, Freedom of the Seas, Majesty of the Seas, and Enchantment of the Seas
Norwegian Cruise Line: Norwegian Sky
Disney Cruises: Disney Dream
Princess Cruises: Island Princess
Where They Are Headed?
Most of the ships are going to avoid the Bahamas and spend the day at sea, go north to Canada, or head to the Western Caribbean. Some of the itineraries are skipping ports altogether and the cruise line is offering compensation in form of onboard credit or discount off a future cruise.
Carnival said on their website, "As always, the safety of our guests is our number one concern and our ships will maintain a safe distance from the storm at all times."
If the storm keeps on it's current path or shifts to the west, more ships and itineraries could be impacted.  You can track itinerary changes on the cruise lines' websites, or on the cruise itinerary website at CruiseCal.com.
Photo: NHC