Carnival Cruise Line's ship Carnival Venezia features a new-to-the-line specialty restaurant called Il Viaggio, meaning "The Voyage."
The Il Viaggio menu takes guests on a trip through Italy, with different regions of the country represented by different menu items — from the antipasti (starters) to the dolce (desserts). After each dish's name, the menu says what region of Italy it comes from.
Carnival Venezia, which, as the name suggests, is themed after Venice, is part of Carnival Cruise Line's "Carnival Fun Italian Style" product. The concept also includes Carnival Firenze — two ships transferred from Costa Cruises to Carnival.
They retain much of the Costa brand's Italian style while including many venues that Carnival passengers know and love.
With Il Viaggio Italian Restaurant aboard this ship, you're guaranteed to have fun-filled experiences and a full stomach!
If you want to know more about and dine at the said restaurant, read on!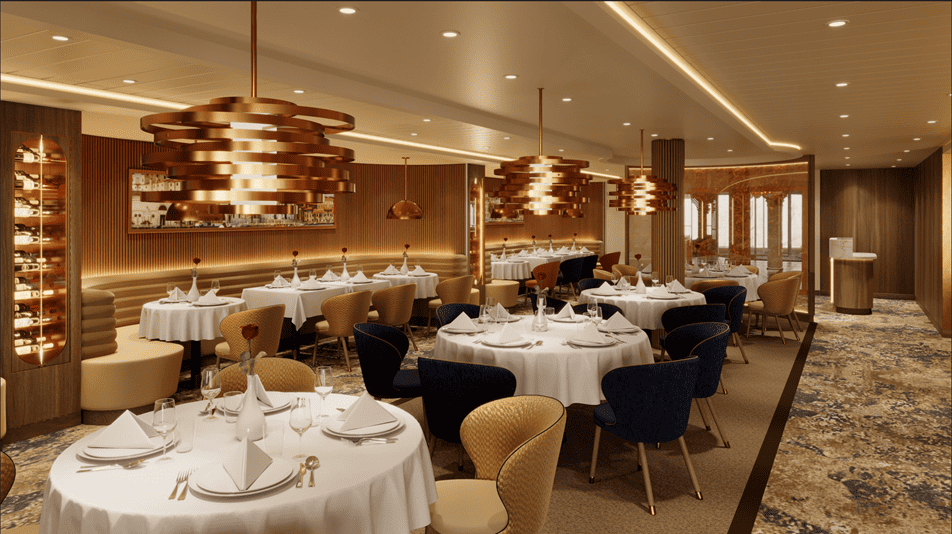 Il Viaggio menu
Il Viaggio has a flat charge of $42 per person. Here's the Il Viaggio menu on Carnival Venezia:
Starters
House-Made Burrata — Lombardy: Heirloom tomatoes, Genovese pesto
Panzarotti — Campania: Golden brown pillow puffs stuffed with sausage and pesto
Frito Misto — Campania: Lightly battered, deep-fried shrimp, vegetables, calamari, garlic aioli
Suppli al Telefono — Lazio: Crisp risotto croquette filled with mozzarella and marinara sauce
Mozzarella en Carrozza — Campania: Crispy fried mozzarella stuffed bread, pecorino, San Marzano tomato sauce
Polpo Alla Griglia — Sicily: Grilled octopus with artichoke, potato, olives, lemon pesto
Salumi e Formaggio Sampler — Lombardy: An assortment of cold cuts and cheese | sopressata, piccante, salumeria, prosciutto, bel paese, gorgonzola, parmigiano
Soup & salads
Zuppa D'Orzo — Lazio: Barley, vegetables, smoked ham, parmesan
Insalata Caesar — Lazio: Crisp romaine lettuce, romano cheese, croûtons tossed in Caesar dressing
Misticanza Salad — Piedmont: Baby greens, hazelnuts, shaved pecorino, prosecco vinaigrette
Entrées
Pasta Alla Genovese — Liguria: Ziti, slow-cooked onion, simmered beef rib, San Marzano tomato sauce
Pappardelle Al Cinghiale — Tuscany: Ribbon pasta tossed with pork ragu, red wine marinade
Cacciucco Con Polenta — Campania: Seafood stew with soft herbed polenta
Jumbo Shrimp Scampi — Veneto: Garlic, peperoncino, pinot grigio, lemon risotto
Sea Bass — Tuscany: Parmesan crust, borlotti bean stew, sauce Verde, broccoli
Chicken Scarpariello — Sicily: Cooked with garlic, peppers, Italian sausage, rosemary potatoes, white wine
Steak Pizzaiola — Lazio: 14 oz. striploin, tomato sauce, olives, fingerling potatoes, roasted broccoli
Grande Braciola Di Maiale — Sicily: Grilled 14 oz. Berkshire pork chop, cannellini bean stew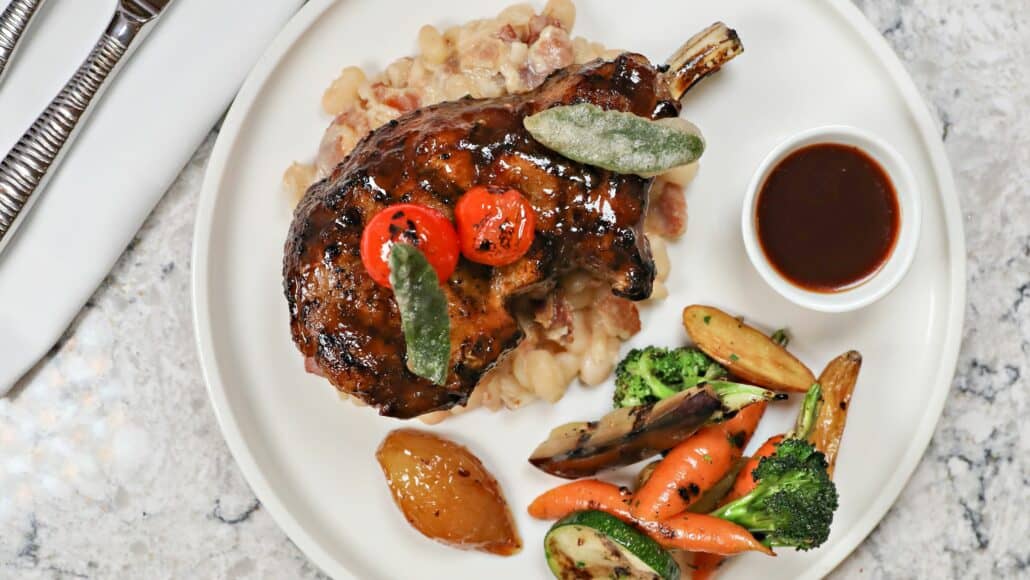 Signature entrées
Pollo Parmigiana Pizza — Sicily: Crispy chicken crust, tomato basil sauce, mozzarella, peperoncino flakes, parmesan, honey-chili dressing (serves two)
Lombata Milanese — Lombardy: 16 oz. bone-in veal chop, thinly pounded, lightly breaded, and pan-fried, served with a mixed green salad ($20 additional)
Grigliata Mista Di Pesce — Sicily: Lobster tails, scallops, sea bass, colossal shrimp, oysters, citrus butter, garlic ciabatta ($40 additional, serves two)
Desserts
Cannoli Siciliani Di Ricotta — Sicily: Crunchy shells, ricotta cheese, marsala wine, chocolate chips
Torta Della Nonna — Tuscany: Classic custard tart, almond, lemon crust
Tiramisu — Veneto: Espresso, mascarpone cream
Mile-High Gelato Pie — Tuscany: Salted caramel, mocha, toasted coconut, Chantilly cream
READ NEXT: Carnival Cruise Line Ships By Size: Largest to Smallest
Pin it!