Royal Caribbean's Harmony of the Seas is THE cruise ship for adrenaline junkies and thrill seekers.  It's home to the tallest slide at sea: Ultimate Abyss.
The 10-story slide has been dubbed as "possibly the most thrilling manmade adventure at sea" by someone with quite an authority on the subject, thrill engineer Professor Brendan Walker from Thrill Laboratory.  The cruise line enlisted him to identify the level of "thrill" that the slide triggers in guests who race down it.  He measured physical reactions of people brave enough to test it for him, and compared it to other first-at-sea experiences such as the FlowRider surf simulator and the RockWall.  Ultimate Abyss scored a "Walker Thrill Factor" of 45 percent, FlowRider got 36 percent, and RockWall got 35 percent.  Something to note is that it's unlikely any single experience could score 100, so these scores are at the high end of thrill attractions.
The test was conducted over a period of two days during the final days of construction at the shipyard, and observed 10 people who had never experienced Ultimate Abyss.  Walker noted that during the test, the riders experienced a unique set of sensations at each of the five stages of thrill, cumulating in a crescendo to guarantee the ultimate rider satisfaction.  You can't make this stuff up, people!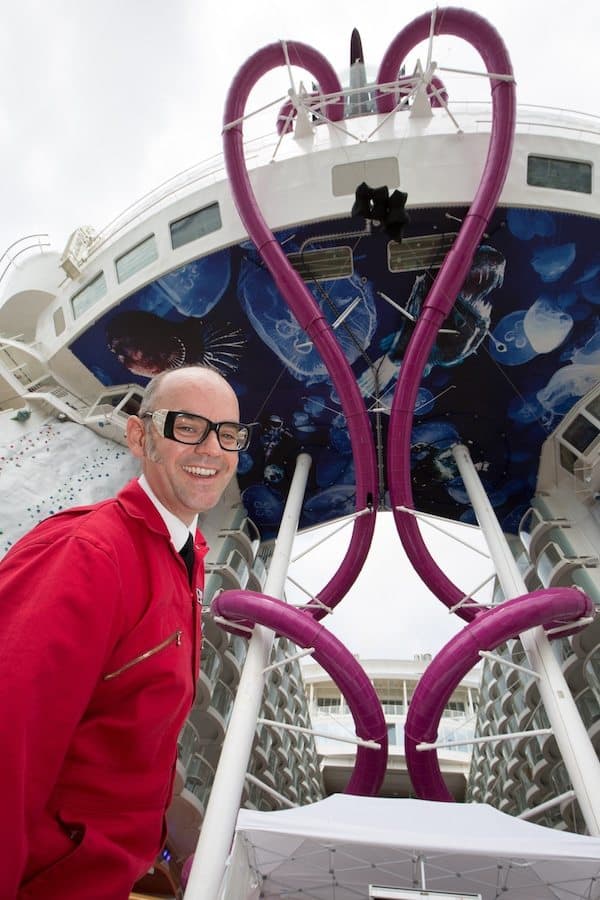 The five stages of thrill are as follows, which the Ultimate Abyss checks off entirely:
Imagining: When the rider entertains the idea of riding.  The stronger the thought, the stronger the moments of thrill.
Approaching: As the thought of riding becomes reality, the moments of thrill created through imagination become intensified.
Committing: The rider passes the stage of no return, such as being strapped in, or being urged by friends.  At this point, you can only move forward with it.
Doing: The ride begins; if it's thrilling, it will provide intense novel sensations that will immerse the rider.
Celebrating: The ride ends, and the rider experiences an afterglow of adrenaline and dopamine, which continue to course through their brain.
Harmony of the Seas is the world's largest cruise ship, and features the seven-neighborhood concept that the Oasis-class ships are known for.  Innovative features around the ship include robot bartenders, virtual balconies for interior rooms, aquatic performances in the AquaTheater, an ice skating rink, and 20 dining venues.
The ship will homeport in Barcelona throughout the summer, and in November she will arrive in her new home of Port Everglades, where she will operate week-long eastern and western Caribbean sailings.