The Pinnacle Grill is Holland America Line's for-fee steakhouse. During the evening the steakhouse features aged cuts of steak and seafood. For lunch, you can find different types of beef, chicken, seafood, and salads. The dining experience is a step above the main dining room which is included in the cost of your cruise.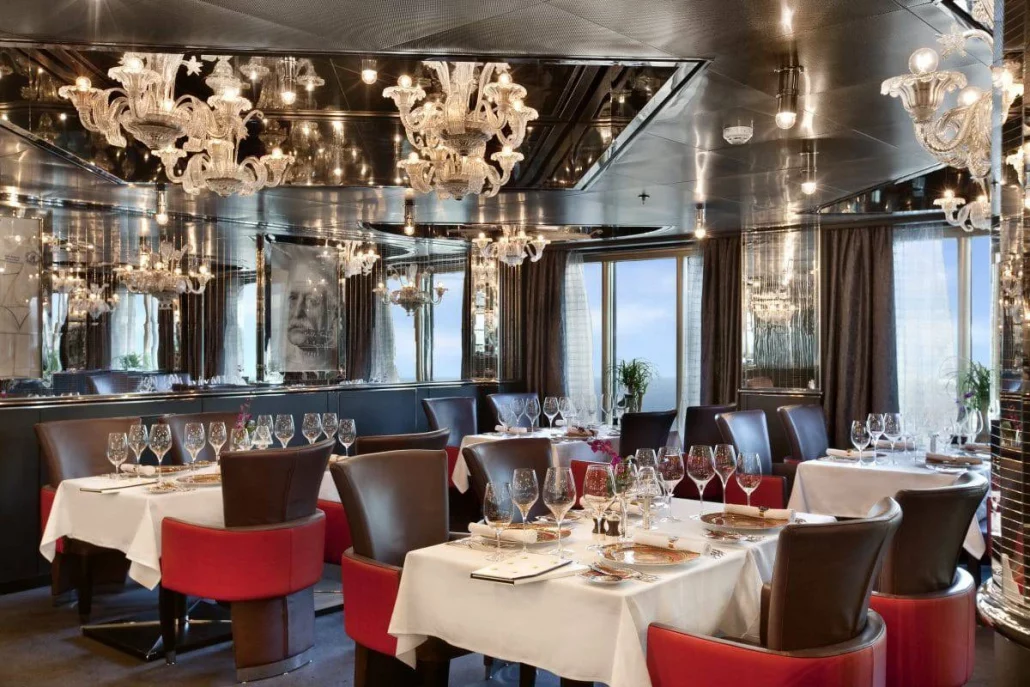 Cost
The cost to dine in the Pinnacle Grill for lunch is $15 per guest and reservations should be made ahead of time.
The venue is only open on sea days and fills up quickly. During the first sea day, we tried to eat there without a reservation and they could not accommodate us. So we instantly made a reservation for the next day at sea at 12:15.
Dress Code
The atmosphere for lunch is casual. We saw guests wearing everything from cargo shorts to slacks for lunch.
What Ships is Pinnacle Grill On?
Eurodam
Koningsdam
Nieuw Amsterdam
Nieuw Statendam
Noordam
Oosterdam
Rotterdam
Volendam
Westerdam
Zaandam
Zuiderdam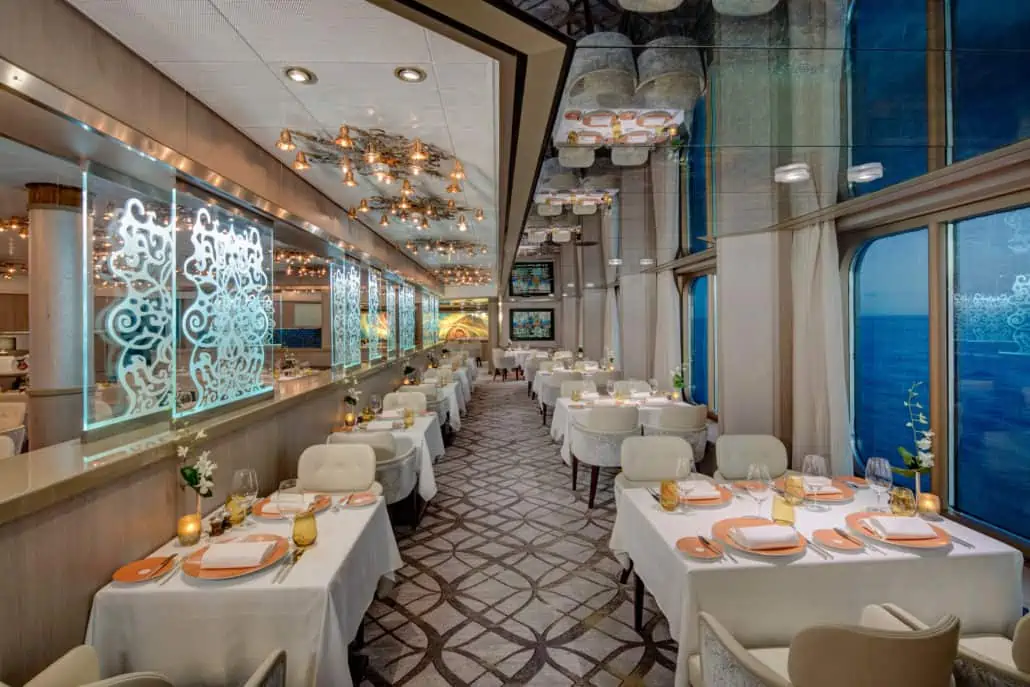 Appetizers
Tomato Broth with Spicy Lemongrass Chicken: Kaffir lime, cilantro
Spinach Arugula Salad: Avocado orange, organic seeds, creamy lemon dressing, Gorgonzola, air-dried apples
Grilled Prawn Bruschetta: Primavera sauce, aged Asiago, balsamic fusion
Beefsteak Tomato and Basil: Red onion, pesto, extra virgin olive oil, balsamic reduction
Crab Cakes: Spiral shaved cucumber, sweet chili-mustard sauce
Beef Carpaccio: Pine nuts, crispy capers, Parmesan, mustard aioli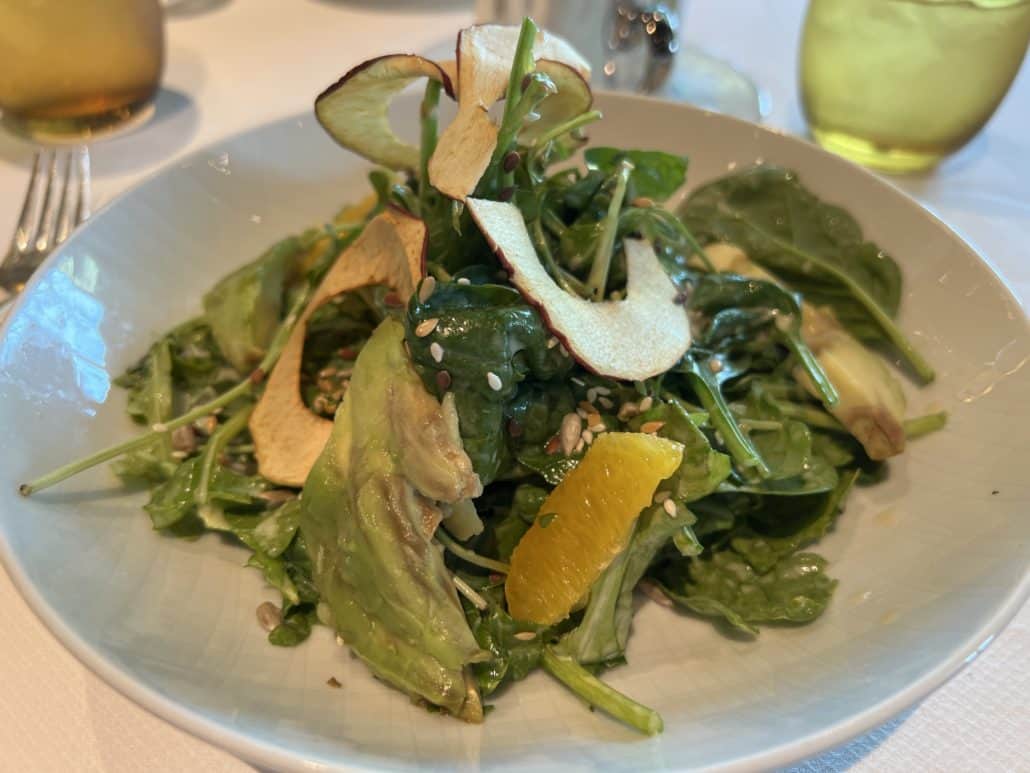 Mains
Broiled Alaskan King Salmon: Lemon garlic herb splash, pilaf wild rice, sautéed pancetta-spinach, Parmesan cheese
Alaskan Black Cod Fillet Sandwich: Sourdough bread, cilantro relish, Asian slaw
West Coast-Style Seafood Cioppino: Clams, mussels, shrimp, Alaskan crab, halibut, tomato broth
Beef Tenderloin with Oregon Blue Cheese: Grilled asparagus, scalloped potatoes
Beef Tri-Tip Sandwich with Caramelized Red Onions: Toasted sourdough, BBQ sauce, tabbouleh salad
Shredded Chicken and Bibb Salad: Hard-boiled egg, walnuts, orange segments, cucumber, avocado, scallions, cherry tomatoes, Asian dressing
Roasted Jidori Chicken with Porcini Mushrooms: Cider vinegar jus, quinoa-forbidden rice cake, mâche salad, toasted pistachios
Pinnacle Burger: Bacon jam, garlic chipotle aïoli, Beecher's cheddar cheese, cabernet red onions, avocado, French fries
Wild Mushroom Ravioli: Pesto cream sauce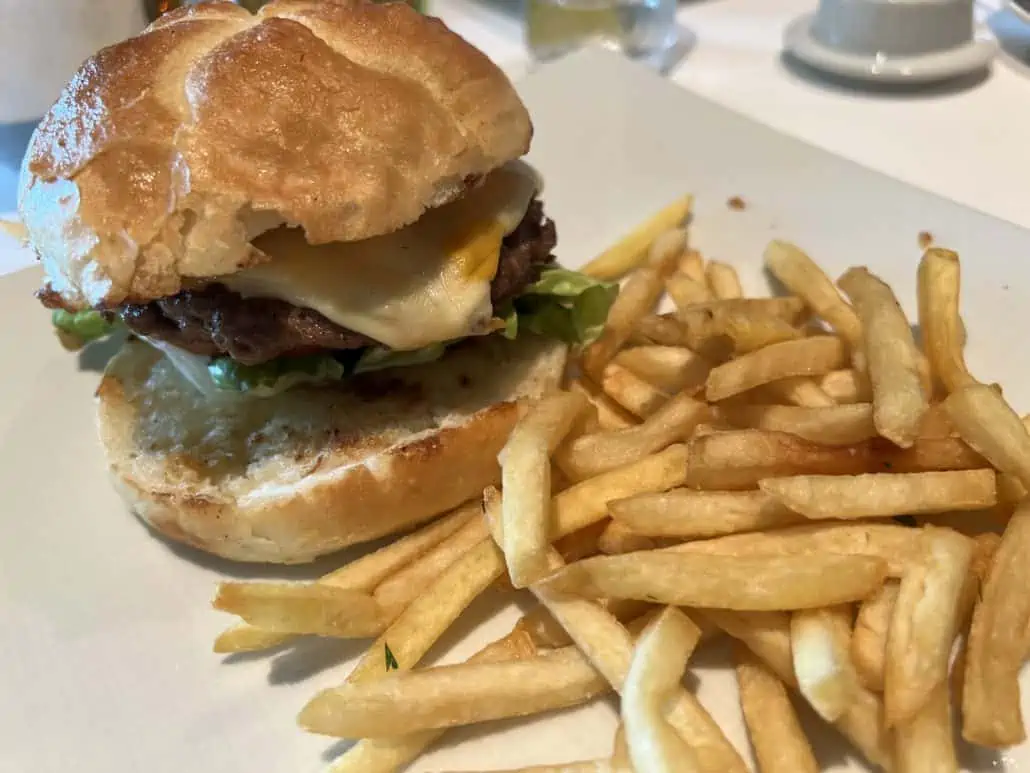 Desserts
Strawberry Pavlova: Strawberry consommé, basil
Warm Fudge Brownie: Coffee gelato, popcorn crunch
Fresh Berries: Sabayon
Coconut Trifle: Lime, pistachio
Premium Ice Cream or Sorbet
Assortment of International Cheeses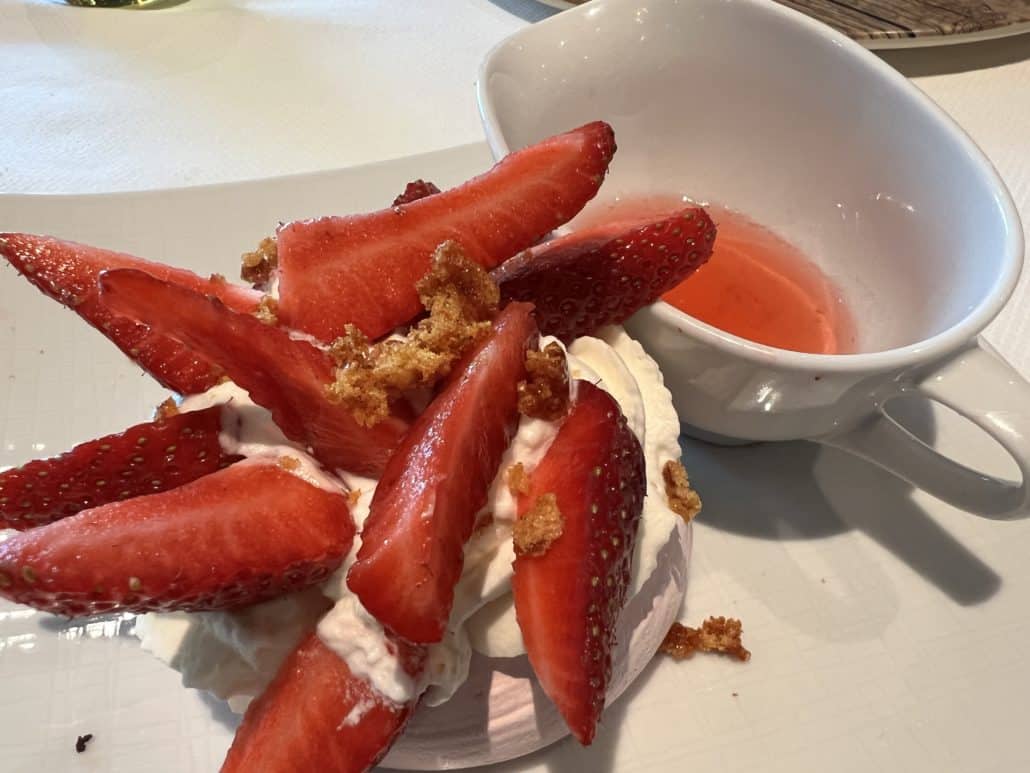 Coffee & Tea
Pinnacle Grill serves Rotterdam 1873 coffee and Harney & Sons tea varieties.
Espresso — $2.50
Cappuccino — $3.50
(Note: The menu may vary by ship or supplies.)
Pin it!