MSC Group's new luxury cruise line Explora Journeys has announced the culinary and beverage concepts aboard its first ship Explora I, which is set to debut in May 2023.
Why This is a Great Cruise for Foodies
The ship will showcase 11 culinary experiences across six restaurants, plus in-suite dining, as well as 12 bars and lounges and a chef's kitchen.
Throughout the year, wine selections will reflect the regions where the ship sails, while offering favorite grape varietals. Sommeliers will constantly source boutique wine labels to build an inspiring menu with unique selections. For example, Chardonnay will not come from expected places such as Napa Valley; instead, it will come from regions with niche choices like Switzerland and other European countries.
Explora Journeys has curated an exclusive mixology program that includes a signature 'Ocean State of Mind' cocktail using gin made from seaweed algae. Exclusive wine, whiskey, and spirit tastings, pairings, cocktail-making masterclasses and 'Meet the Winemaker' events will be held, as well as wine-themed shore excursions.
Restaurants
Multiple dining experiences have been created that celebrate global cooking talents, history, and wholesome ingredients sourced by local partners.
Anthology
Anthology is defined as a collection of selected works of art or music, reflecting the restaurant that acts as a culinary stage for guest chefs to curate menus showcasing global flavors. Menu items reflect the journey and its destinations, and unique wine pairings are enjoyed in a setting of contemporary elegance.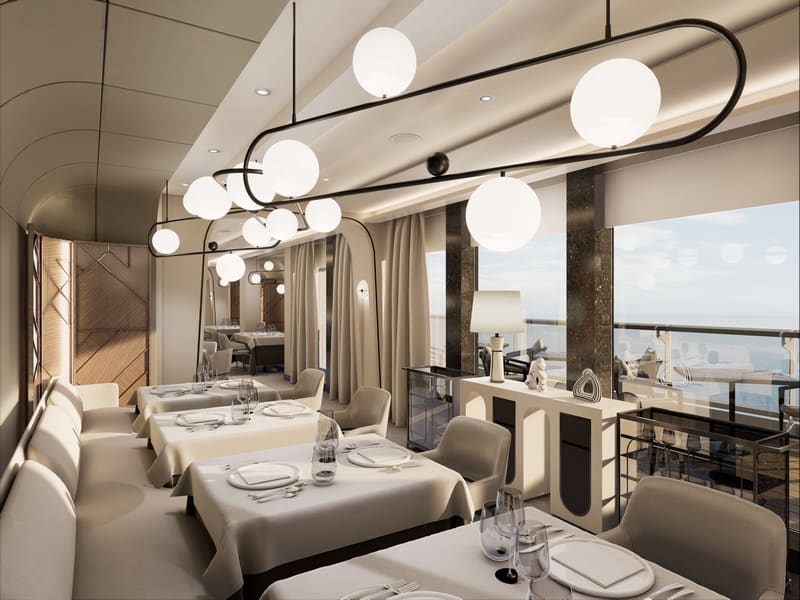 Sakura
Sakura offers an immersive, authentic dining experience with Pan-Asian cuisine that represents Japanese, Thai, Vietnamese, and Malaysian flavors. Expansive ocean views, bold design, Asian-influenced beverages, and a Sake sommelier — combined with seamless service and modern Asian music — create a dynamic dining experience.
Marble & Co. Grill
Marble & Co. Grill is a redefined European steakhouse experience, inspired by the marbling found in the finest beef. This restaurant serves exceptional cuts that have been personally sourced and sustainably farmed. The experience is augmented by an in-house dry ager and a cellar with a superb selection of fine wines.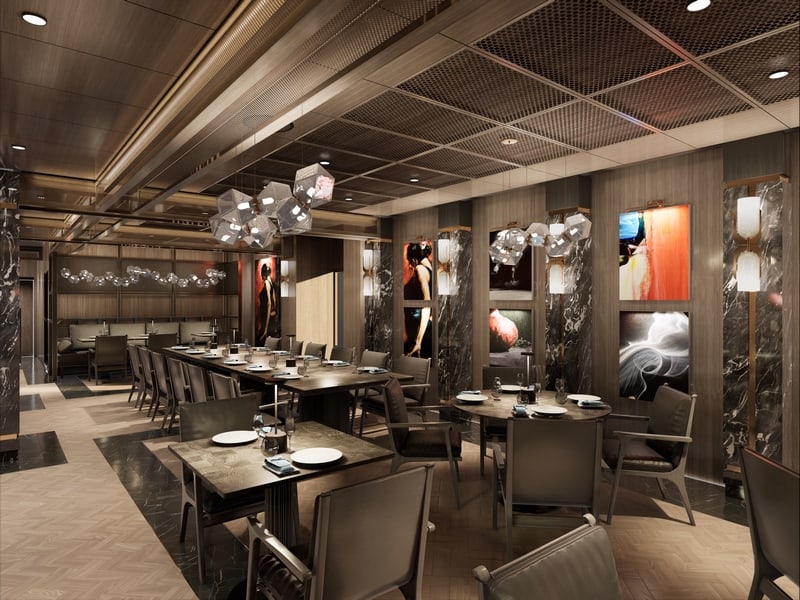 Med Yacht Club
Med Yacht Club is a relaxed celebration of the flavors, ambience, and dolce vita of the Mediterranean. Inspired by sailings across crystal clear waters, this venue is influenced by sophisticated, beachside Mediterranean restaurants, embracing the cuisine of Italy, Spain, Greece, and France. Wines will showcase the vineyards of the Mediterranean with fresh juices, and cocktails will honor regional ingredients.
Emporium Marketplace
Emporium Marketplace is essentially the ship's light-filled buffet, including 18 separate cooking stations that evolve throughout the day, offering cuisines from every corner of the globe such as sushi, fresh seafood, and a daily rotisserie.
Pasta is cooked to order, and freshly-baked pizzas and bread are on offer as well as homemade sandwiches. Charcuterie, fromagerie, boulangerie, and patisserie stations enhance the experience. A selection of wines, champagne, and other beverages are available to complement meals throughout the day.
Fil Rouge
A common red thread that unites international flavors with a French influence can be found at Fil Rouge. This sophisticated and intimate restaurant offers a global tasting tour of French-inspired international cuisine. A dessert cart offers fresh creations served tableside, and the wine selection showcases the best of both the Old and New World vineyards.
MORE: Another Major U.S. Cruise Company Loosens Vaccine Requirements
Bars & Lounges
Lobby Bar
A central gathering social bar and lounge, the Lobby Bar is the ideal spot to enjoy a beverage throughout the day and night.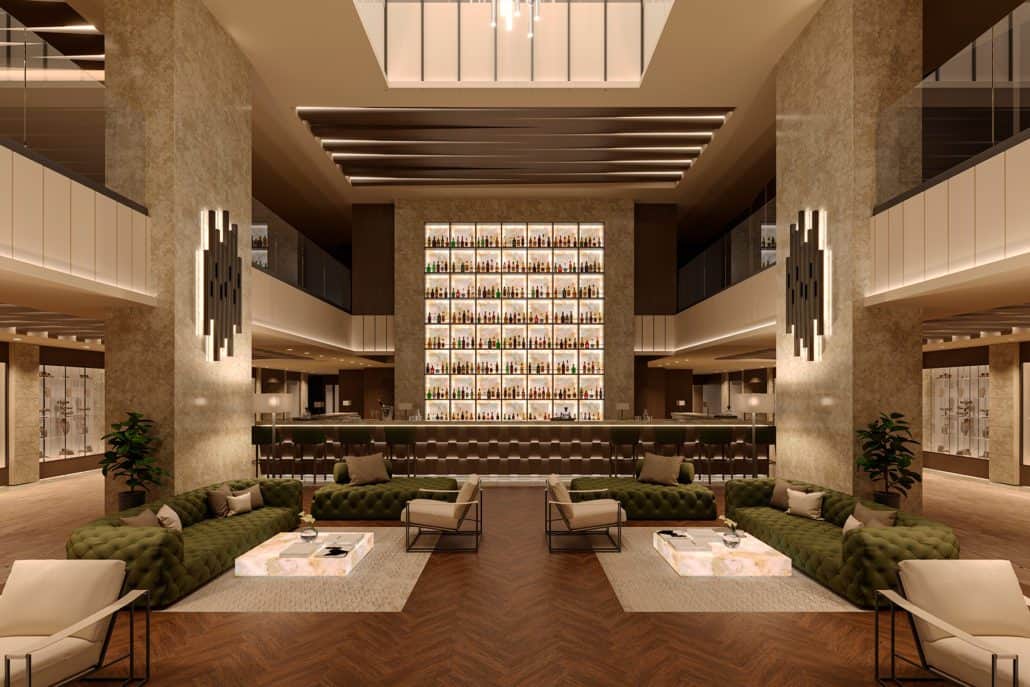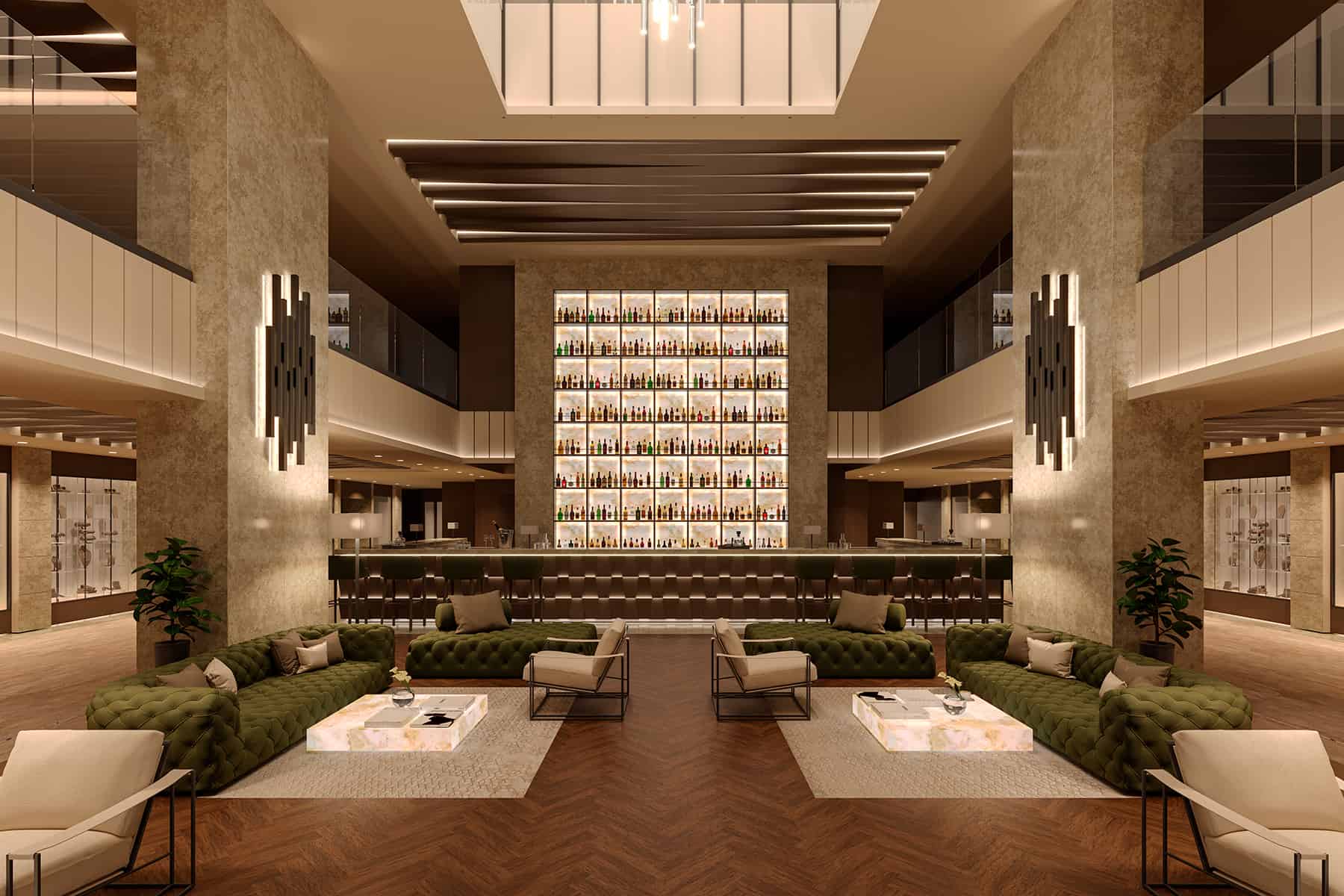 Malt Whiskey Bar
Malt Whiskey Bar offers a refined tour of the global whiskey regions, including some of the rarest whiskeys, complete with a walk-in humidor, cigar expert, and dedicated cigar smoking terrace.
Journeys Lounge
Journeys Lounge will offer enrichment and entertainment that evolves throughout the day and night. More details will be revealed when Explora Journeys announces its entertainment and enrichment program.
Explora Lounge
A luminous lounge offering 270-degree ocean views, Explora Lounge is a beautiful backdrop for informal drinking and dining. Guests can enjoy light meals, snacks, and traditional afternoon tea in the elegant space, bathed with the changing natural light and the soundtrack of soothing jazz.
Gelateria & Creperie at The Conservatory
This spot offers authentic French and Italian indulgences in a relaxed, weather-protected poolside environment within The Conservatory.
Crema Café
Crema Café is a bustling, all-day European-style café. Coffee is chosen by selected connoisseurs who have traveled the world exploring fair-trade coffee origin, character, and strength. Passengers can discover various methods of brewing coffee from skilled baristas, taste high-quality loose-leaf teas with an on-hand tea expert, and enjoy cold-pressed juices. A case of pastries, cakes, and desserts can also be found at the café.
Astern Lounge
Astern Lounge is the social hub of the journey, with a collection of events and rituals to suit every taste. The lounge hosts live music, DJ sessions, and enrichment sessions.
Astern Pool & Bar
This all-day poolside lounge offers chill beach club vibes, with low background music by day and acoustic musicians and DJs as the sun sets, continuing throughout the evening.
Sky Bar on 14
Set on the ship's highest point, Sky Bar is a panoramic outdoor lounge ideal for relaxing and enjoying a cocktail with infinite views.
Atoll Pool & Bar
This intimate aft pool on deck 10 features a chilled ambiance throughout the day.
Helios Pool & Bar
This panoramic adults-only pool offers the ultimate chill-out experience.
The Conservatory Pool & Bar
The Conservatory is a weather-protected poolside lounge by day, and a cinema experience under the stars by night.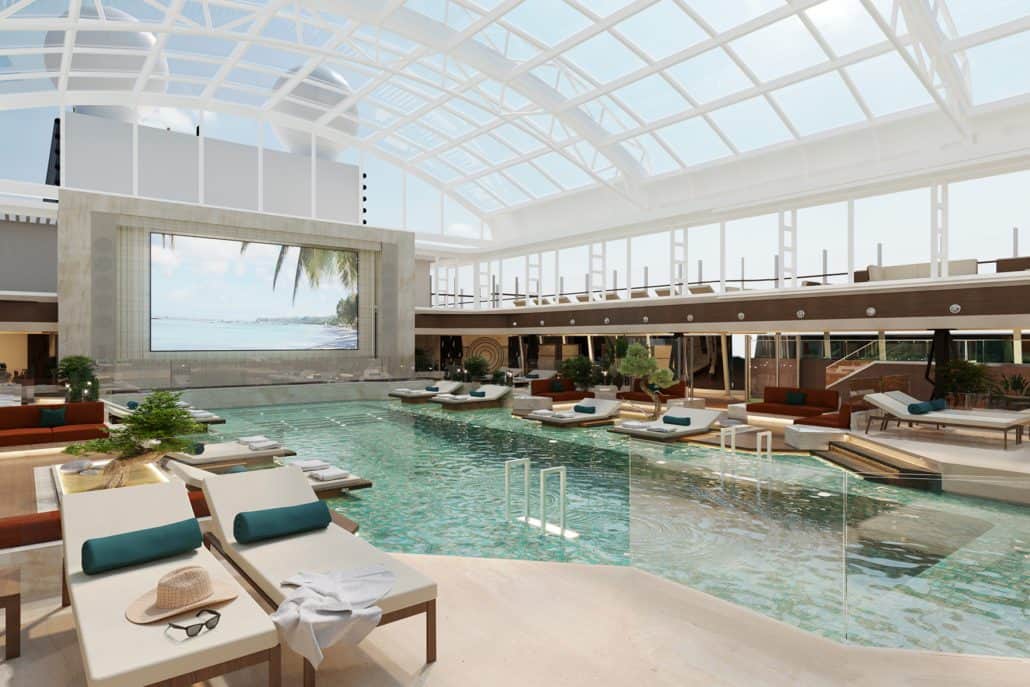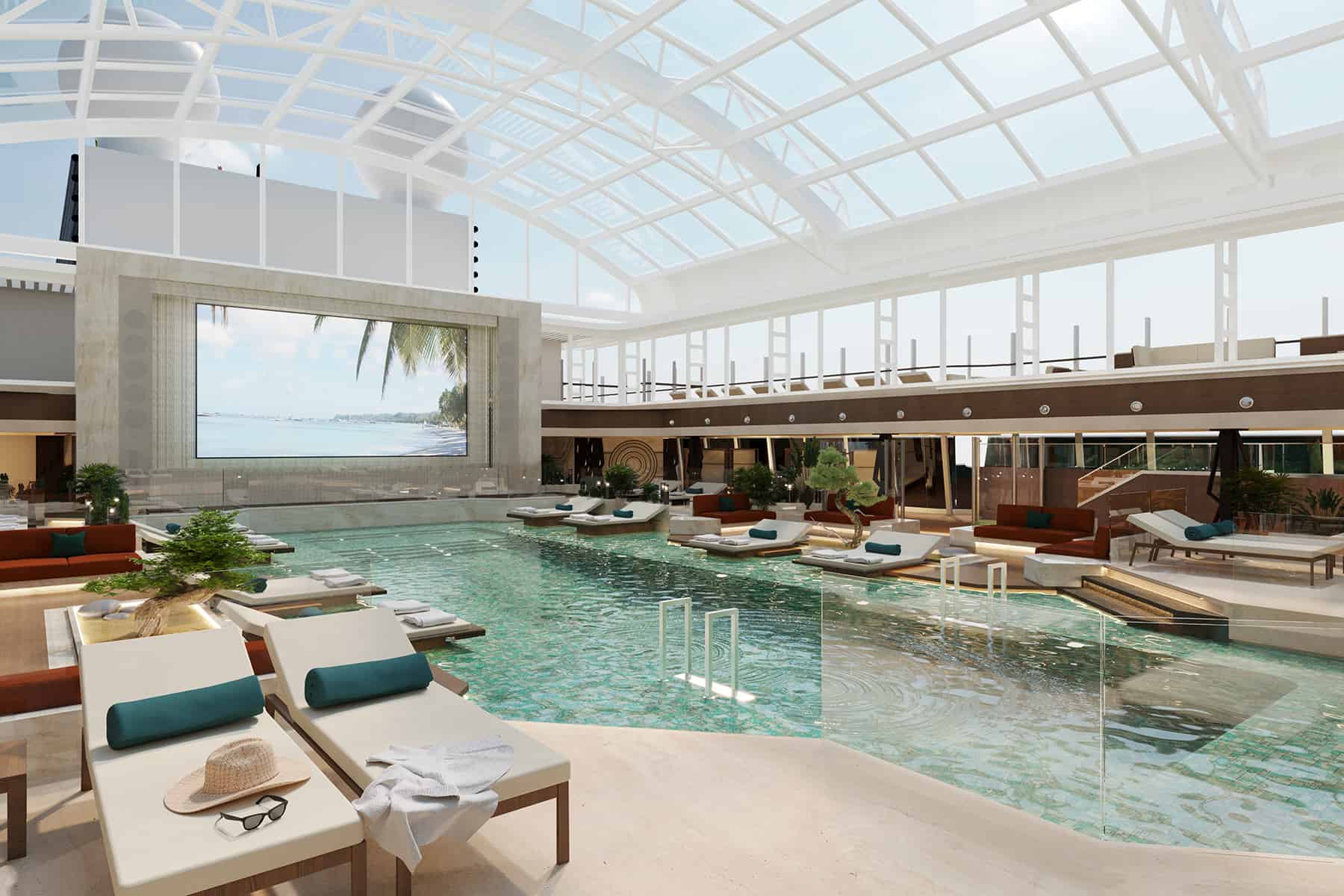 Explora Journeys offers unlimited beverages, wines, premium spirits, specialty coffees, teas, and soft drinks included in the cruise fare. A selection of ultra-exquisite wines, spirits, and liquors are also available for an additional fee.
READ NEXT: Why You'll Pay More For Your Next Norwegian Cruise