Carnival Cruise Line has announced its Christmas Gala Dinner menu for this year, which will be on Christmas Day, December 25 across the fleet.
Here's what those sailing a cruise over Christmas can expect on the menu for the special holiday.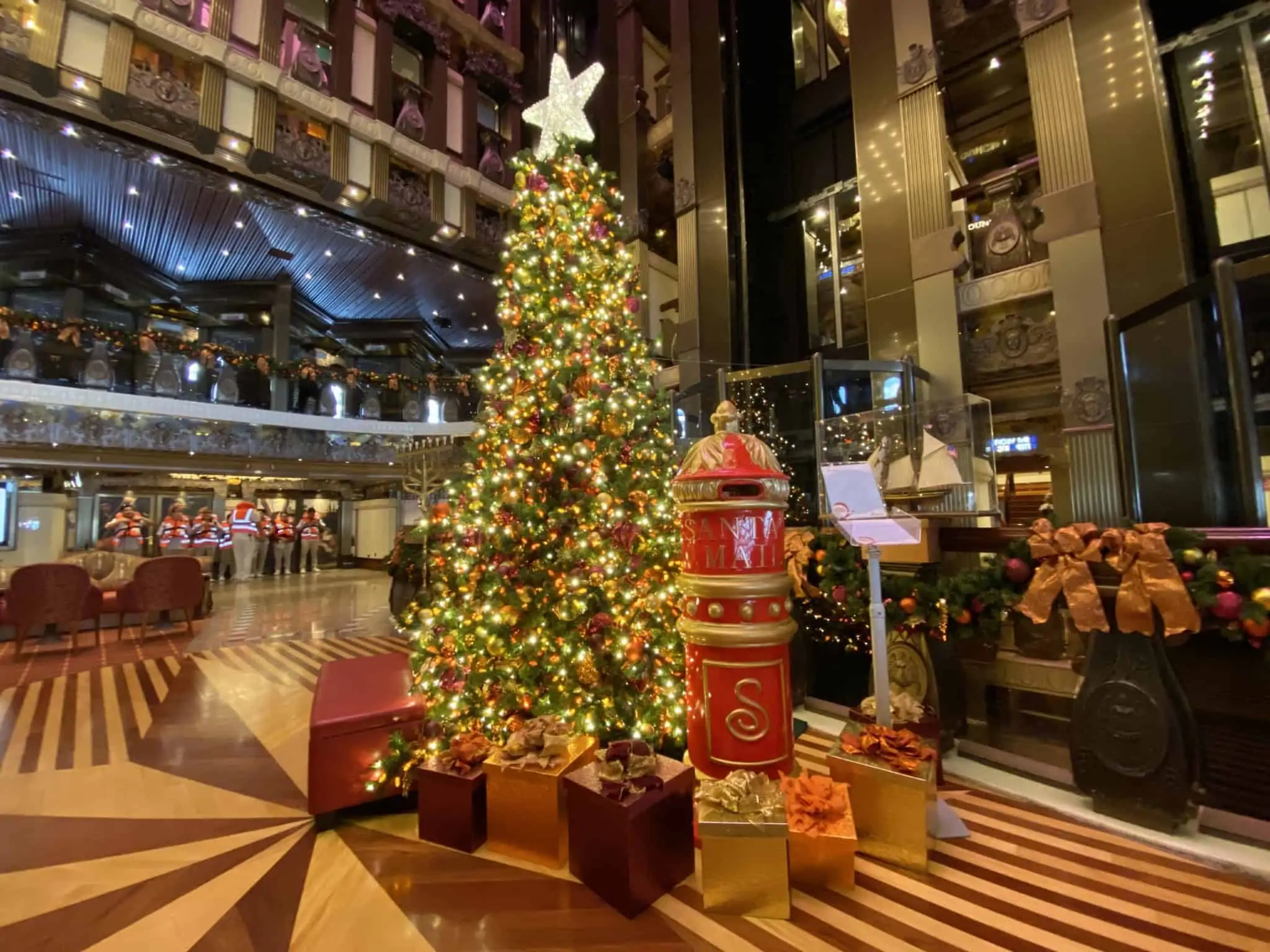 Appetizers
Cold
Shrimp Cocktail – American cocktail sauce, lime garlic remoulade
Truffled Dates & Tomatoes – Cucumber, avocado, pomegranate juice dressing, torn herb salad
Rib Eye Tartare – Mustard aioli, caramelized onion, balsamic, and red pepper aioli
Hot
Crab and Shrimp Cake – Charred corn & grapefruit salad, cajun remoulade
Short Rib Dumpling Soup – Wine and thyme broth, roasted mushrooms
Baked Potato Soup – Buttermilk, smoked cheddar
Crisp Pork Belly – Caramelized peach pickle, miso chili dressing
Salad
Roasted Stuffed Beet – Dressed quinoa, feta, mint maple dressing
Baby Greens & Pickled Plum – Roasted raspberry vinaigrette
Caesar Salad – Traditional preparation, house-made dressing, shaved parmesan
MORE: Mardi Gras Ship Tour, Carnival's Newest Ship in 2021 [VIDEO]
Entrées
Seafood
Grilled Cod – Roasted cauliflower, pickled daikon, miso cream
Mediterranean Garlic Shrimp – Artichoke succotash, lime tahini yogurt
Mussels and Clams – Confit tomato, parsley, & sweet pickle
Meat
Slow-Roasted Tom Turkey – Sweet potato, Christmas stuffing, gravy, cranberry relish
NY Strip Steak – Smoked white bean cassoulet, roasted onion, minted chili salsa
Guava Glazed Stuffed Chicken – Mozzarella, basil, corn relish, shallot herb beurre blanc
Smoked Pork Loin – Sweet potato, broccoli rabe, raisin sauce
Vegetarian
Paccheri – Tomato stewed zucchini, parmesan, butter toasted ciabatta crumb, and oregano
Portobello Rellenos – Queso fundido, smoked tomato sauce
Malai Kofta & Hyderabadi Salan – Malabar ghee rice, pappads, & pomegranate raita
Steakhouse Selections
A $20 surcharge applies to each entrée in this section.
Broiled Lobster Tail – Served with drawn butter
Surf & Turf – Lobster tail & grilled filet mignon
Broiled Filet Mignon – 9 oz. premium aged beef
Sauces: Chimichurri, béarnaise, and peppercorn sauce
Dessert
Melting chocolate cake – Vanilla ice cream available for the table
Textured chocolate – Ganache, plum sauce, cognac cream
Classic pecan pie – Delicious pie crust, plenty of pecan caramel ice cream
READ NEXT: 8 Tips, Hacks, and Ways to Save Money on a Carnival Cruise