Princess Cruises has partnered with award-winning chef Los Angeles-based chef Ernesto Uchimura to bring his signature cuisine to sea. Guests have the option to dine here as a specialty option for a nominal fee.
Cost
The Salty Dog Gastropub costs $18 per person, which includes the appetizer, two plates, and one dessert. Alcoholic beverages are a la carte.
Dress Code
This is a very casual atmosphere here and you don't have to dress up too fancy. This is a 'come as you are' venue.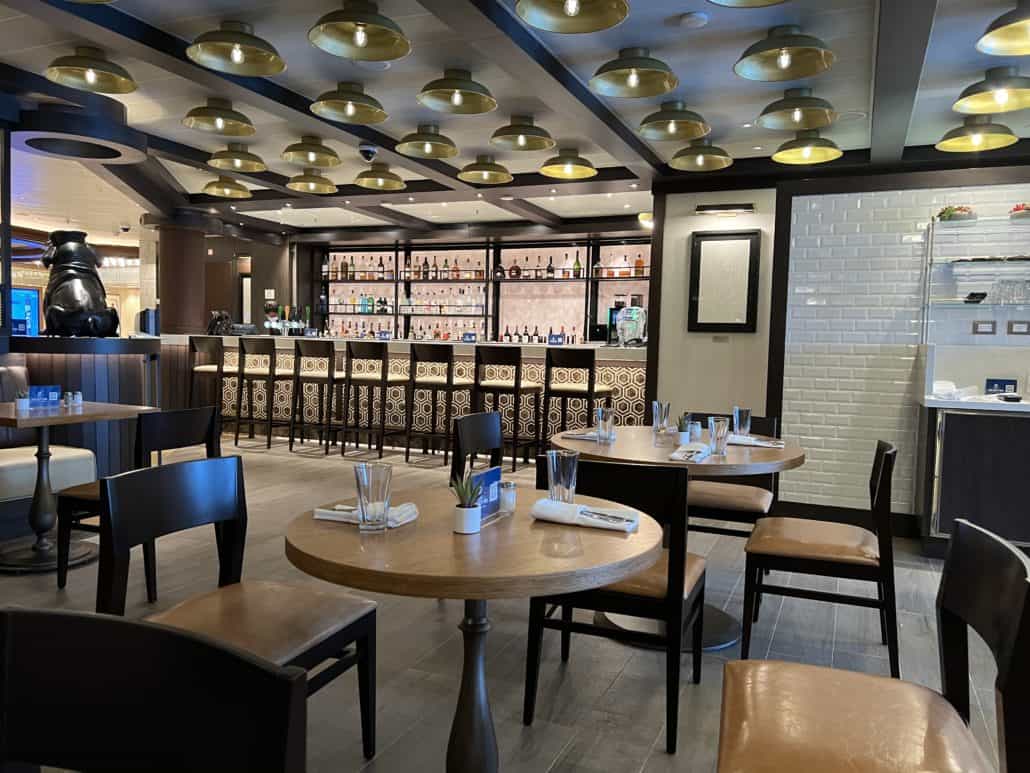 Which Ships Have The Salty Dog?
Discovery and Enchanted Princess both have standalone The Salty Dog Gastropub restaurants. On Crown, Emerald, and Ruby Princess, The Salty Dog menu is available in the Wheelhouse Bar.
Reservations are not required, but they're suggested. If you don't have a reservation and the dining area is full, you can always request a seat at the bar.
MORE: 10 Secrets And Money-Saving Tips The Cruise Lines Don't Usually Tell You
Appetizer
The Salty Dog Gastropub has one complimentary appetizer: Salty Dog's Dip Sticks. They're crunchy breadsticks covered in flaked smoked salt that come with beer-cheddar fondue. They are very tasty and a nice start to the meal.
Plates
Emmenthal & Gruyère Grilled Cheese: With creamed white tomato soup
Spicy Stout Beef Short Ribs: Stout-orange blossom honey glaze
Fried Chicken Sandwich: Tomato, spicy mayo-dressed kale, homemade bun
Wild Mushroom Sauté: Porcini, portobello and shiitake, crispy poached egg, oregano, smoked scamorza, truffle-garlic purée, lemon zest
Beyond Burger: 100% plant-based protein patty, tomato, onion, lettuce, homemade bun
The SDG Burger: Fresh ground ribeye and short rib patty, pork belly, gruyère, kimchi beer battered jalapeño, charred onion aioli, brioche bun (served with truffle-parmesan or sweet potato fries)
Charred Asparagus and Toasted Haloumi Cheese: Lemon-shallot vinaigrette, smoked almonds
Lobster Mac & Cheese: Aged cheddar, gruyère and parmesan, truffled cream, crispy crumble
Wild Caught Calamari Frites: Ale battered, cornmeal-crusted, lemon curry, tartar sauce
Beef Short Rib Poutine: Braised in cabernet wine, rosemary gravy, potato frites, cheddar cheese curds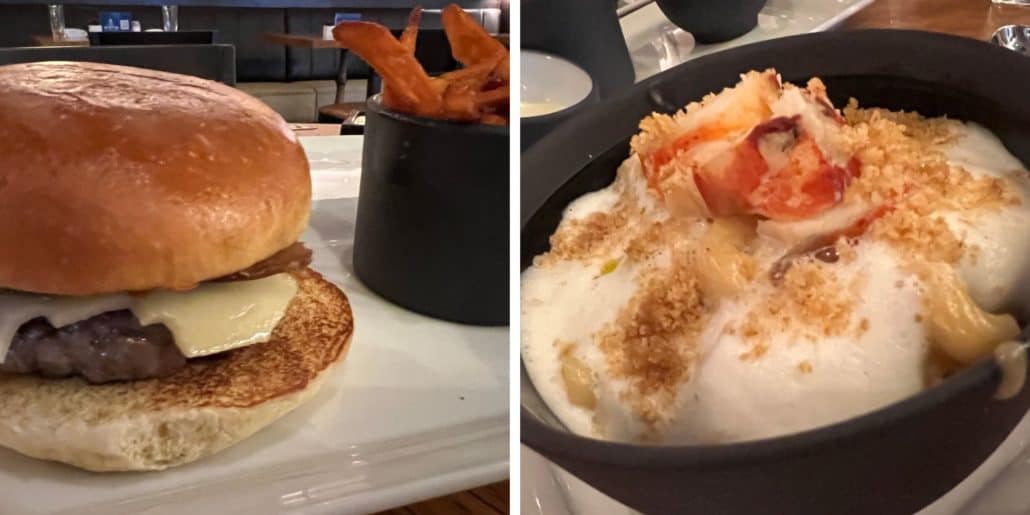 Desserts
Strawberries & Cream: Ricotta, honeycomb crisps
Coffee & Doughnuts: Espresso mousse, cinnamon sugar jelly doughnuts
Bourbon Chocolate Pot de Crème: Salted caramel popcorn
Lemon Posset: Pistachio crunch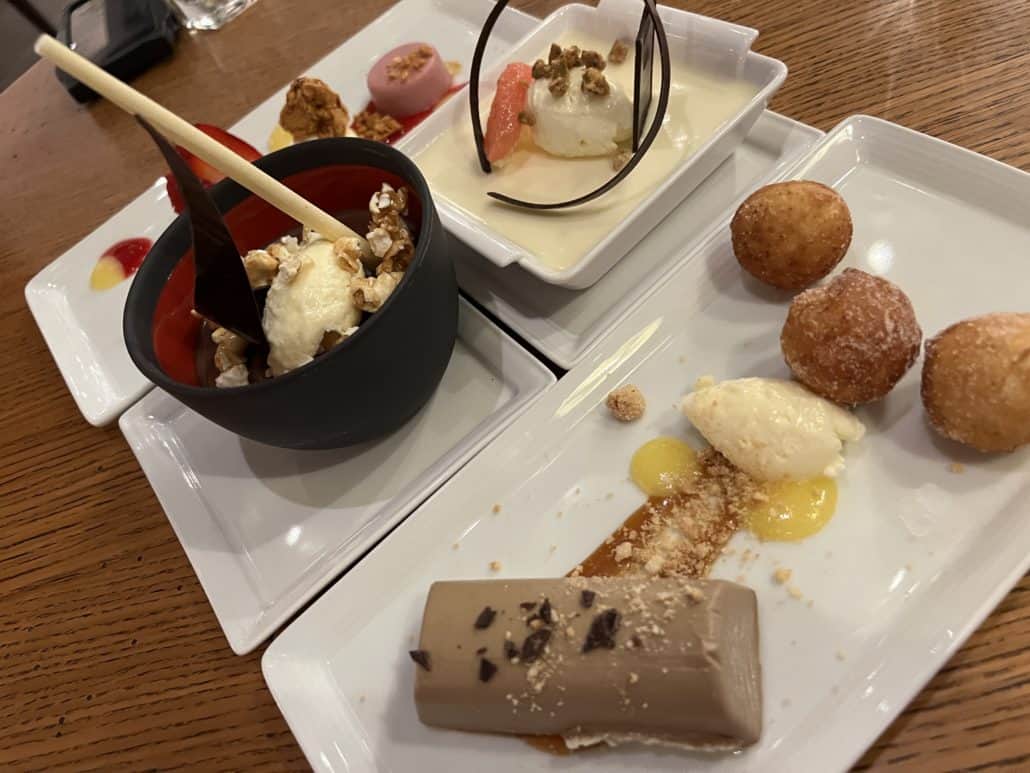 Cocktails
24k Gold Margarita: 1800 Reposado tequila, Cointreau, Grand Marnier, margarita mix — $9.75
Long Island Iced Tea: Absolut Elyx vodka, St. George Terroir gin, Pyrat XO rum, Patrón Citrónge Orange liqueur, sweet & sour, coke — $10
Negroni: Bombay Sapphire gin, Campari, and sweet vermouth — $9.50
Ultimate Cosmopolitan: Grey Goose vodka, Cointreau, cranberry juice, and lime juice — $10
Old Fashioned: Bulleit bourbon, sugar cube, Angostura bitters, fresh orange slice, Luxardo cherry — $8.50
Whiskey Sour: Bulleit bourbon, sweet & sour — $8.50
Salty Dog Smash: Jack Daniel's Tennesse Whiskey, simple syrup, lemon, mint — $8
Bloody Derby: Bulleit Bourbon, Tres Agave organic bloody mary mix — $8.50
The Salty Dog Gastropub also serves a variety of beers, wines, and cider.
READ NEXT: Wonder of the Seas Dining Guide: Which Restaurants are Complimentary?
Pin it!