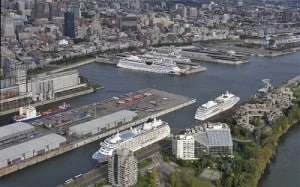 The 2012 cruise season will set a record: 55 500 passengers are expected to visit Montréal, which will represent a 46% increase over last season. These excellent results were announced this morning during a press conference with many industry partners in attendance, including Tourisme Montréal and the Montréal Port Authority (MPA). This timely event marks the launch of an exceptional season just two days before the first vessel of the summer is slated to arrive at the Alexandra Quay.
From May 12 to October 24, 2012, it is predicted that some 49,000 passengers will transit through the maritime terminal during 35 scheduled international stopovers, and that 6,500 passengers will embark on domestic cruises, primarily for the Magdalen Islands. It should be noted that this number includes the 14 000 crew members who attend to the comfort and well-being of their passengers. This will generate $14 million in economic spinoffs for Montréal.
"I am absolutely thrilled by these results that show a very promising future for Montréal's international cruise industry as well as a significant economic impact for the city", states Sylvie Vachon, President and Chief Executive Officer for the Montréal Port Authority.
In addition to a record number of passengers, the 2012 season also brings the arrival of certain international vessels for the first time ever to the Port of Montréal, namely the Seabourn Sojourn, a luxury liner that will be in port on September 28 and on October 19. This 198-metre long vessel is owned by the company, The Yachts of Seabourn, and can welcome up to 450 passengers.
Source: Port of Montreal
Subscribe to our Cruise News Updates.