MSC Meraviglia officially made per maiden call in Hamburg, Germany on Sunday, April 29, marking the start of her new season in northern Europe. The line also announced that MSC Grandiosa will be christened in Hamburg on November 2, 2019.
This summer, Meraviglia will be sailing in northern Europe, making a total of four MSC ships sailing in the region this year. They feature 36 different itineraries and six possible embarkation ports across Germany, the UK, France, and Denmark. These itineraries have been developed to offer travelers more time ashore to explore all of the sights, with extended and overnight stays in some cities.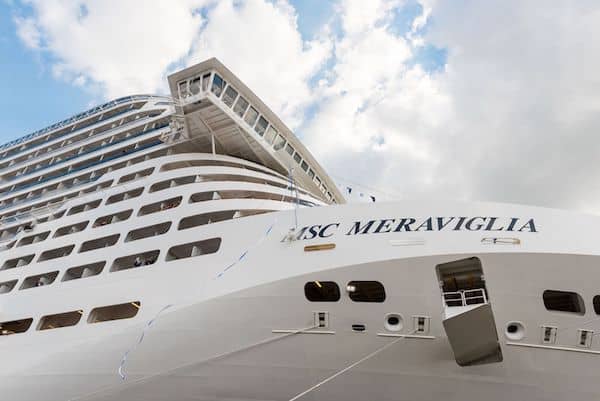 Designed for all seasons, MSC Meraviglia will spend her first northern Europe season offering world-class entertainment with Cirque du Soleil at Sea, a wide choice of dining options, and a Mediterranean-style promenade featuring multiple bars, restaurants, and shops. Homeporting in Hamburg, the ship offers 10, 11, and 14-night cruises that include the British Isles and Iceland, or the breathtaking North Cape and the Norwegian archipelago, Spitzbergen.
In September, an 11-night itinerary takes guests through the Baltic capitals of Oslo, Stockholm, Tallinn, and Helsinki with an overnight in St. Petersburg.
MSC Preziosa will also offer seven-night cruises from Kiel and Copenhagen, and MSC Orchestra will offer seven and eleven-night cruises from Warnemunde.