If you've sailed from the Fort Lauderdale cruise port, you know how busy it can get. Especially during the winter cruise season, sometimes there are 12 ships embarking cruise guests at the same time. Recently, the cruise port received major upgrades.
Carnival Cruise Line, Royal Caribbean, Celebrity Cruises, Holland America Line, and Princess Cruises sail from the port on a seasonal or year-round basis.
Getting to Fort Lauderdale Cruise Port
The Port Everglades Cruise Pier is accessible from interstate 95 and 575. There are three entrances into Port Everglades.  The 17th Street Causeway entrance which is located at Eisenhower Boulevard, State Road 84 entrance located just off of US 1, and the I-595 East entrance.
Proper identification such as a driver's license or passport is required and your vehicle may be subject to search.
I-95 south, take Exit #26 to I-595 East. Exit 12b, to Port Everglades.
I-95 north, take Exit #24 to I-595 East. Exit 12b, to Port Everglades.
I-75 north or south, take Exit #19 to I-595 East. Exit 12b, to Port Everglades.
On the Florida Turnpike north or south, take Exit #54 to I-595 East. Exit 12b, to Port Everglades.
Alternative Transportation
If you're flying into the Fort Lauderdale airport for your cruise you can get a taxi, Uber, shuttle service, or take advantage of the cruise line transfer service that is available for purchase when you book your cruise.
Uber: $12-$16
Taxi: $20
Cruise Line Transfer: check with your specific cruise line
If you're flying into Miami and cruising from Port Everglades, expect a 45 minute to an hour transfer. Like Fort Lauderdale, you can take advantage of a cruise line transfer, shuttle service, or an Uber. A taxi is by far the most expensive way to transit between the two locations.
Parking Prices
Parking fees at the Fort Lauderdale cruise port are some of the cheapest in Florida and are charged on a per-night basis. The parking garages are multilevel and are secured. Each parking garage at the cruise terminal has crosswalks to the corresponding cruise ship.
$15 per day for regular cars and trucks
$19 per day for oversized vehicles
Alternative Parking 
There are park and cruise hotels in the area that let you park your car in their lots if you purchases a night pre or post-cruise. One of the hotels that I use when I drive to Fort Lauderdale is the Hilton Garden Inn Airport Cruise Port. This property offers a charter bus service that will take you to and pick you up from the cruise pier.
You can also park your car off-property at a reduced price set by the company. Each park and cruise location will vary in price and will offer a shuttle to drop you off at your designated cruise terminal.
Tips
If you're driving to the cruise pier and want to experience less crowds, consider boarding later. Most cruisers try to be the first passengers on the ship. By giving yourself extra time to get to the cruise pier and not rushing, the embarkation experience will be much more pleasant.
In my experience of flying into the Hollywood-Fort Lauderdale International Airport, taking an Uber has been the most economical way to get to the cruise port. If you're considering Uber, use promo code ydhf9 for $5 off your first four rides.  You can even enter the code before you use it.
Do you have any tips for sailing from the Fort Lauderdale cruise port?
Featured photo via Port Everglades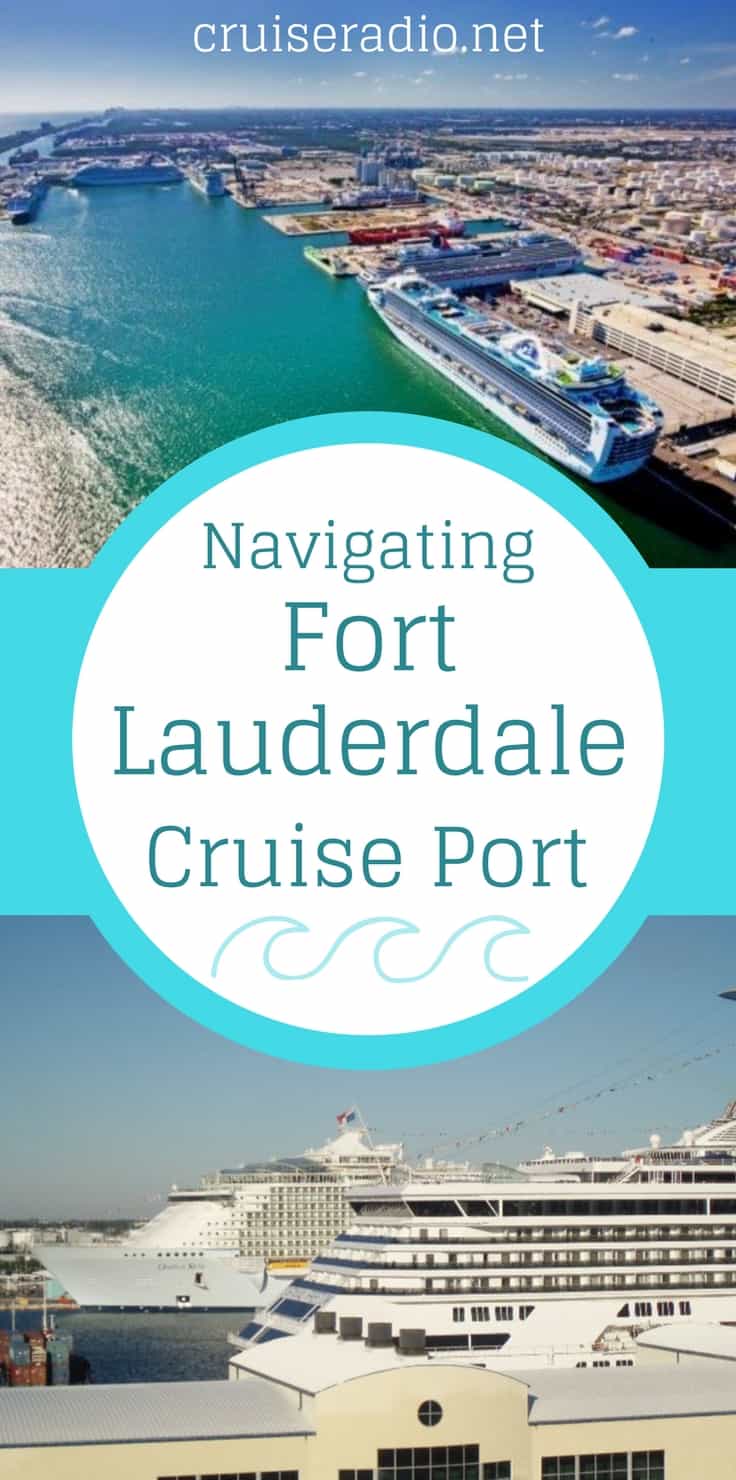 SaveSave
SaveSave