Perfect Day at CocoCay's latest addition, Coco Beach Club, will welcome Royal Caribbean International cruise guests beginning January 31, 2020. The incredible above-water cabanas which promise to be a major draw are now available for booking and, despite their hefty price tag, we suspect they'll sell like the proverbial hotcakes. Will they prove to be worth the money? Take a look and decide for yourself!
About Coco Beach Club and Those "Floating Cabanas"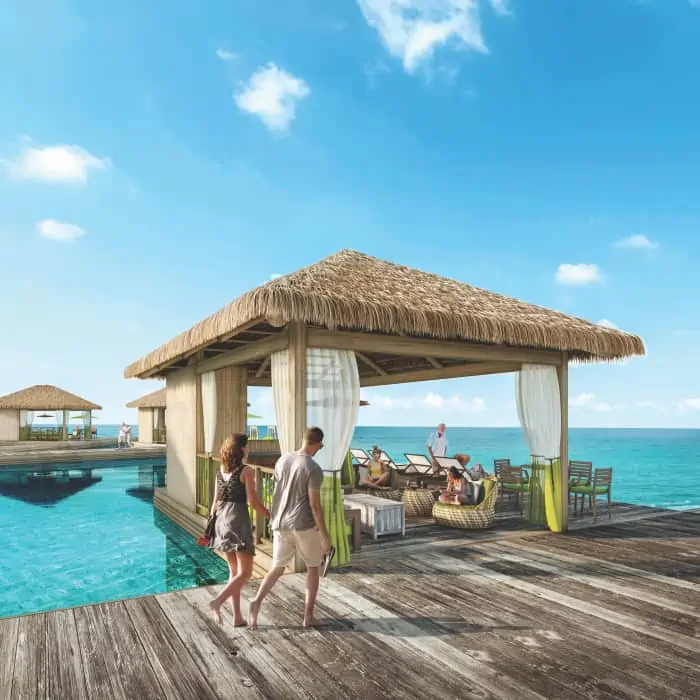 Although much of Perfect Day at CocoCay opened several months back — just in time to narrowly escape being dealt a blow by Hurricane Dorian — other areas have yet to welcome guests. Among the most highly anticipated of those yet-to-open spots has been Coco Beach Club, a private area which will play host around 450 people per day, for a fee.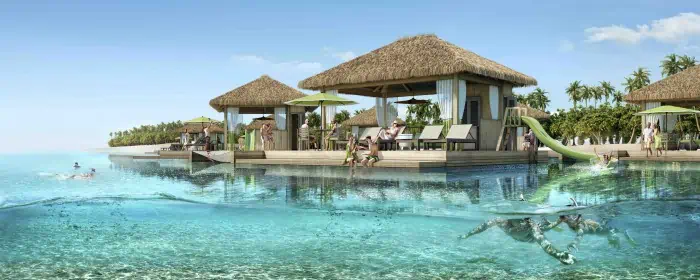 One of the highlights of this area? The "floating cabanas," described by the company as being "the only above-water cabanas in the Bahamas." The rustic-looking, but fully-equipped slices of paradise offer quite a bit for those willing to pay a premium price for something a little bit different.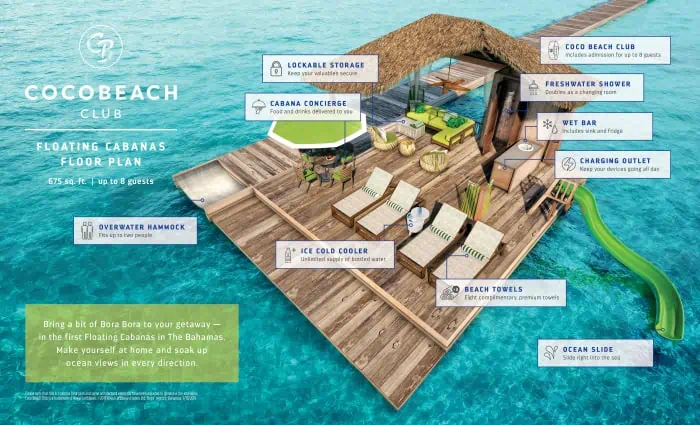 Each of the floating cabanas can host up to eight guests, who will find themselves enjoying everything from a hammock suspended over the crystal blue waters to a slide which will dump them into the ocean. There's also a freshwater shower, a wet bar and — of course — concierge service to tend to your every whim.
How much will all this cost? Not as much as you might think, given all the cabanas offer. Prices start at $999, and while that might seem like a lot of money, remember that's per floating cabana, not per person.
There Are Land-Based Cabanas For Rent, Too
Want something a bit less pricey (and, to be clear, less glam)? Consider one of the more traditional cabanas which can be rented on Coco Beach Club's stretches of sand. While they may not be suspended over the waters surrounding CocoCay, they'll still offer your crew a great place to escape the sun while still allowing you to dig your toes down into the sand.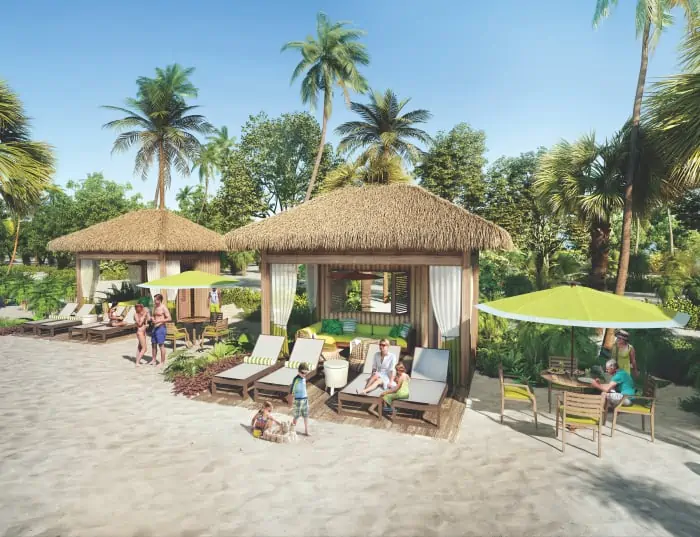 These beach-side cabanas will, as mentioned, cost a bit less, with starting prices around $699.
The entire area is set off from the rest of Perfect Day at CocoCay, with exclusivity being one of the big selling points. Seatrade reports that there will be 20 above-water cabanas available to rent per day, and 10 of the beachfront cabanas. In addition, guests of the Coco Beach Club will have access to a large, oceanfront infinity pool, complimentary waterfront dining and more. Of course, it wouldn't be a tropical paradise without a cool bar at which to kick back and watch the world go by, and Coco Beach Club has one of those, too.

Much of Perfect Day at CocoCay is already open, having been up-and-running since this past May. Fortunately, damage to the private destination from Hurricane Dorian was minimal. Guests currently booked on Royal Caribbean ships which will visit Perfect Day can head to their Cruise Planners for more information on the options available to them, as well as pricing plans.