This week, the folks at Norwegian Cruise Line officially took delivery of their newest ship, the Norwegian Bliss, and cruisers are getting a look at the inside of this latest megaship! Forget the renderings… photos of the actual ship are starting to come in, and she's a beauty. The ceremony — during which shipbuilders Meyer Wert handed over the ship in Bremerhaven, Germany — took place on Thursday, and the final touches are currently being put on the ship! Scroll down for details and some pretty gorgeous photos! And remember that Cruise Radio will be coming to you live the weekend of May 4 as the Norwegian Bliss arrives in New York and is introduced to her godfather, Elvis Duran!
Stunning New Photos Of The Norwegian Bliss
Over the past few years, Norwegian has built ships specifically designed to serve or represent a particular location. The Norwegian Breakaway, for example, was designed to homeport in New York City (although, after five years of doing so, she's now visiting other ports). And while the Norwegian Bliss will sail out of several locations during her first season, she is specifically designed for Alaskan sailings… which is most noticeable when it comes to her two observation lounges, from which passengers can enjoy stunning views of what is often called "the last frontier."
The heart of the ship can be found at 678 Ocean Place, spanning three decks (with the casino on deck 7, for those who can't wait to hit the slots!) and anchored by the stunning chandelier pictured below.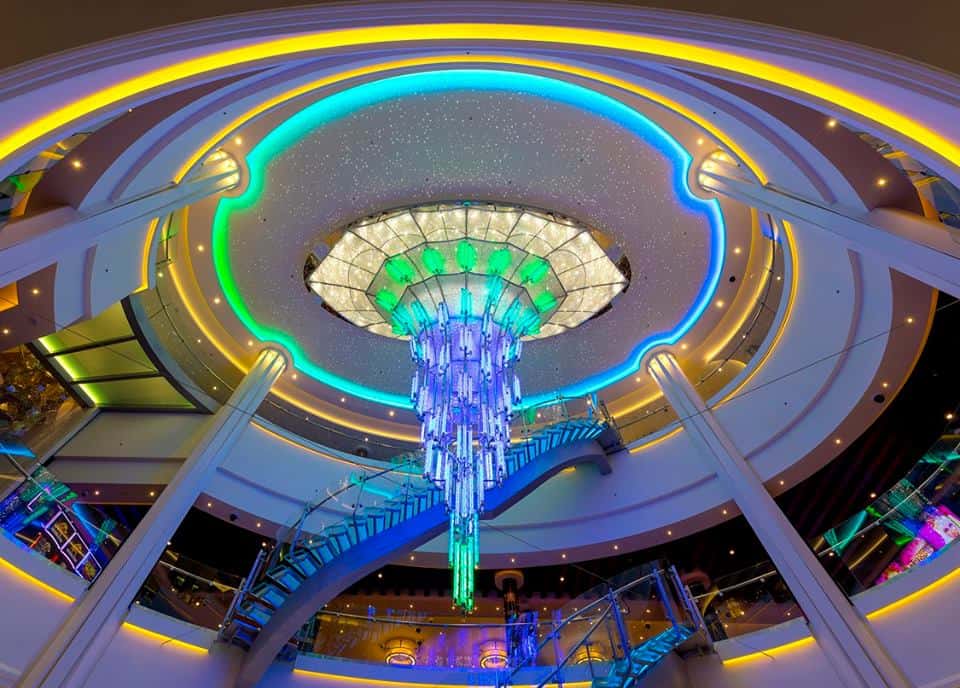 Next up on our photo tour is The Haven, Norwegian's exclusive ship-within-a-ship area. On board the Bliss, the Haven will feature not only the usual pool, private sundeck and 24-hour butler service, but also a special observation lounge available only to Haven guests.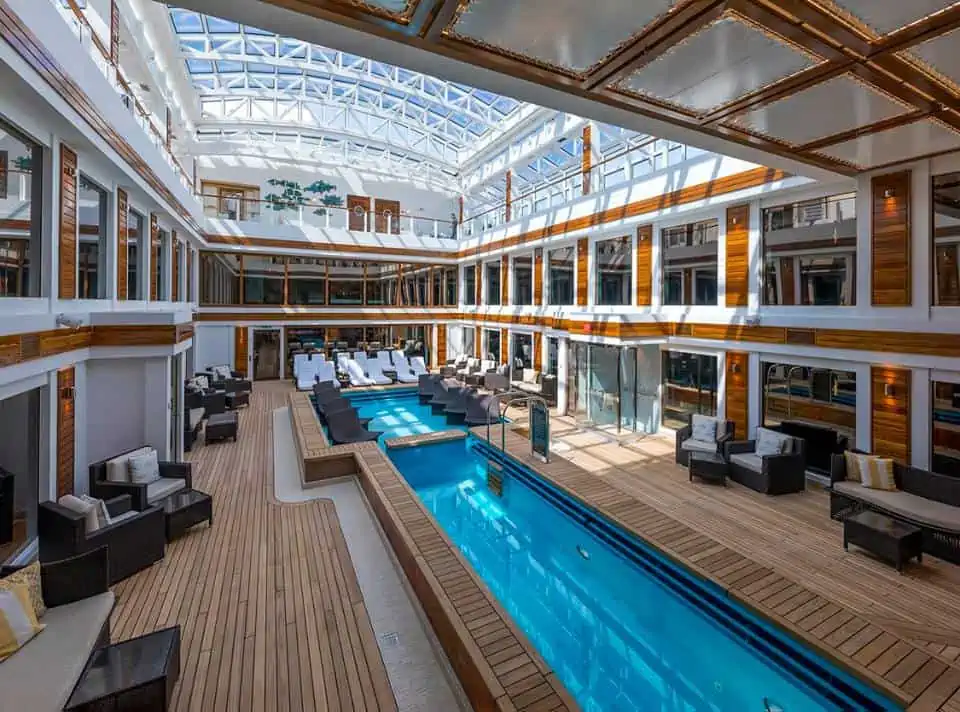 Among the gorgeous spaces on board are, of course, numerous restaurants including high-end seafood eatery Ocean Blue, with it's coral-inspired ceiling lights and soothing ambiance…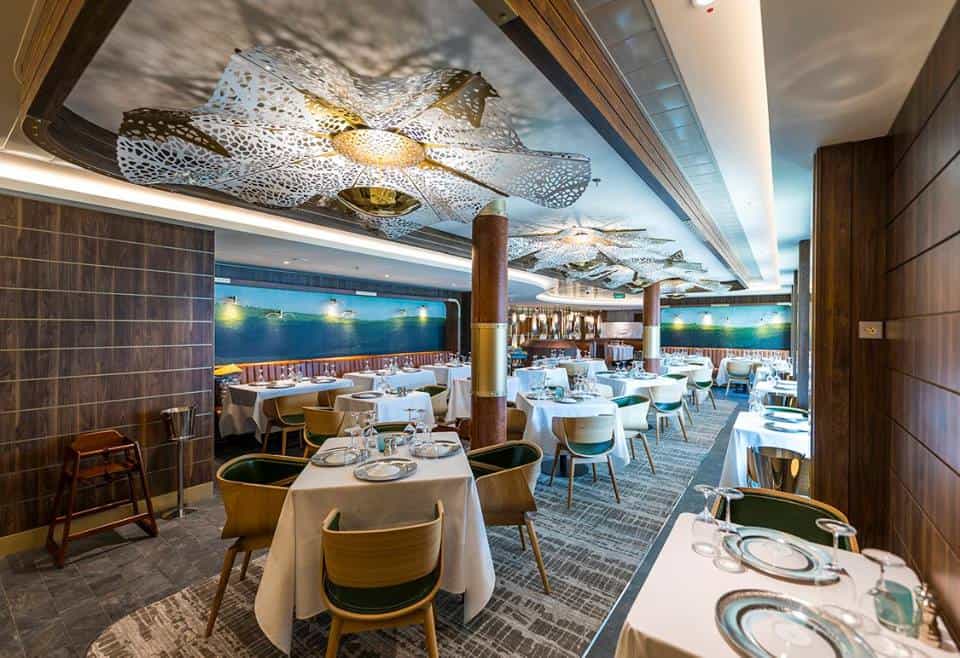 … Los Lobos, serving some of the best Mexican-themed cuisine (and, of course, margaritas!) at sea…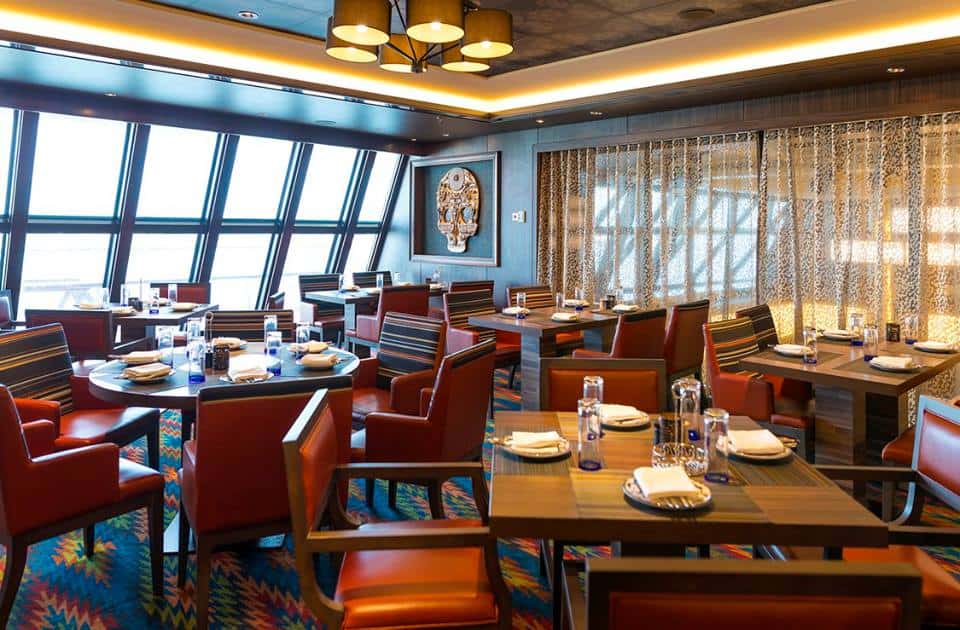 … and, in a first for Norwegian Cruise Line, Q, the Texas-style barbeque joint which will also feature live entertainment each night.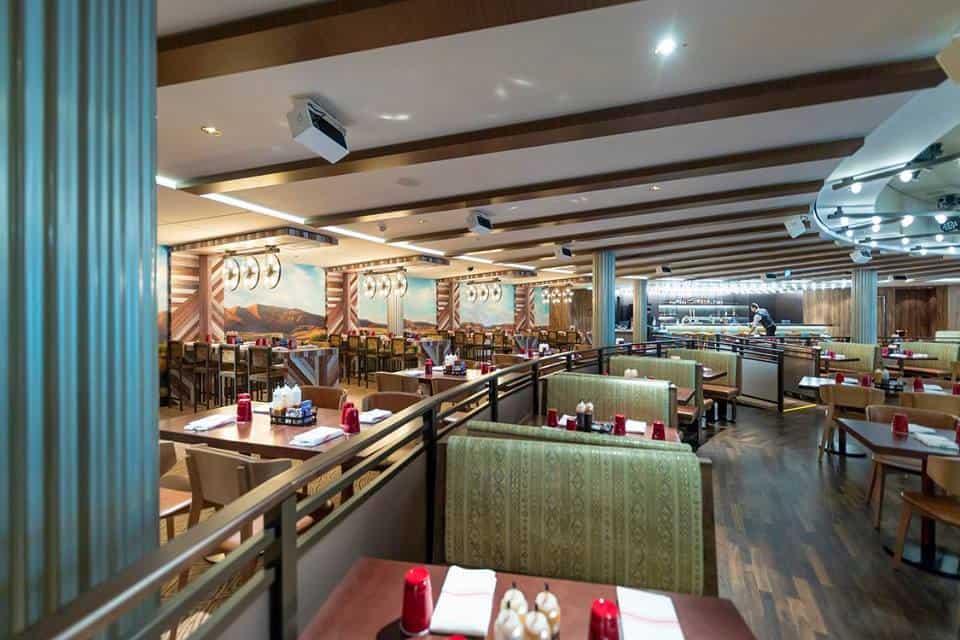 Other Shipboard Features
Of course, it wouldn't be a modern-day cruise ship without a shopping area. On the Norwegian Bliss, that is Tradewinds, featuring everything from high-end watches to items you might have forgotten to pack before leaving home.
While several Norwegian ships have featured the Sugarcane Mojito bar in recent years, the one aboard Norwegian Bliss offers more space than previous incarnations and some fun splashes of color (to go with the amazing array of hand-crafted mojitos which are a highlight of the menu).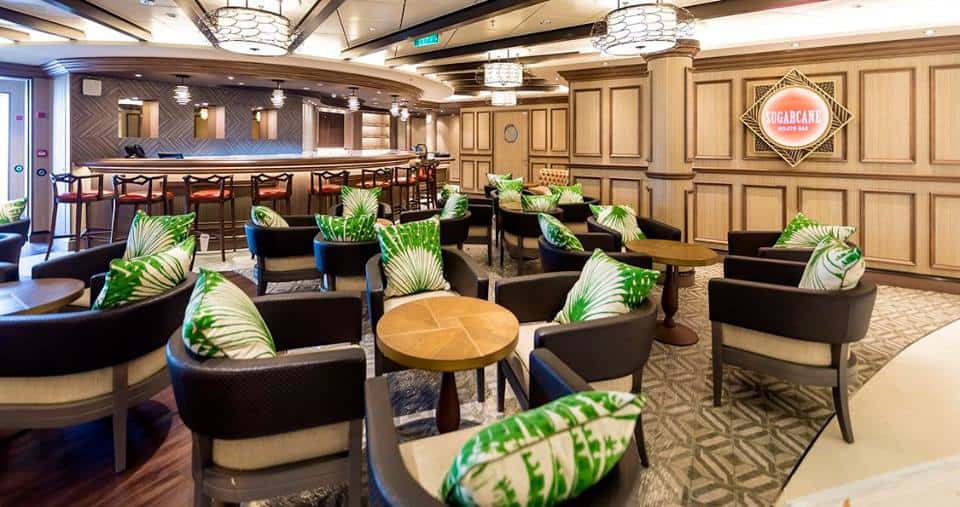 Oh yeah, lest we forget, there is of course that race track you've probably heard a thing or two about.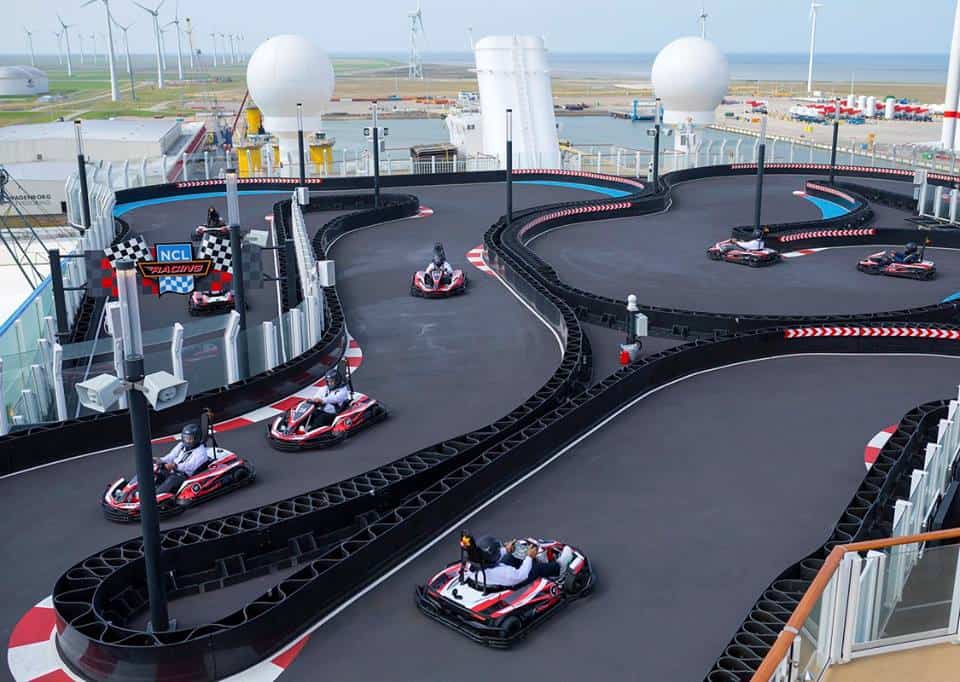 As mentioned previously, Bliss will feature two observation lounges. One will be exclusively available for guests of the haven, but a second lounge — featuring amazing forward-facing views and, of course a bar — is open to all guests.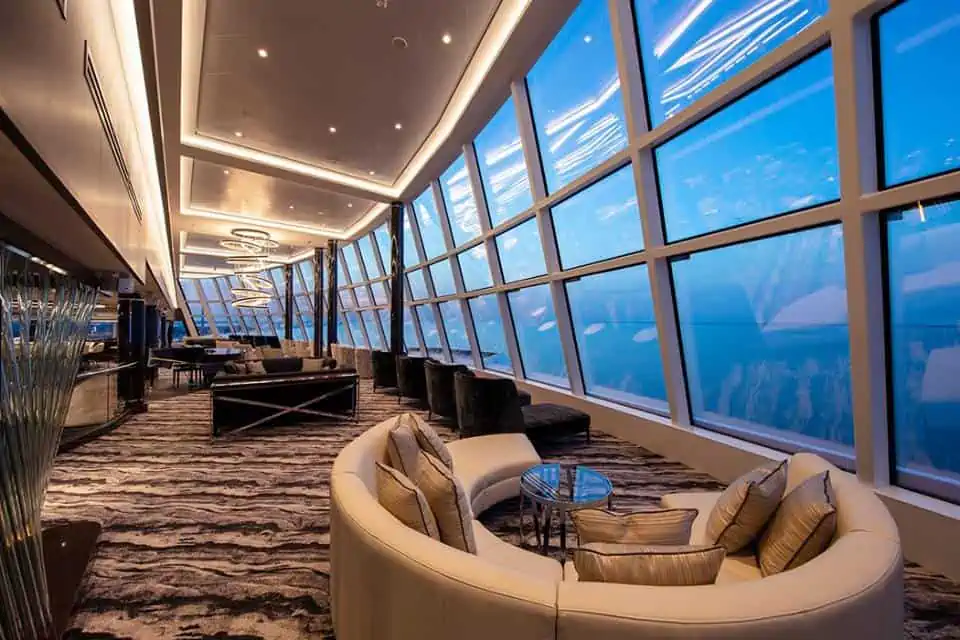 Finally, there's the pool deck. Or, as pictured below, one of them. You can see the Aqua Racer looming in the background, one of several slides featured aboard Norwegian's newest ship.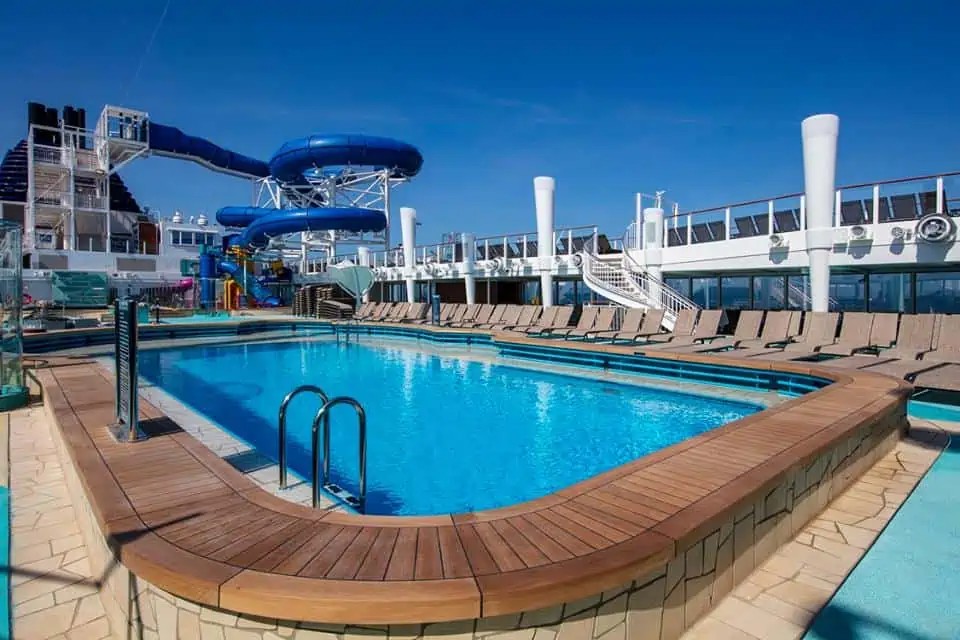 Are you excited to sail on the Norwegian Bliss? What's your favorite feature of the new ship? Hit the comments, and make sure to join us for exclusive photos, interviews and more when we board the ship in New York City on Friday, May 4! 
All photos via Meyer Werf's Facebook page