Norwegian Cruise Line has revealed the signature art that's been designed for their new ship, Norwegian Bliss.  Premier marine life artist Wyland has designed the piece that will grace the ship's hull, which will cruise to Alaska beginning in June 2018.
Entitled "Cruising with the Whales," the engaging piece features an image of a mother humpback whale and her calf as the centerpiece, signifying the beauty of Alaska, as well as the importance of conservation.  Known for his whale murals, marine life paintings and sculptures, Wyland has inspired countless people to be passionate about preserving the oceans and the wildlife that call it home.  Andy Stuart, president and CEO of Norwegian Cruise Line joined Wyland in Fort Lauderdale to reveal the design earlier this week.
"Humpback whales are an iconic part of the Alaska landscape…It was only fitting that an artist of Wyland's caliber should create the artwork for our first ship designed for Alaska." said Stuart. "We hope that our guests are just as inspired as we are by this beautiful artwork."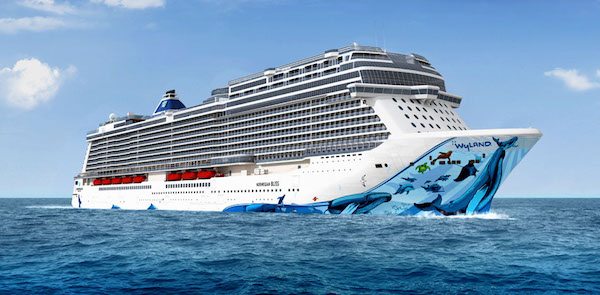 An artist of many different canvases, Wyland has been diving the world's oceans for 30 years, and the wildlife he has encountered has inspired him to paint the animals life sized, on over 100 ocean murals throughout the US and 18 countries around the world.  Along with the whales, Norwegian Bliss will feature manta rays, dolphins, sea lions, and sea turtles.  "I can't think of a more perfect canvas for a marine artist than Norwegian Bliss and I hope my art inspires people to see the beauty in nature and hopefully work to preserve it." he remarked.
The third ship in the Breakaway-Plus class, Norwegian Bliss is the first cruise ship custom-build for the ultimate Alaska experience.  It will also come with exhaust scrubbers, which decrease air emissions, including the reduction of up to 99 percent of sulfur into the atmosphere, furthering Norwegian's commitment to protecting unique ecosystems found throughout Alaska and around the world.  The ship will be about 167,000 gross tons and hold 4,000 guests, and is currently being constructed at Meyer Werft, scheduled for delivery in spring 2018.