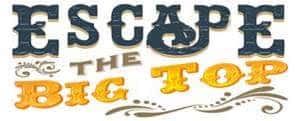 Norwegian Cruise Line has debuted an all-new entertainment experience onboard several of the line's ships that will surprise and challenge guests:  Escape The Big Top. Guests can experience the magic of an escape room with a twist, as they put their critical thinking skills to the test in a physical adventure game to solve challenges and beat the clock.
An onboard carnival takes an unusual turn when an act goes wrong. It's then up to the guests to solve the clues and escape the spell before the time runs out.
This complimentary event, which can run up to one hour, is the ultimate combination of intellect and urgency. Escape the Big Top gives guests of all ages the chance to not only compete against the clock, but their fellow guests as well for added fun.
The new entertainment concept is available several times per cruise onboard the line's four newest ships, including Norwegian Getaway, Norwegian Epic, Norwegian Breakaway and Norwegian Escape. Guests can make their reservations through the box office once they are onboard.
Source: NCL