On a recent sailing aboard Norwegian Pearl, I had one restaurant that I really wanted to try: Le Bistro. This is one of the only specialty restaurants that I haven't tried with Norwegian Cruise Line.
Since we didn't opt for the Ultimate Dining Package on this cruise, it means that we had to experience it with a la carte pricing. 
Initial Thoughts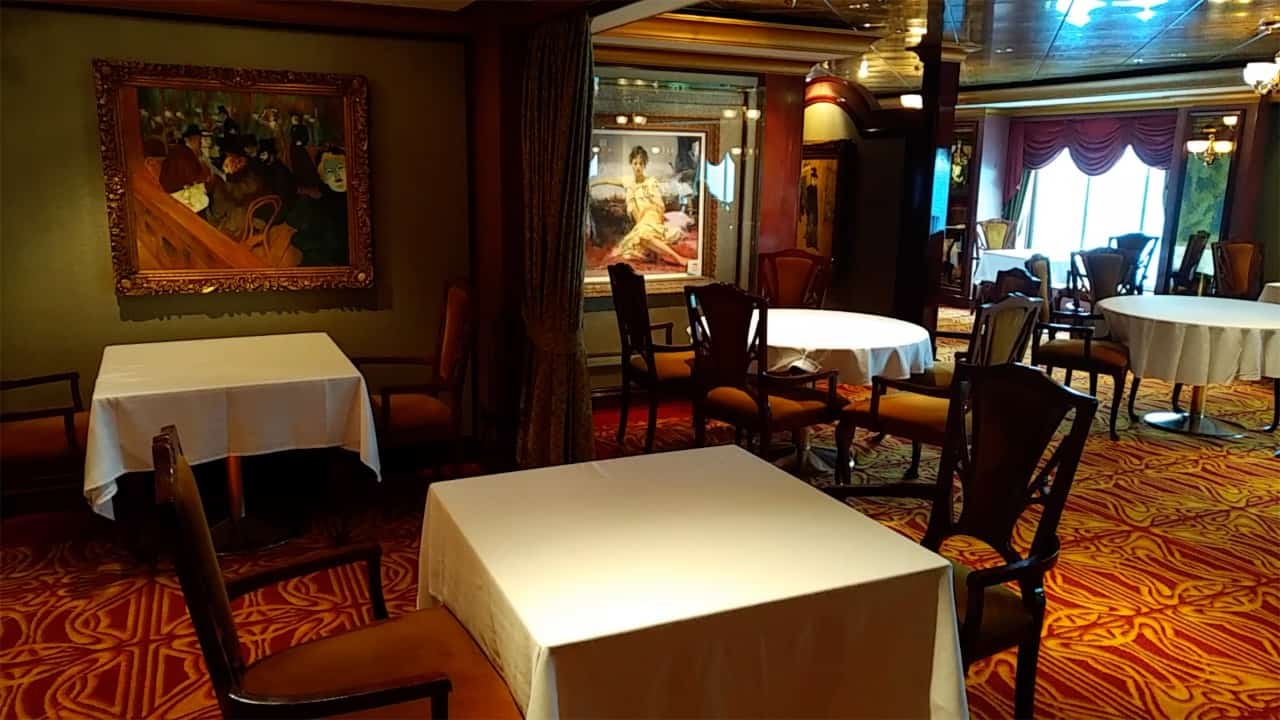 I made a reservation after having been onboard for some time. I didn't get to the bottom of why- but dining a la carte gave us access to different reservation times. I'm guessing they assumed we wouldn't order as many courses and take as long as someone with the dining package. 
If you had the Ultimate Dining Package, you could do a four-course meal with the use of a dining credit, because we were a la carte, we did it on the cheap with each of us ordering a bowl of soup and an entree.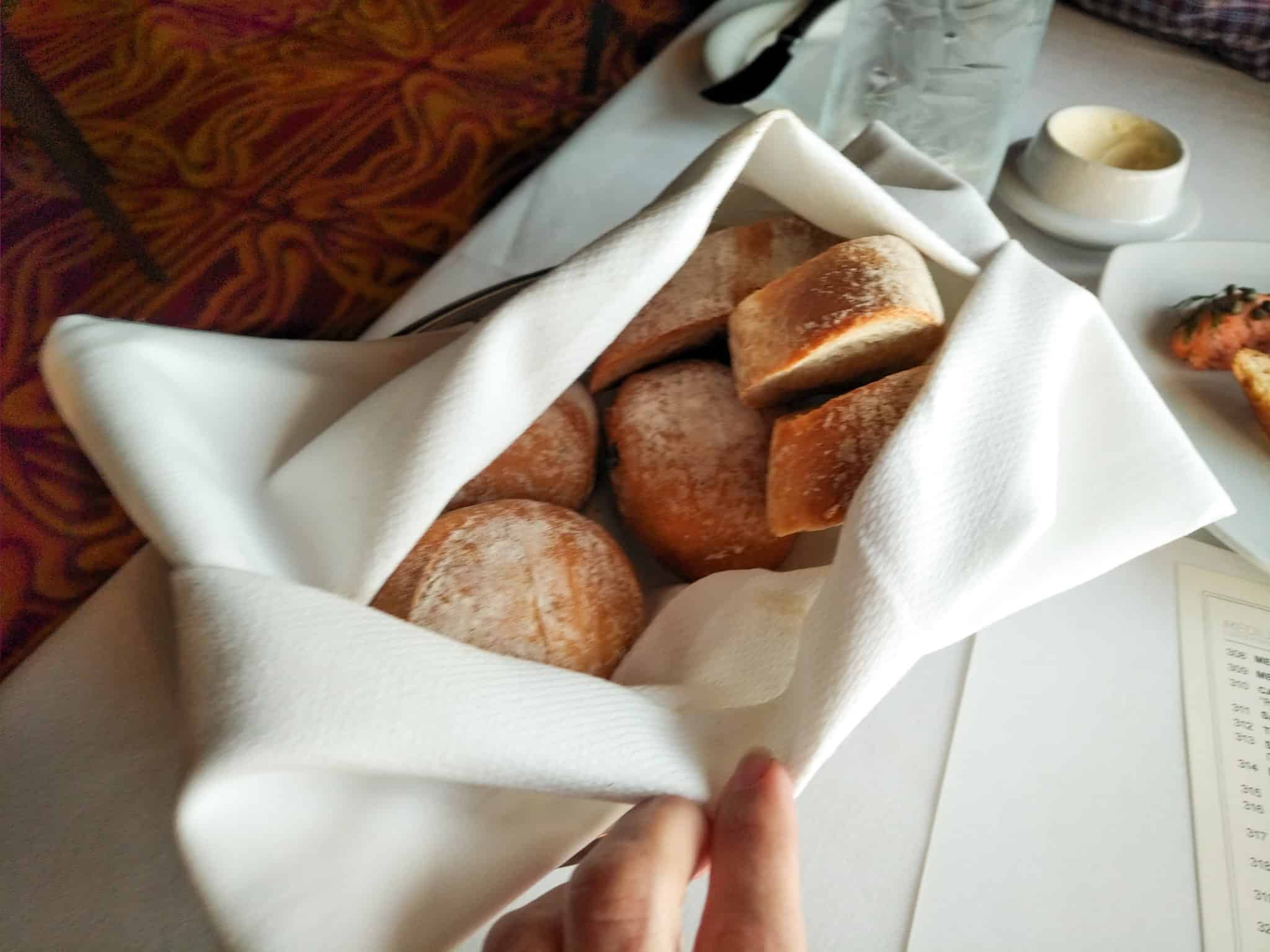 After we were seated the server explained the menu to us, then we ordered our wine, as well as a soup and entree for each of us. We also got a basket of rolls and some crostini with smoked salmon.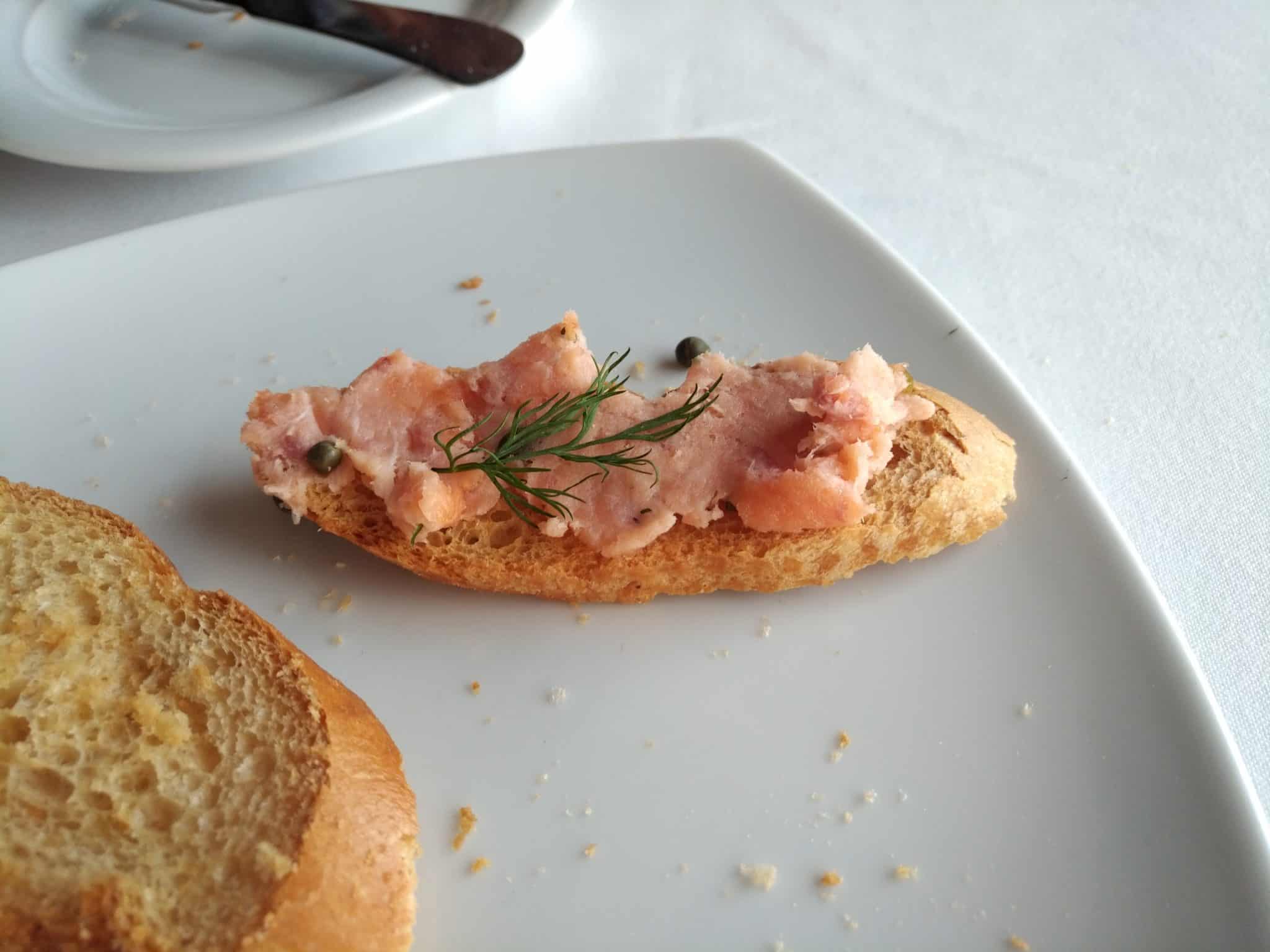 The rolls were good, and I saved most of them to eat with my soup and entree. 
First Course 
For our first course, I ordered the four mushroom soup ($3.99) and my husband ordered the French Onion Soup ($4.99). I really enjoyed the mushroom soup. It's one of my favorite soups and Le Bistro does it really well. The bits of mushroom added a great additional flavor.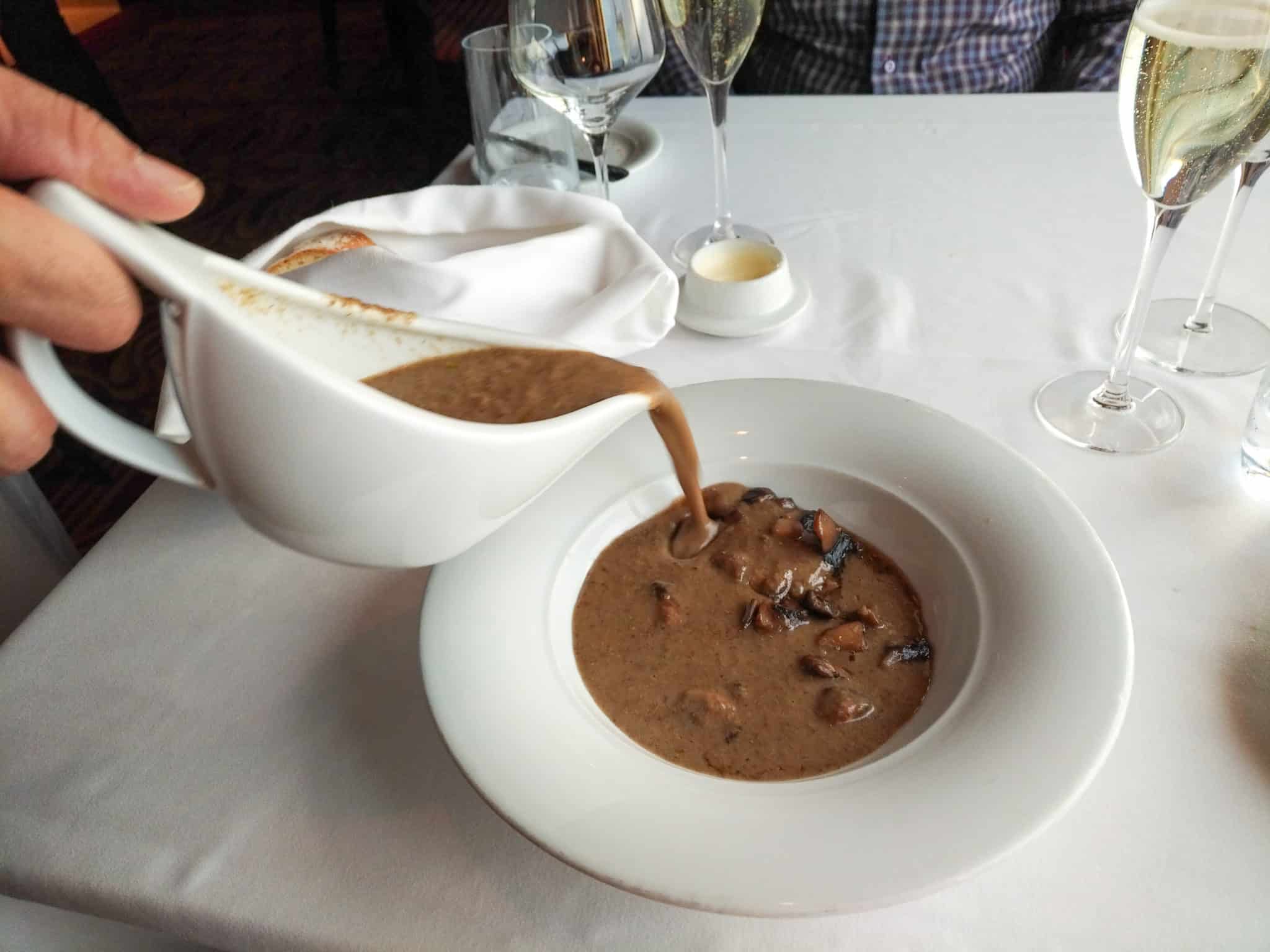 The French Onion soup was partially an experiment because we ordered it in the main dining room and it wasn't anything amazing.  We wanted to see how much better it was at Le Bistro and it's basically incomparable. It was so much better.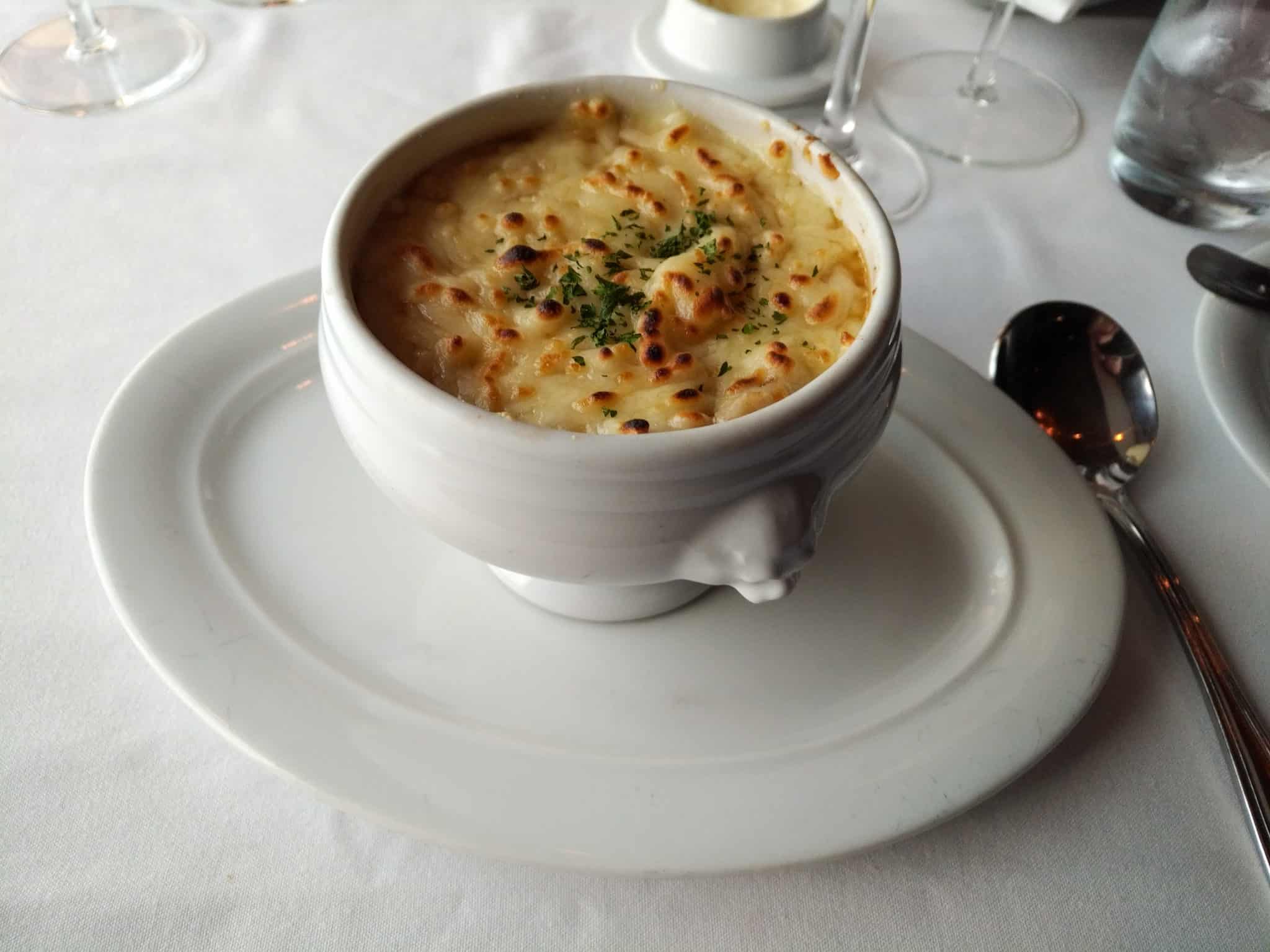 It even looked significantly better with a lot of cheese. 
Main Entree
For our entrees, my husband got the Parmentier de Canard et Carottes Braisees au Jus d'Orange ($17.99) -which translates to duck Parmentier with orange-braised carrots and a Micro Cress salad.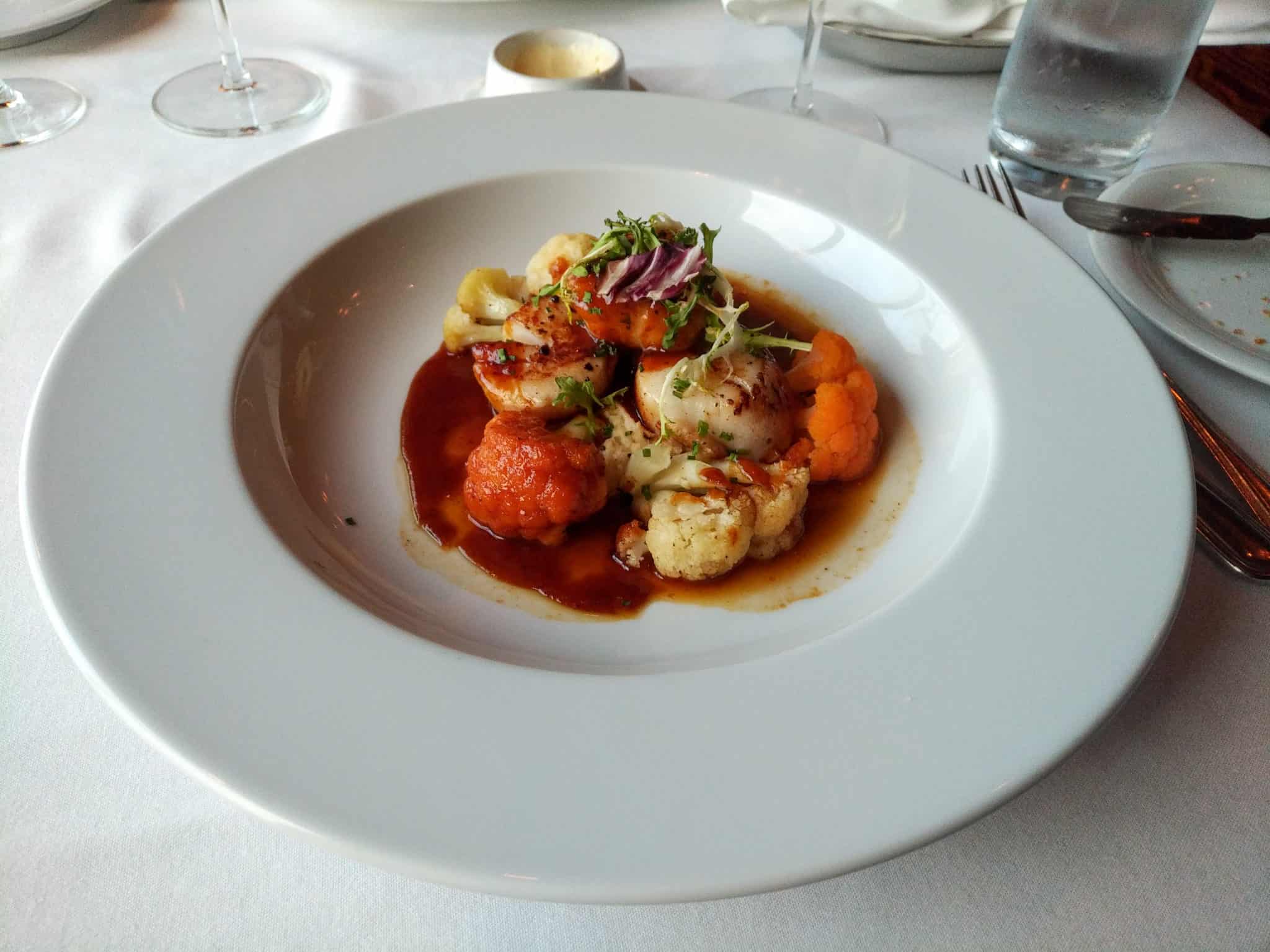 I opted for the Chicken Coq au Vin which is the Red Wine-Braised Chicken ($14.99). This sounded so appealing to me because it included mushrooms and bacon. I never actually knew what Coq au Vin was, but I've heard of it on shows like Top Chef, so I was interested in trying it. Now that I had an idea of what to expect, I was very happy with my choice.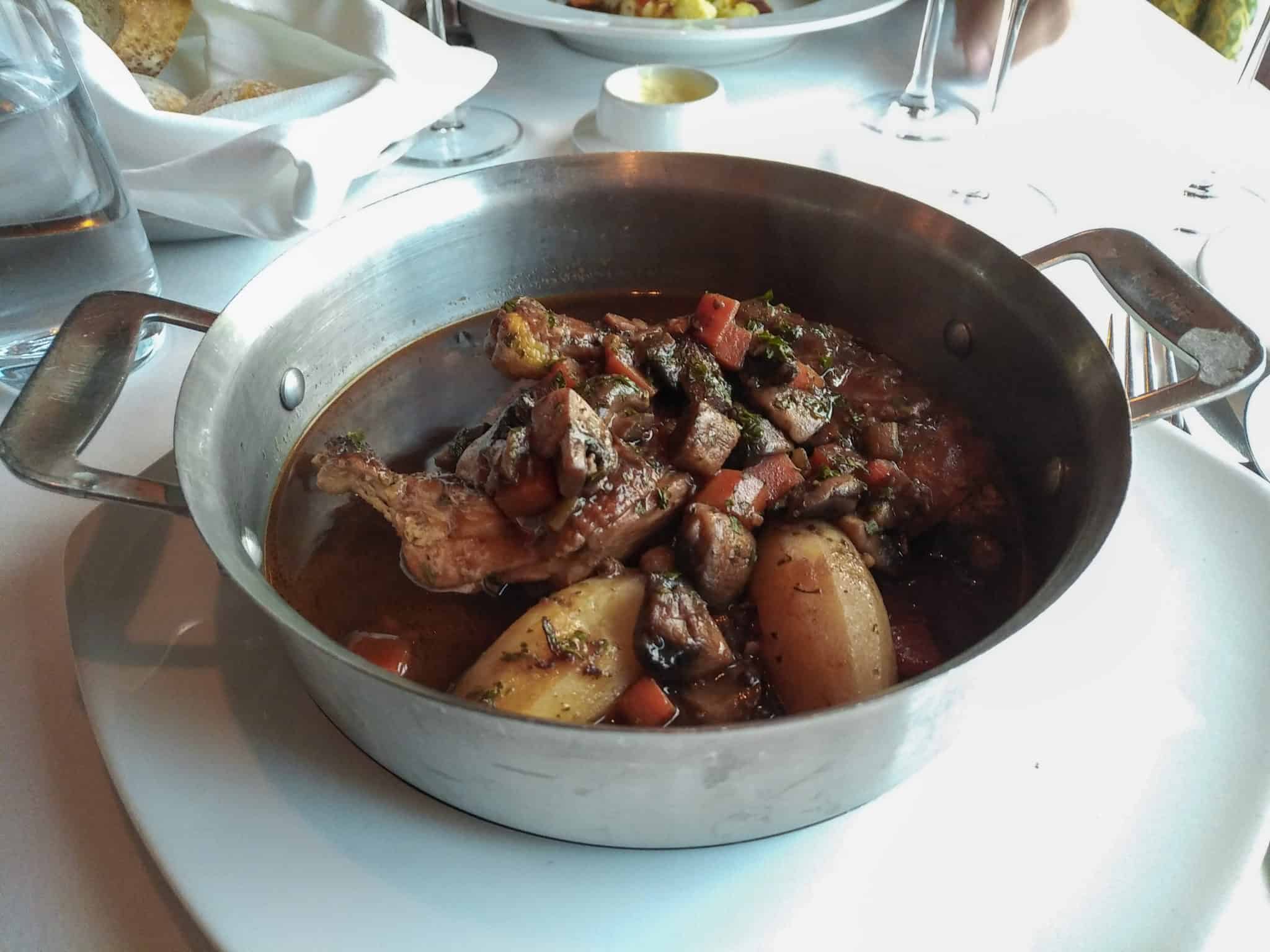 The chicken was very tender and flavorful. The mushrooms, bacon, and sauce left over from braising were delicious. I highly recommend this item if you're on a bit of a budget as it's the least expensive entree on the menu with the exception of the vegan dish($13.99). 
Dessert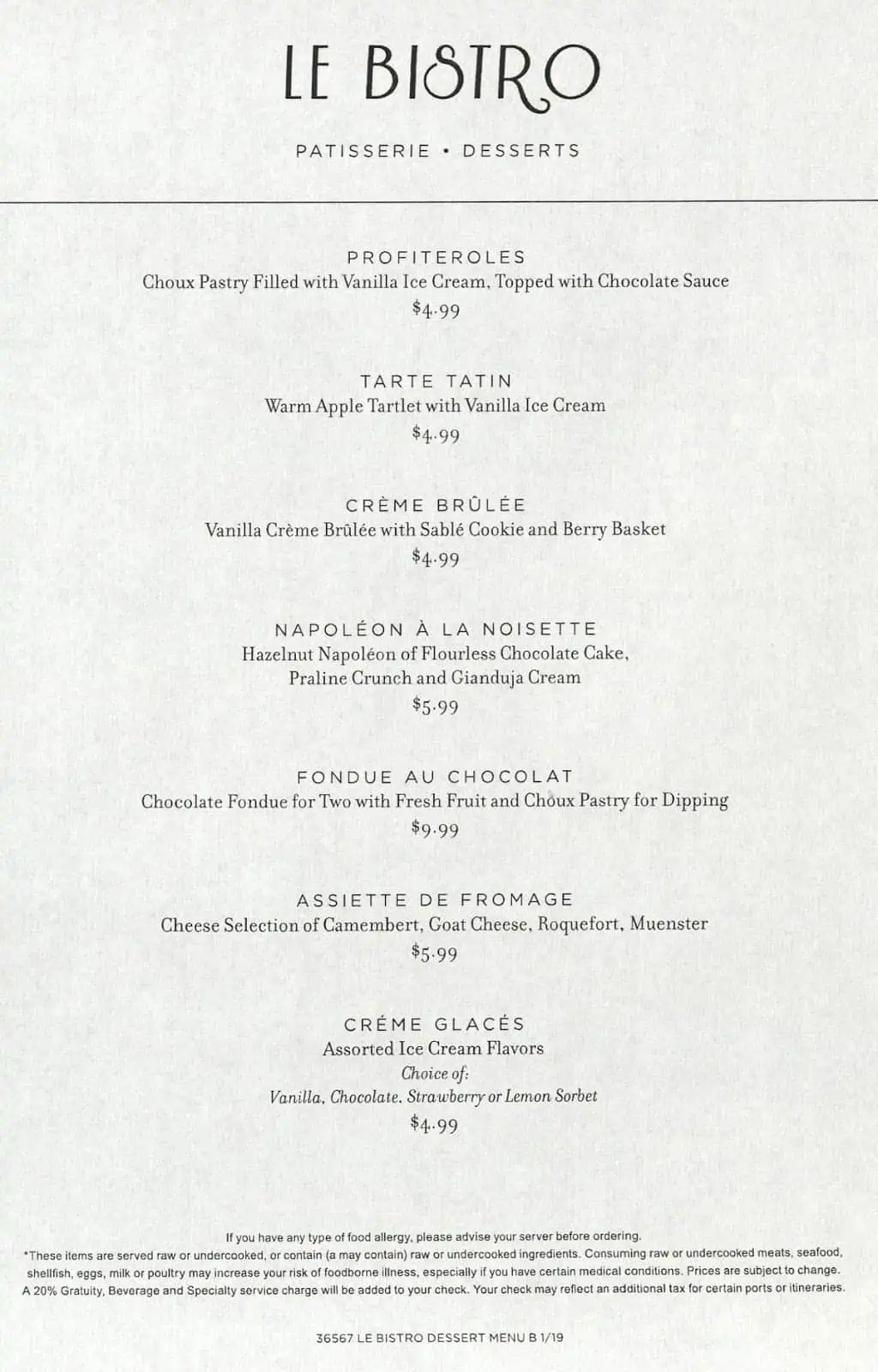 We actually skipped dessert because we were so full from the soups and entrees. Since we didn't have the dining plan, we skipped dessert.
Selections offered on the dessert menu:
Cheese pastry filled with vanilla ice cream and topped with chocolate sauce
Warm apple tart
Creme Brulee
Flourless chocolate cake
Chocolate fondue for two with fruit and a pastry for dipping
Cheese plate
Selection of sorbets
We skipped dessert because we didn't want to spend more money, which was really hard to do. They all sounded delicious.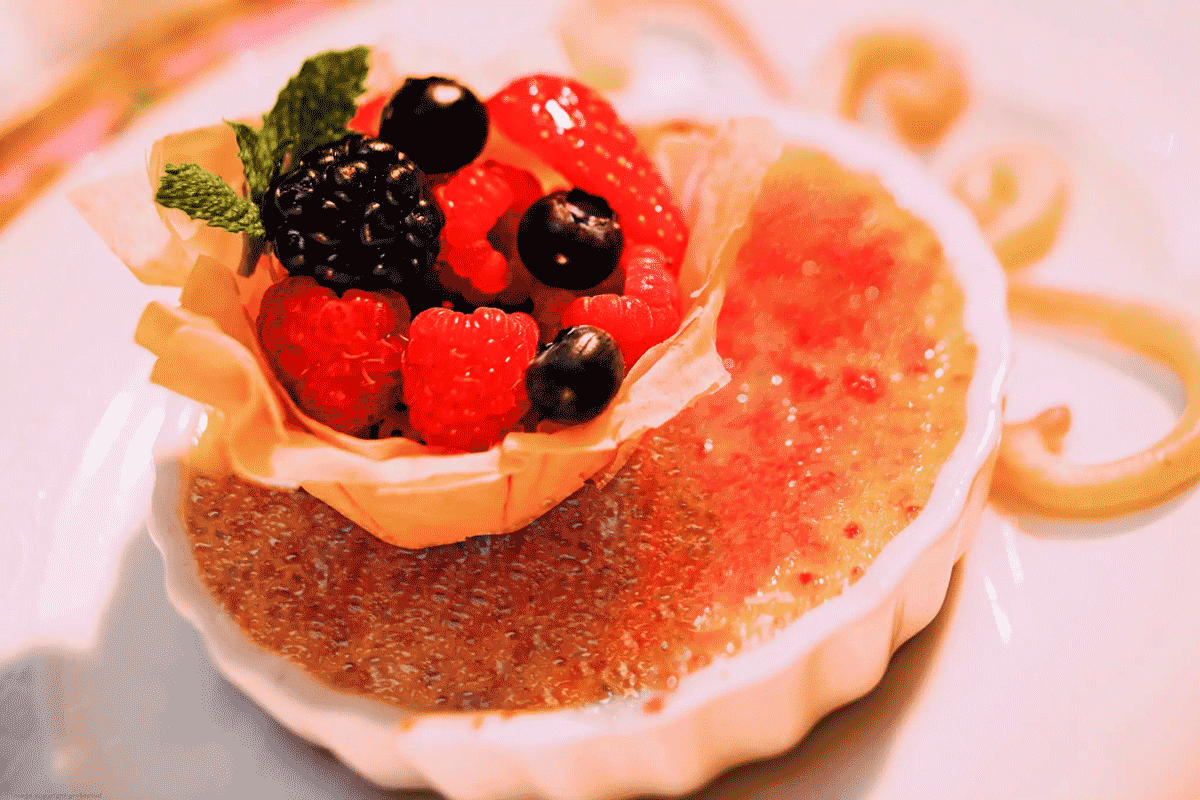 On my next Norwegian cruise, I might go to Le Bistro just for dessert, so I can try them.
Final Thoughts
I definitely recommend Le Bistro even if you do not have a dining package. On my previous Norwegian cruise, I had a dining package and Le Bistro didn't make the cut based on reading the menu and our other preferences. I think a lot of it was because they didn't have a salad that I'd want to order. 
It's worth mentioning that unlike most other venues onboard, Le Bistro has a slight dress code.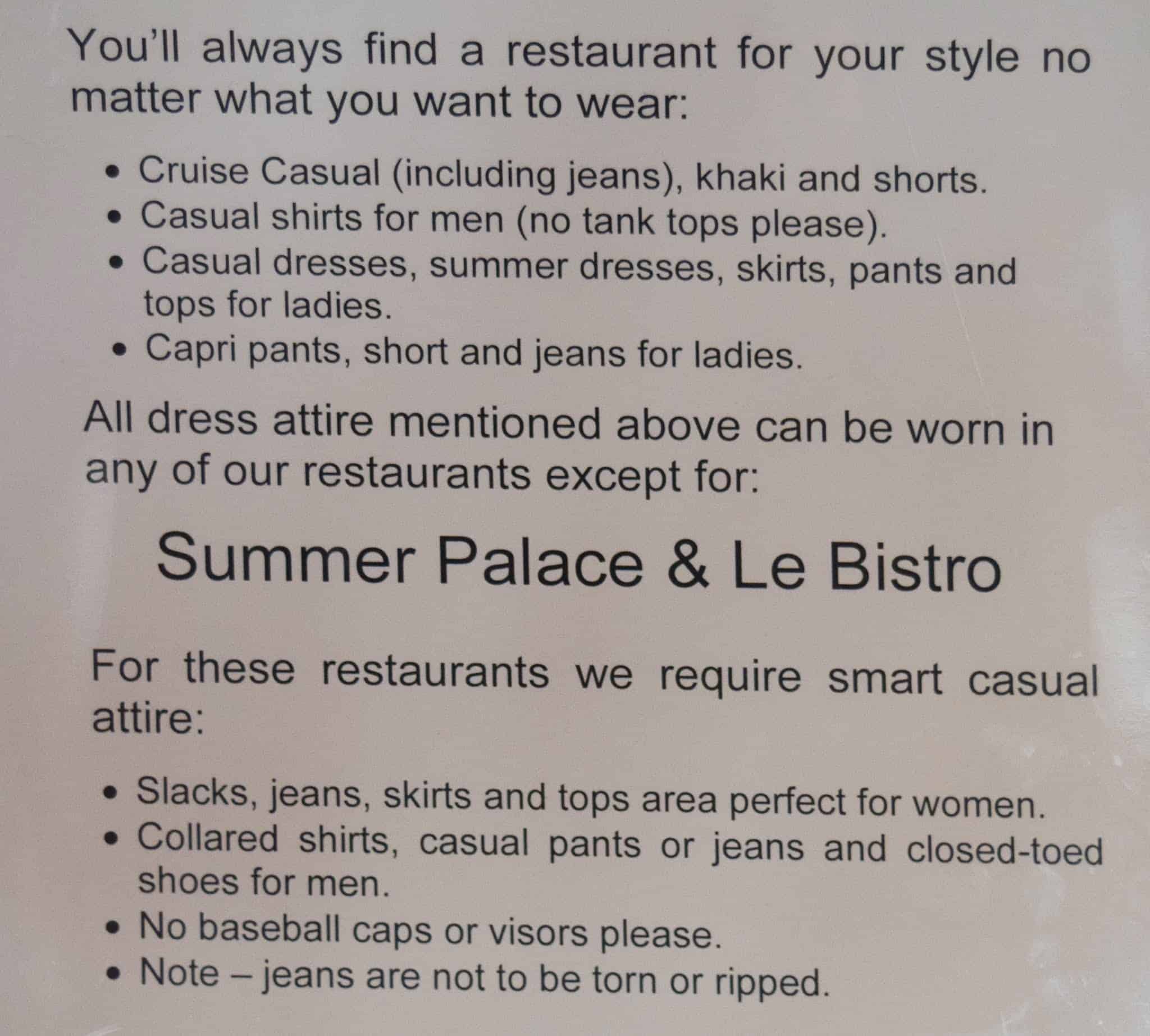 Men must have a shirt with a collar, cannot wear shorts or sandals, and jeans can be worn as long as they are not ripped. Women can pretty much wear anything that's not pajamas or a bathing suit and probably don't wear a t-shirt with anything screen printed on it.
Neither are permitted to wear hats or visors. They have a sign posted outside the restaurant(which leads me to believe that they enforce it).
After now having been to all of the specialty restaurants on the Jewel Class ships(Jewel, Jade, Gem & Pearl), it was my second favorite after Teppanyaki.  
Download the Menus
You can read more from our guest columnist Lauren Rodgers at, Lauren of All Trades.