Norwegian Cruise Line's next ship — the first of six — has officially been named. It will be known as Norwegian Prima, and be quite different from the rest of the fleet.
A Smaller Ship With a Varied Itinerary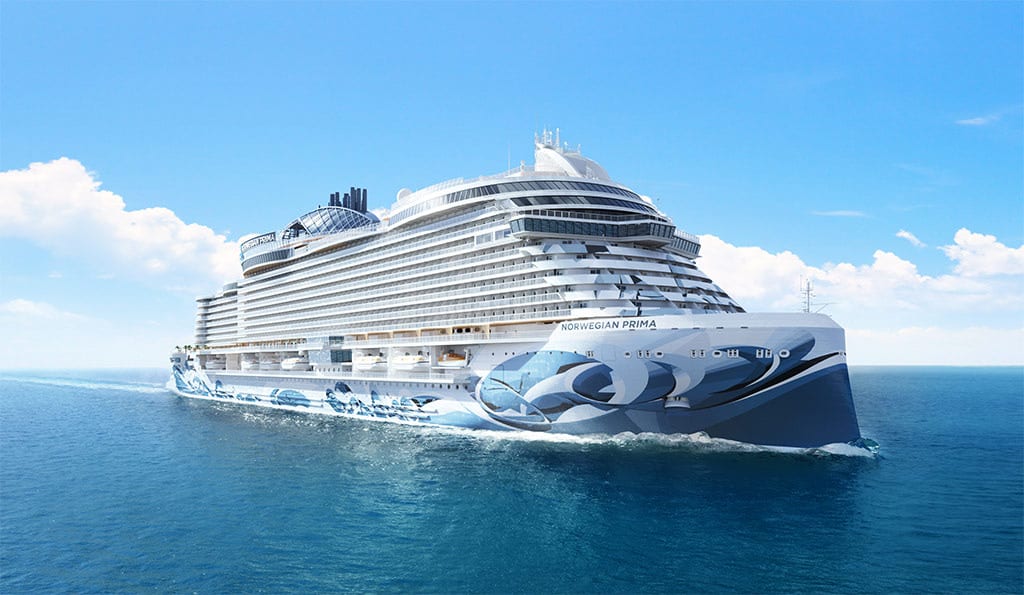 Norwegian Prima is expected to debut in the summer of 2022, with a new member of the Prima class being introduced each year through 2027.
First announced back in 2017 as Project Leonardo, Norwegian made no secret of the fact that it was downsizing this new class of ships when compared to the Breakaway and Breakaway-Plus class. As Norwegian Cruise Line Holdings CEO Frank Del Rio explained at the time, "Not all destinations in the world can handle 4,000-5,000 passenger ships effectively."
So while recent ships to join the Norwegian fleet held nearly 4,000 passengers (with an additional 1,500 crew members), Prima will carry a downsized 3,215 guests (at double-occupancy) and just under 1,400 crew members.
While Norwegian typically sends a ship to a specific port for her inaugural season, that will not be the case with Prima. Instead, while the ship will eventually be homeported in Port Canaveral as of December of 2022, she will first do sailings from a wide variety of ports including New York City, Galveston, Miami, and the United Kingdom.
While there was early speculation the new ship's ultimate homeport would be Miami, Norwegian Cruise Line president Harry Sommer told the Orlando Sentinel, "It's been a while since we got a new ship out [to Port Canaveral]. We think it's a market that we can expand, a very popular destination from all of the U.S."
In explaining the round-robin of ports the ship will be visiting, Sommer told the paper, "We are really proud. We're going to show her off as much as possible!"
READ NEXT: Norwegian Prima Dining, Itineraries, & Outdoor Spaces Revealed