Norwegian Cruise Line's ship Norwegian Jade sailed into her seasonal homeport of Tampa as an essentially new vessel this morning, following a three-week extensive dry dock.  The enhancements come just in time for her summer season; the brand's first every complete season sailing from Hamburg, Germany to the Norwegian Fjords, with embarkation also available in the United Kingdom.
Restaurant Redesigns & Additions
Guests aboard the ship will now be able to enjoy two new restaurants, as well as redesigned spaces in most of the ship's existing ones.
O'Sheehan's Bar & Grill – This 24-hour pub-style restaurant has been added to deck 8.  Serving up cold brews and snack time favorites in a relaxed atmosphere, the new venue includes modern flooring, refurbished bars, and new banquet seating.
The Pit Stop – this new concept for Norwegian Jade will serve up poolside fare in a 1950s-style American diner atmosphere with vintage license plates, gas station signage, and classic car elements.
Moderno Churrascaria received a new home on deck 13 and features a new glass door entrance, floor-to-ceiling windows, upgraded furniture, and more.
Cagney's Steakhouse – Now, even more guests can enjoy this popular specialty restaurant as additional seating has been added to the refurbished space.  There's also a new color scheme, upgraded flooring, and a new virtual fireplace.
La Cucina – Norwegian's signature Italian specialty venue received an elegant modernization with updated décor and furniture, flooring, a new decorative bar, and an impressive wine display wall.
Teppanyaki – The line's Japanese hibachi grill restaurant was enhanced with updated furnishings and fittings.
Jasmine Garden and Garden Café – these two complimentary favorites also received extensive enhancements including newly designed spaces with upgrades to furniture, flooring, and more.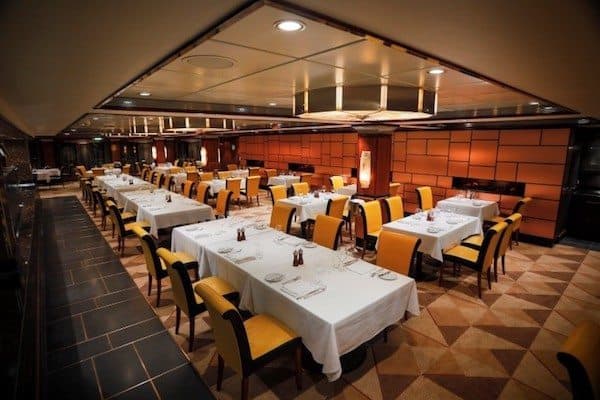 Other Ship Enhancements
Bliss Ultra Lounge – Located on deck 7, this new lounge has the feel of an upscale Miami nightclub and features a cool color palette.
Sugarcane Mojito Bar – This cocktail and mojito bar on deck 13 features new granite bar fronts, as well as new furnishings and finishes.
Spinnaker Lounge – This space received a complete redesign to include new flooring, window treatments, and chandeliers,  as well as reupholstered seating and refurbished bars with mosaic tiling and LED lighting.
The Atrium was enhanced with a refreshed look including a custom-designed marquee chandelier, as well as new modern finishes in calming grey tones, updated flooring, a new large TV screen, and relaxed banquette seating.
Photo Gallery – The photo gallery space has been upgraded with new digital monitors and larger photo display panels, along with sleek furniture and tile flooring.
Lido Deck – The ship's main pool deck was also refurbished, with the addition of new lighting fixtures, flooring, and tiling around the pool and hot tubs.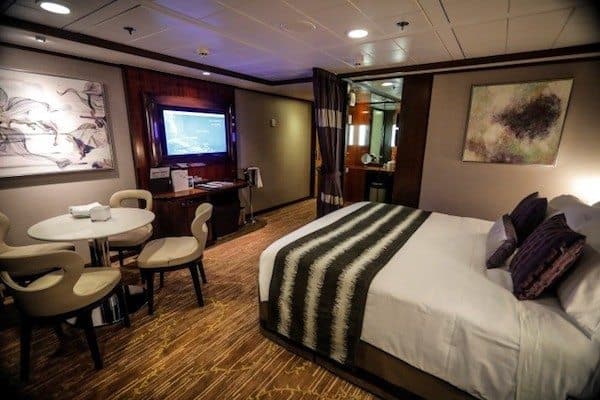 In addition, every stateroom on the ship was enhanced with new carpeting, furniture, flat screen TVs, USB outlets, and artwork.  Guests sailing in The Haven will enjoy a more modern atmosphere with new finishes, flooring, soft goods, and drapery.  The Haven's Courtyard has also been enhanced.  Other areas that were upgraded include the ship's fitness center, youth clubs, and stairways.
Ship Schedule
Jade is currently sailing the final part of her winter season, cruising from Tampa to the western Caribbean.  On April 30, she will head across the Atlantic to her summer homeports of Southampton and Hamburg, where she will sail the Norwegian Fjords as well as Norway & North Cape itineraries.
Photos: Norwegian Cruise Line