Norwegian Cruise Line's first custom-designed ship for the Chinese market was christened yesterday during an onboard ceremony in Shanghai.  Norwegian Joy's godfather, Wang Leehom, delivered an over-the-top performance during the lavish affair.
Holding 3,883 guests, the vessel features an innovative design, elegant finishes, and amenities tailored for Chinese guests.  Of course it also boasts the line's signature Freestyle cruising concept that offers travelers the flexibility to design their perfect cruising experience.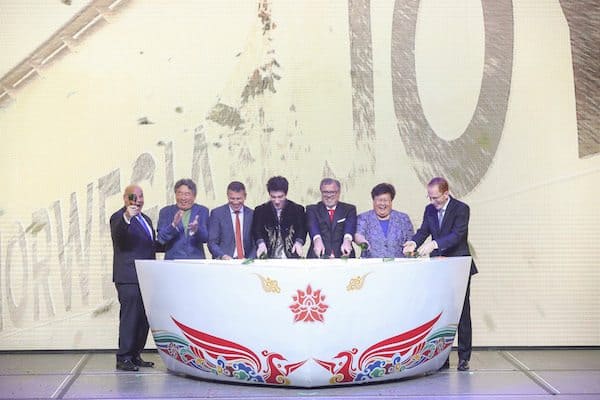 In homage to the ship's bright hull art, the ceremony began with a performance by renowned dancer and choreographer Yabin Wang, with her interpretation of the spirit of the phoenix through dance. Tan Ping, who designed the hull's art, also made a special guest appearance at the ceremony and chose the iconic phoenix bird because it represents beauty and good luck in Chinese culture.
The highlighting moment of the ceremony came when Leehom, Norwegian executives, and local Chinese government officials simultaneously smashed bottles of champagne against the side of a replica ship hull, signifying the maritime tradition of bringing good luck to all of her crew and passengers.  Leehom then ended the celebration with a performance that wowed both the Chinese and western guests.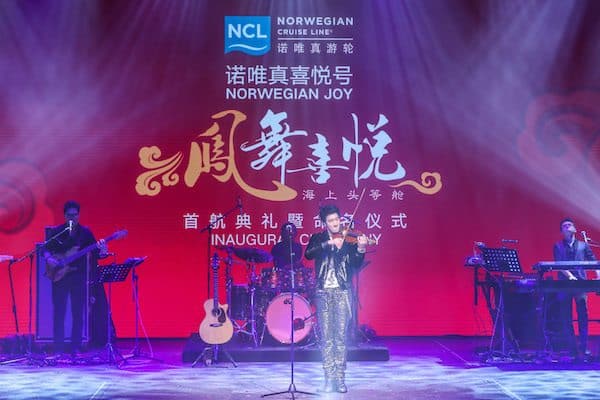 Norwegian Joy's christening marks the end of a month-long grand inaugural tour with events in Singapore, Qingdao, Shenzhen, and Hong Kong, as well as VIP partner cruises from Shanghai and Tianjin.
Photos: Norwegian Cruise Line