Norwegian Cruise Line had good news and bad for folks who enjoy sailing out of New York City. The good? The line's newest ship, Norwegian Bliss, will be sailing from midtown Manhattan's popular pier. The bad news? Her first voyage from the Big Apple won't take place until late 2019.
Norwegian Bliss Hits New York City
The big news came, not surprisingly, during the morning radio show of DJ Elvis Duran… who just happens to be the Godfather of the Norwegian Bliss! It was particularly exciting news for people who homeport out of New York City, who — unlike those who sail out of places such as Miami or Port Canaveral —  have a relatively limited number of options when it comes to ships.
Currently, Norwegian has both the midsize Gem and megaship Breakaway sailing regularly out of Manhattan. Later this year, the Breakaway will head to Europe, and her sister ship, the Norwegian Escape, will begin doing Bahamas and Bermuda sailings out of New York City. The Norwegian Gem will relocate to Boston in late spring of 2019, with the similarly-sized Norwegian Dawn slipping into her space at the Manhattan pier. It's unclear at this time exactly where the Norwegian Escape will go when Bliss arrives in late 2019.
News that Bliss will sail out of Manhattan was somewhat unexpected, although her very first sailing will be a 12-day transatlantic, leaving London on April 21 and arriving in the United States on May 3. From there, she'll sail to Miami to do a 15-day Panama Canal sailing which will end in Los Angeles. Then, finally, she will sail to Seattle to officially begin her inaugural season of Alaskan voyages. And in November of 2019, just in time for the holiday season, Bliss will finally make her grand entrance (or return, if you count her brief initial stop) to Manhattan.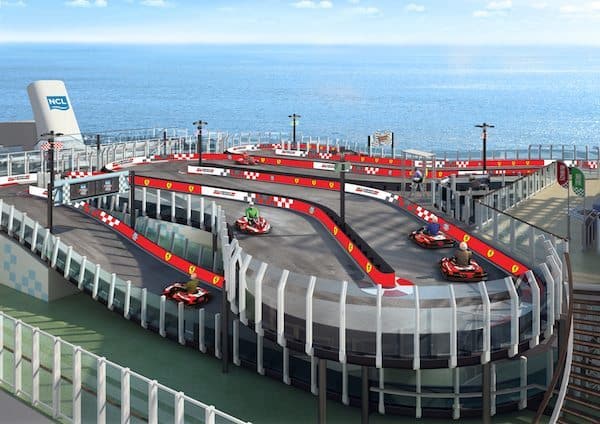 Welcome 2020 On NCL's Newest Ship!
Like the other Norwegian ships which have sailed out of Manhattan over the past few years, Bliss will do a series of 7-day runs to Florida and the Bahamas, as well as a 12-day Southern Caribbean route (on December 1, 2019), and two 14-day Western Caribbean trip (on January 5, 2020 and February 2, 2020). And since it's never too early to plan for big occasions, if you want to ring in 2020 aboard the Norwegian Bliss, she'll be departing on an 8-day Florida/Bahamas run on December 28).
The ship has created quite a bit of excitement ever since it was announced that she would, like the Norwegian Joy, have a race track on her top deck. Bliss will also feature an open-air laser tag court (themed to look like an abandoned space station), a venue devoted completely to desserts, and a new-to-Norwegian cocktail lounge known as the A-List Bar.
Have you sailed out of New York City? Will you book yourself onto Bliss when she arrives?