Oceania Cruises has announced the restaurants and dining experiences that will be available on its newest ship, Vista.
The vessel will offer a whopping total of 12 dining venues, which is a lot for a ship of its size. Of the 12, four are brand new to the line and exclusive to Vista.
"Vista will present a fresh perspective on the finest cuisine at sea with an astounding array of dining options that range from informal to the extravagant," said Bob Binder, President and CEO of Oceania Cruises. "A dramatic re-inspiration of every dining space from décor to table setting to menu offerings has resulted in a new pinnacle of diversity and creativity for our guests to enjoy."
Ember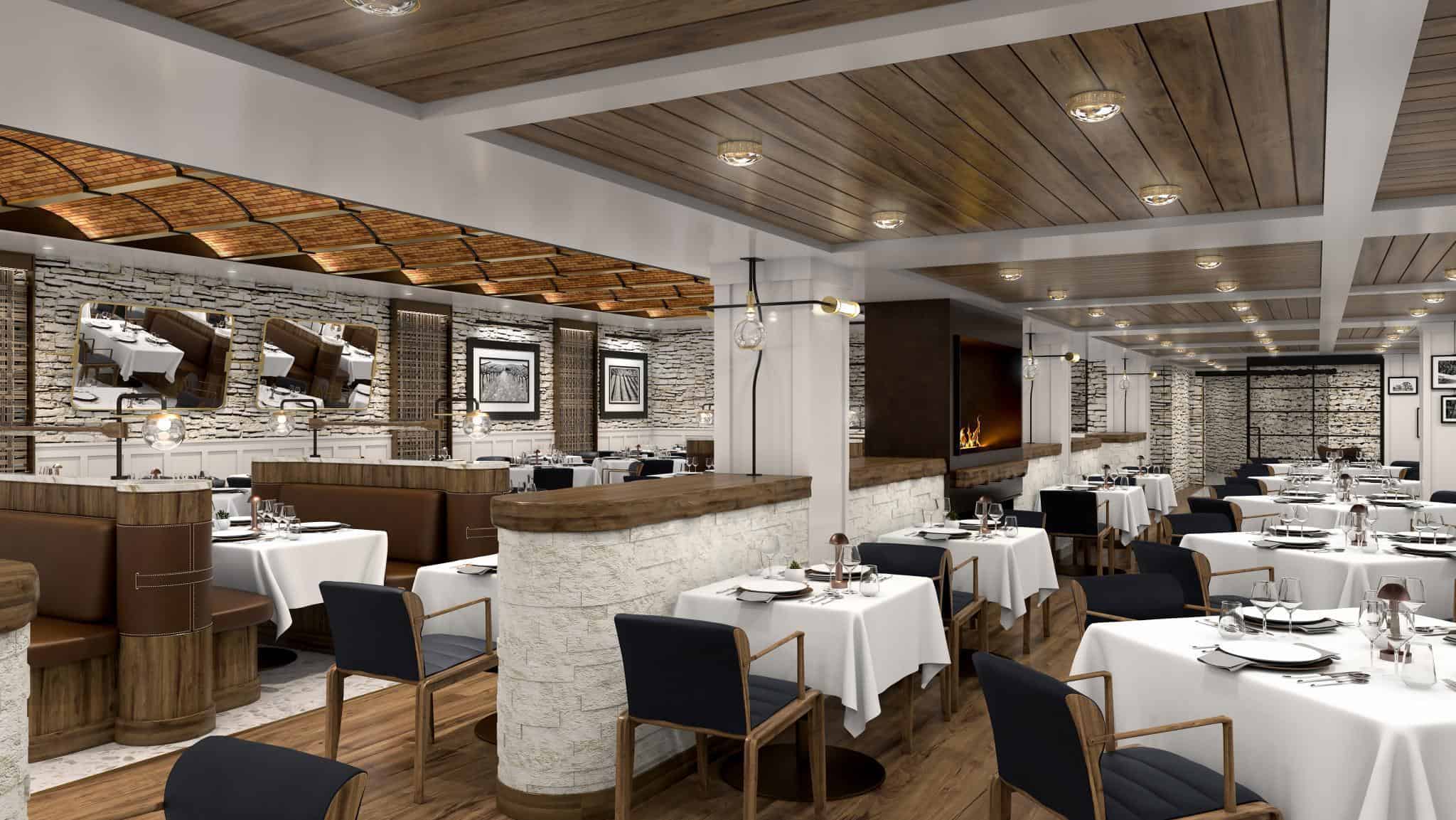 Ember is the signature addition to Oceania's range of restaurants. Open for lunch and dinner, Ember will feature a menu of inventive American creations blended with time-honoring classics.
The menu will include dishes like Braised Short Ribs on Polenta, Grilled Swordfish with Asparagus, Crab Cakes with Spicy Aioli, and a Cobb Salad with Smoked Chicken.
Aquamar Kitchen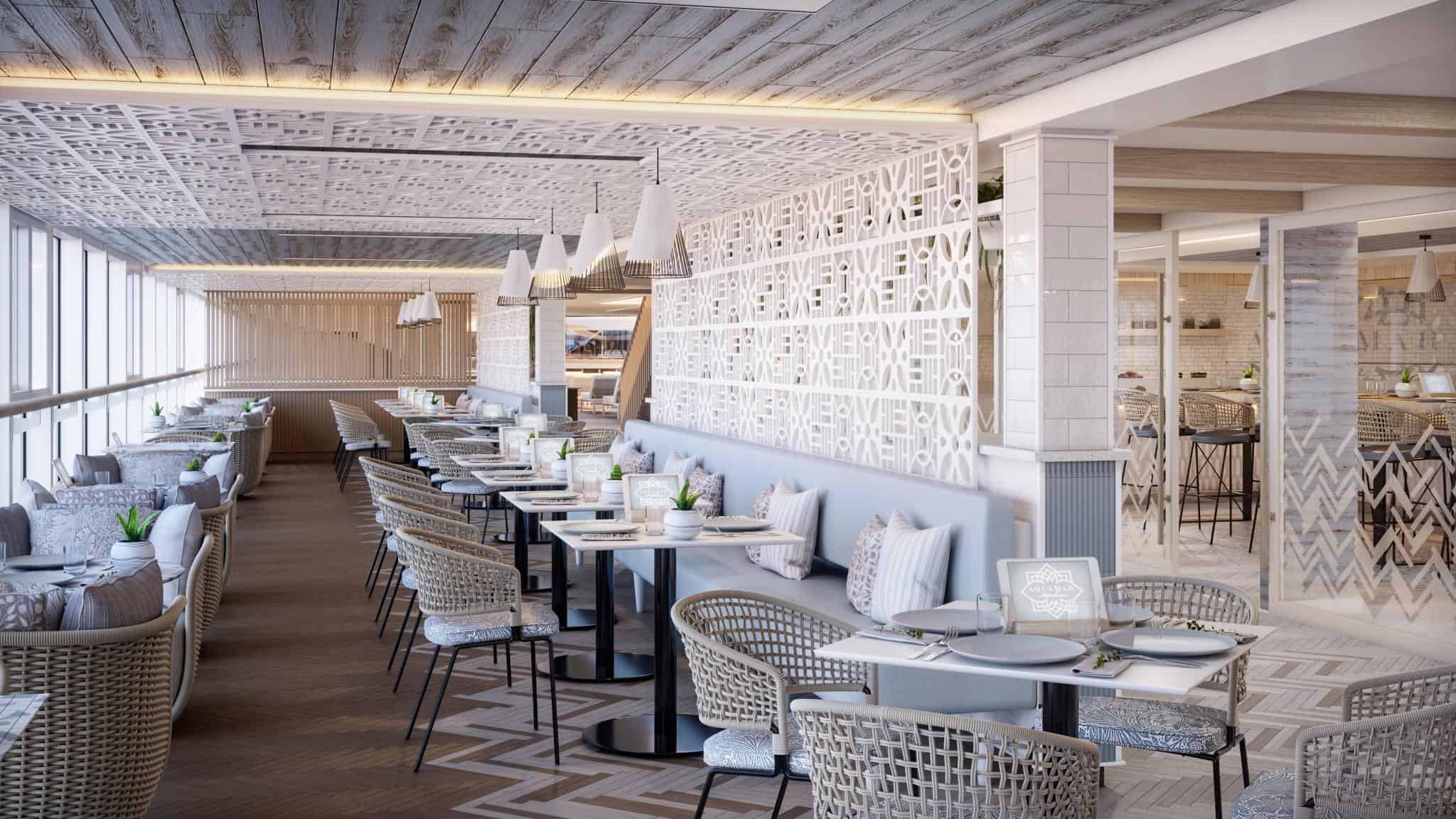 Aquamar Kitchen presents a fresh perspective on dining and the pursuit of wellness. Whether you're a die-hard foodie who eats just about anything or are dedicated to a particular culinary lifestyle, Aquamar Kitchen offers an abundance of choices with none of the guilt.
Breakfast includes cold-pressed raw juices and superfood smoothies, hearty homemade granolas, avocado toast, organic power bowls, and savory breakfast wraps.
For lunch, dozens of healthy dishes are offered such as Slow-Roasted Organic Salmon with quinoa tabouleh and lemon tahini, Yellowfin Tacos with white cabbage slaw, or even a Crunchy Chicken Sandwich on a freshly baked whole grain bun.
The Grand Dining Room
The Grand Dining Room is just what it sounds like — a grand dining room.
The signature dining experience has always offered a variety of continental dishes, and now a fresh new variety of options will also be available. Choices will include everything from signature Jacques Pépin classics to a spectrum of global flavors and an all-new Executive Chef's Tasting Menu. Menus at The Grand Dining Room will change daily.
Polo Grill
Polo Grill will be Vista's classic steakhouse, feature rich décor and an abundance of custom millwork paired with white linen tablecloths and black jacketed servers.
All beef dishes served at Polo Grill are 28-day dry aged certified Black Angus USDA Prime. Seafood classics such as swordfish and whole Maine lobster gratinée are also standouts on the menu.
Toscana
Toscana presents an evolution of Tuscan cuisine in an authentically Italian-inspired setting. Many of Oceania's Italian recipes originated with the mothers and grandmothers of its own Italian culinary staff.
Presented on elegant, custom Versace china, the masterfully-prepared dishes exemplify the essence of Tuscany. Choices include hand-rolled gnocchi with pesto, risotto with lobster medallions and shallots, and pan-seared sea bass filet finished with Sorrento lemon, chardonnay, and capers.
READ MORE: Oceania Cruises Reveals Details on Vista's Pool Deck & Bars [IMAGES]
Red Ginger
Red Ginger evokes the boldness and subtleties of the Pan-Asian dishes that Oceania chefs have created.
The Thai, Korean, Japanese, and Malaysian-rooted specialties are a combination of spicy and soothing, savory and sweet to please just about anyone. Dishes include spicy roast duck salad, beef penang with coconut rice and paratha roti, and Thai vegetable curry with sweet potatoes, aubergine, mushrooms, and basil in green curry sauce.
Terrace Café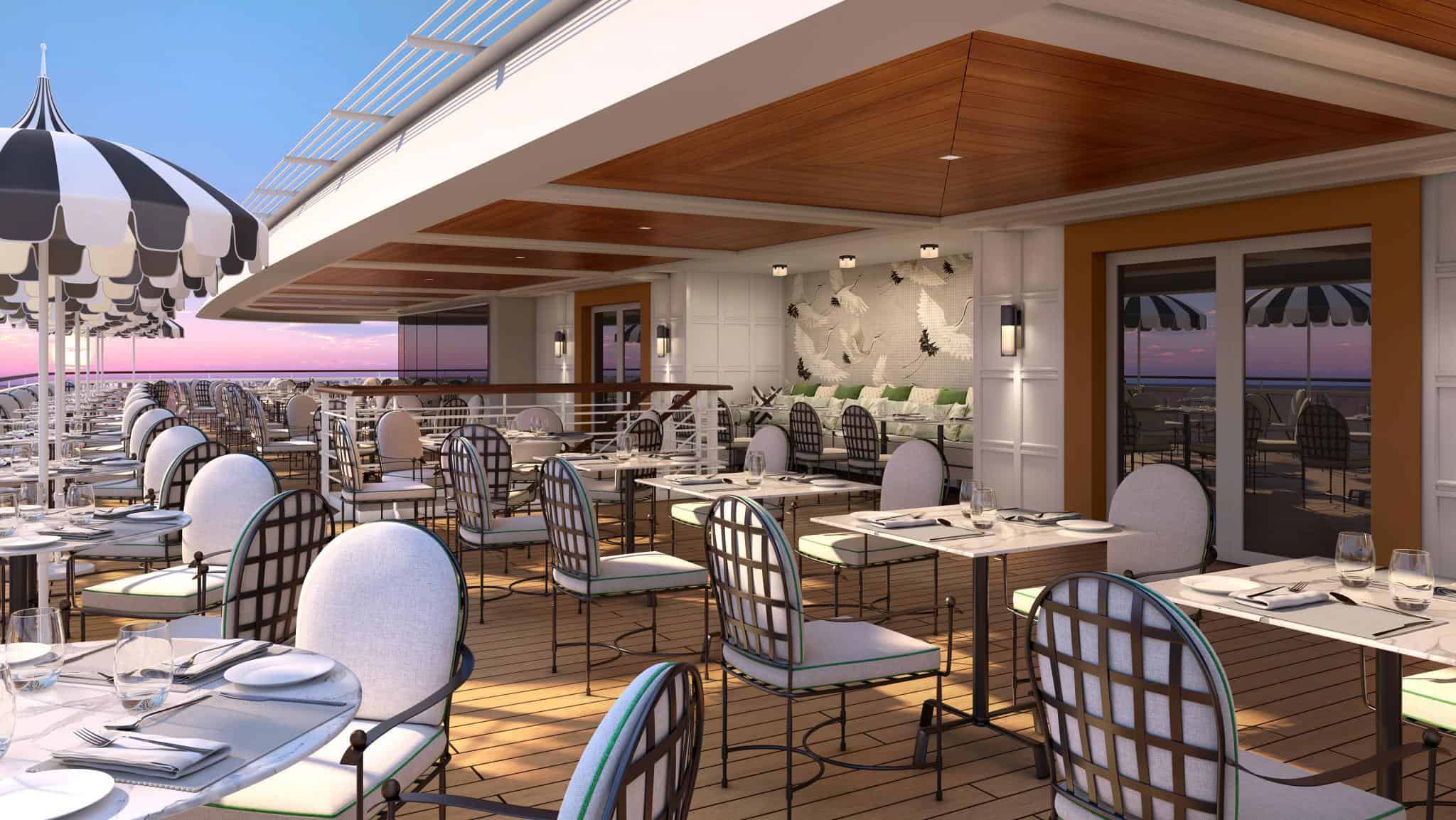 Terrace Café is the ship's informal buffet, offering seating both indoors and out.
Dishes change daily, and also include Oceania's hallmark Chef's Market Dinners featuring locally-inspired specialties from different ports of call along the itinerary.
Waves Grill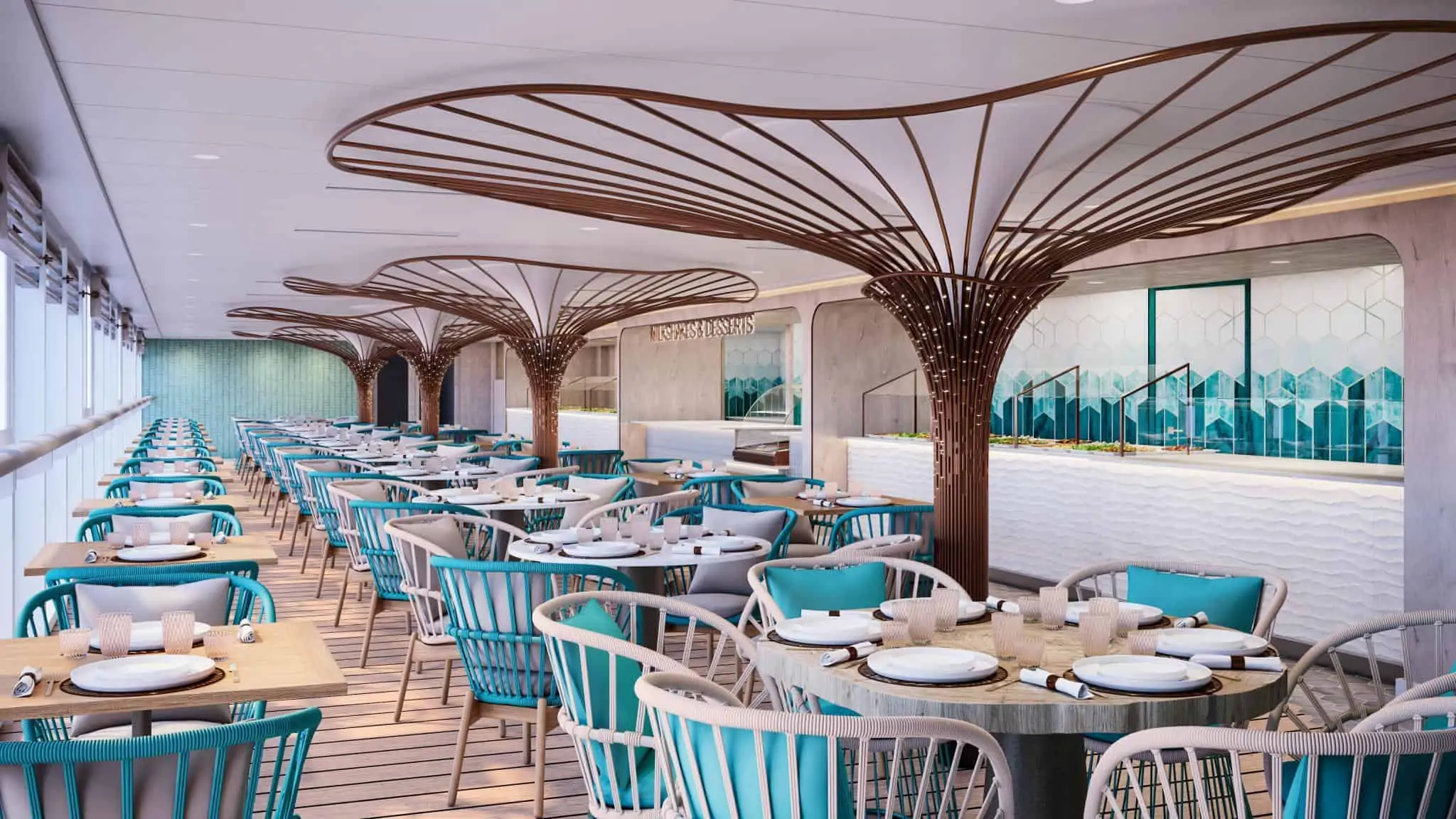 Waves Grill is a casual, colorful setting for enjoying all-American favorites. Located in a spacious, shaded area near the pool, the venue serves up things like gourmet burgers, fries, seafood, sandwiches, salads, and desserts in an open galley.
Waves Grill is open from lunchtime through late afternoon.
The Culinary Center
The Culinary Center is where passionate Chef Instructors share their perspectives on culture and cuisine through the lens of food and wine. Here, passengers can partake in hands-on instruction and then enjoy their creations in the new oceanview Culinary Center Dining Room.
Also offered in the Culinary Center Dining Room are food and wine pairing experiences.
Priveé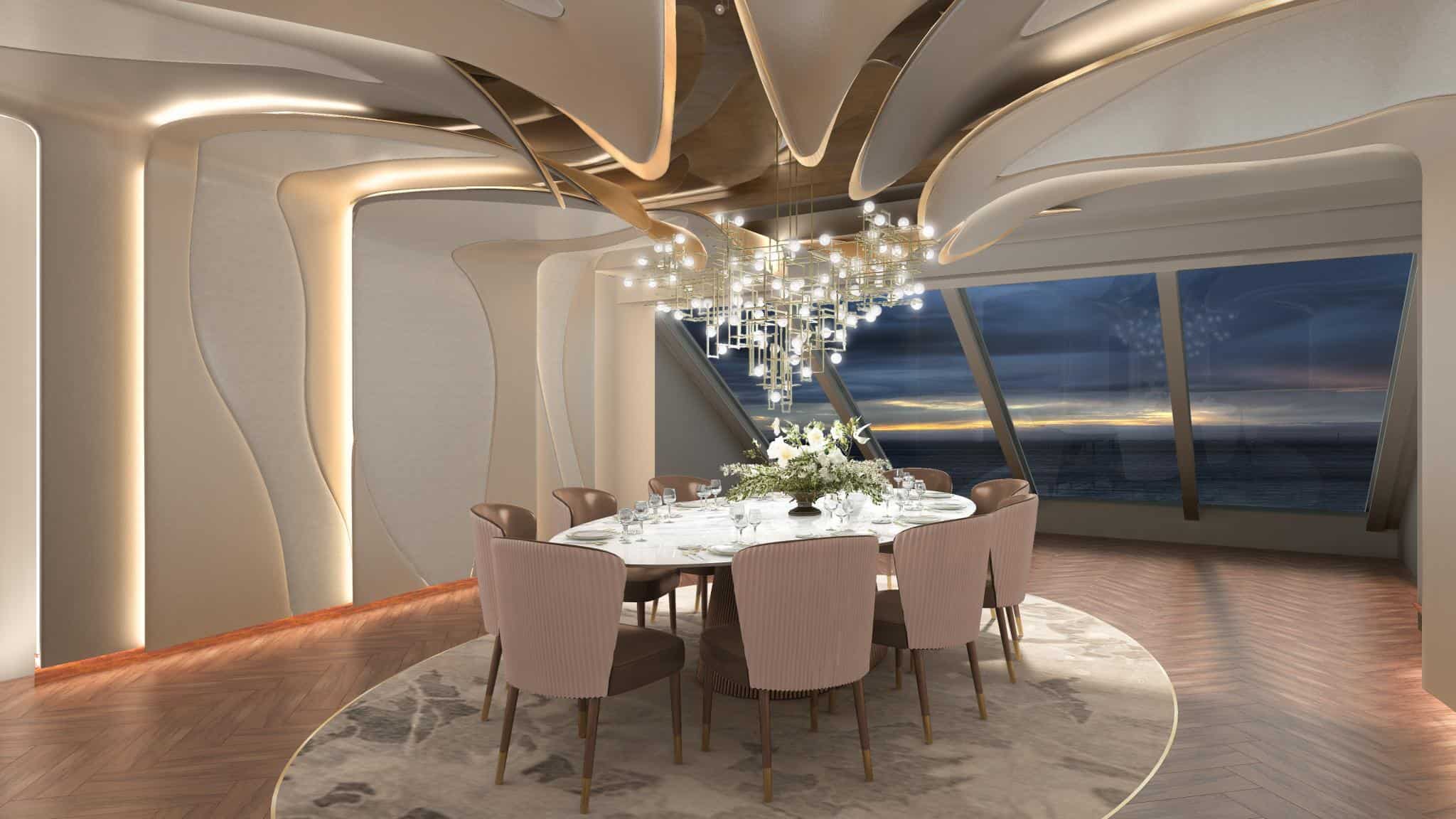 Priveé is Oceania Cruises' marquee venue for intimate culinary celebrations for a maximum of 10 guests.
Backlit, debossed walls and a blooming flower petal ceiling from which a chandelier hangs over the marble slab dining table set the stage for an elegant and memorable evening. A wall of floor-to-ceiling windows provides a beautiful sea view to complement the private dinner experience.
Baristas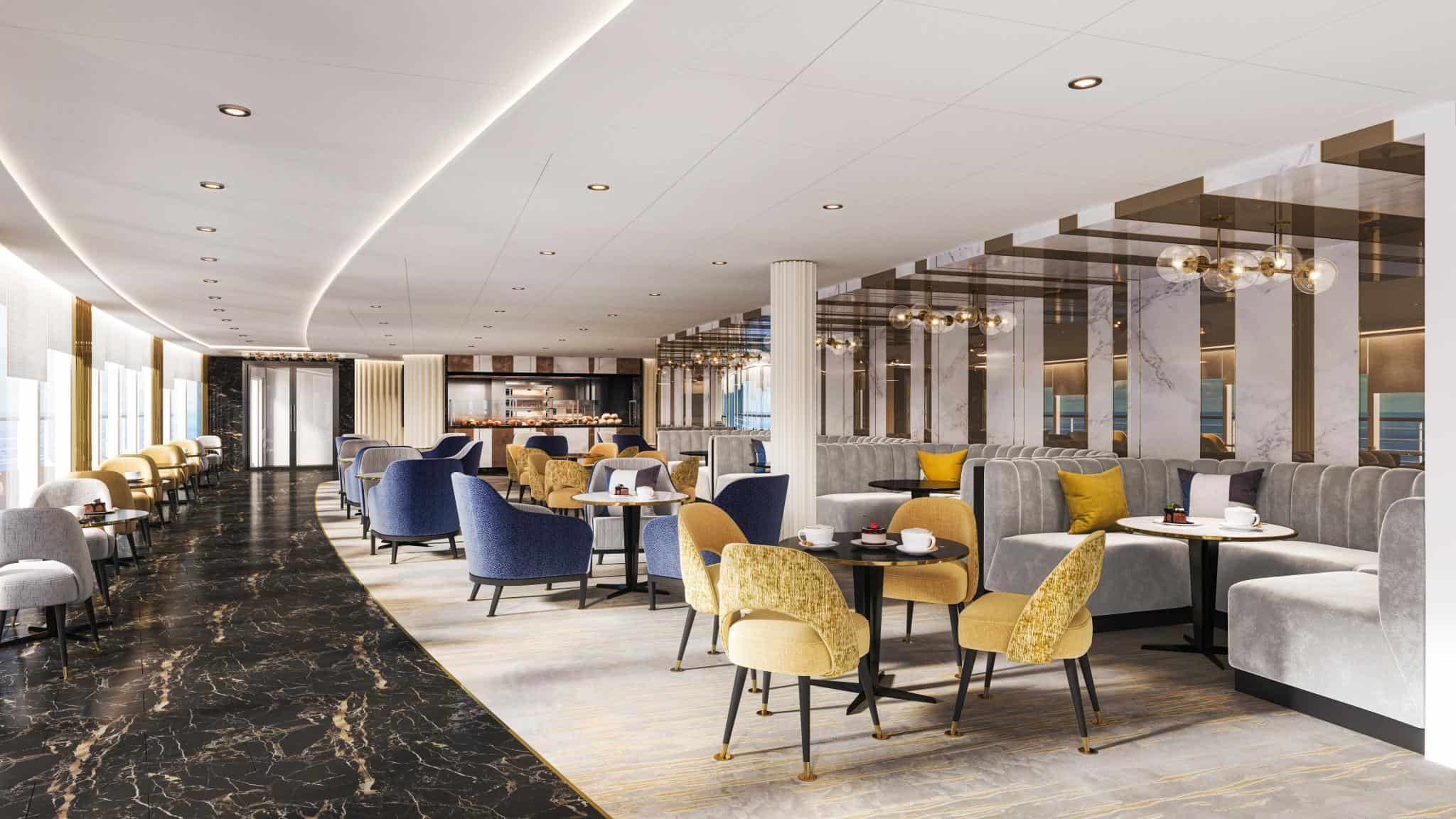 Baristas offers stunning 270 degree ocean views for passengers while they sip on illy espressos, cappuccinos, and lattes. Pastries, finger sandwiches, and homemade biscotti are also available at the chic café.
Bakery
Steps away from Baristas is the new Bakery, featuring freshly baked French and Italian pastries such as chocolate-almond croissants and sweet bombolini. The Library is also nearby, a perfect spot to visit with coffee and a pastry.
Oceania's Vista is set to debut in early 2023. The ship's inaugural season opens for viewing on September 9, 2021, and will open for booking on September 15, 2021.
READ NEXT: Hurtigruten Announces New Africa Expedition Cruises For 2022-23