By Simon Duvall
UPDATE (9:10 pm ET): Royal Caribbean has cancelled the 5/31 Greandeur of the Seas sailing to Bermuda due to this morning's fire. Passengers on the sailing will receive a full refund and a 50% future cruise certificate. Passengers who booked air transportation through Royal Caribbean International will receive a full refund for air costs.  Those with independent air transportation will be reimbursed for their airline change fees. Passengers on this sailing should call a dedicated hotline – 888-824-0012 (1-409-916-9000 internationally) for more information.
UPDATE (4:40 pm ET): Royal Caribbean has cancelled the remainder of Grandeur of the Seas' current sailing and is making arrangements to fly passengers back to Baltimore, Maryland tomorrow. All passengers will receive a full refund of the cruise fare and a future cruise certificate. A decision about future sailings of the ship has not been made as of this time.
Original Story Below:
An overnight fire aboard Royal Caribbean's Grandeur of the Seas sent passengers to muster stations and caused damage to the ship. No passengers or crew were seriously injured.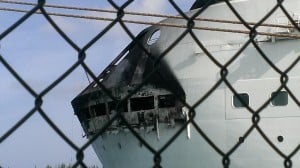 The fire broke out at about 2:50 am in the Deck 3 aft mooring area as the ship was enroute from Port Canaveral to Coco Cay, Bahamas for day 3 of a 7 night cruise that departed from Baltimore, Maryland on Friday.
Captain Espen Beem ordered passengers to their muster stations as a precaution, and passenger reports indicate that lifeboats were lowered and ready for boarding as a precaution.
The fire was extinguished at 4:58 am and the ship was diverted to Freeport, Bahmas, just 38 nautical miles away, where it will stay overnight for evaluation. Passengers are free to come and go from the ship as they please in Freeport. Royal Caribbean has indicated that passengers in a number of "affected staterooms" will be put up in hotels in Freeport.
Critical ship functions — power, propulsion and communications systems — were not interrupted during the fire or in the aftermath. Two passengers fainted during the mustering procedure and received medical attention. No serious injuries were reported among the 2,224 guests or 796 crew.
Royal Caribbean International CEO Adam Goldstein, Vice President of Operations Lisa Lutoff-Perio and other RCI executives arrived in Freeport shortly after Noon today and immediately met with passengers and toured the damaged areas of the ship. Additionally, a guest support team was dispatched to assist the shipboard crew.
At this time (2:45 pm ET) no further information is available regarding the status of the current or future sailings of the ship, though announcements are expected at anytime as soon as the damage is assessed.
We'll update this story as additional developments warrant.
Simon Duvall is a luxury cruise expert and co-host of #CruiseChat on Twitter. Join the cruise discussion every Tuesday at 2 pm ET. Visit CruiseChatLive.com for more information.