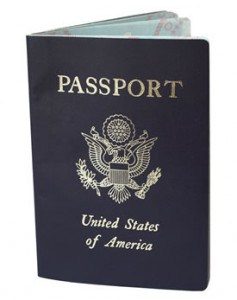 U.S. citizens on closed-loop cruises (cruises that begin and end at the same port in the U.S.) will be able to enter or depart the country with proof of citizenship, such as a government-issued birth certificate and laminated government issued picture ID, denoting photo, name and date of birth. A U.S. citizen under the age of 16 will be able to present either an original, notarized or certified copy of his or her birth certificate, a Consular Report of Birth Abroad issues by DOS, or Certificate of Naturalization issued by U.S. Citizenship and Immigration Services.
Note: Baptismal papers and hospital certificates of birth are not acceptable. Voter registration cards or Social Security cards are not considered proof of citizenship.
International Travel
A valid passport is required; visas are required where they apply. This includes Europe, Asia, Central and South America.
Effective June 1, 2009 only a valid passport (unless otherwise noted below) or other WHTI compliant document will be accepted for entry or re-entry into the United States. For a list of all approved documents visit the state department website.
Always check with your cruise line before sailing to confirm documentation.
Passport Talk With Chris Owen
The cost of your U.S. passport will depend on the type of passport you request and how quickly you need it. Check here for current passport rates and estimated fees.
Passport Services recommends that those with family living or traveling abroad, thinking about a vacation abroad, or those with a job that could require international travel maintain valid U.S. passports.
U.S. Citizen cruise travelers sailing on itineraries that begin and end in the United States can get away with not having a passport. This is not always a good idea though and those people could end up kicking themselves for not going ahead and getting a passport.
Yes, you can board the ship, get off at the ports and get off the ship upon return to the United States with an original birth certificate and photo ID. But if you should have to fly back in to the country for some reason, you would be in trouble.
Read more of this article from Chris .