Two cruisers aboard Holland America Line's ms Eurodam were the guests of honor at an impromptu party this Saturday at the Port of Seattle. The port was celebrating its one-millionth passenger to pass through Seattle's cruise terminal during the 2017 season.
This is the first year that the Port of Seattle reached this milestone. The port's commissioner John Creighton and Holland America's CEO Orlando Ashford greeted the couple, and presented them with a gift basket stuffed with goodies to mark the day.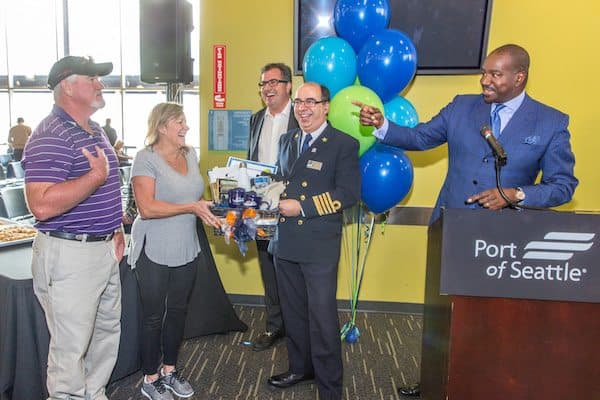 "Congratulations to our millionth cruise passenger this season.  Passengers like Ted and Linda from Alexandria, Louisiana and points all across our country come here for a unique Pacific Northwest/Alaska experience that drives half a billion dollars in annual business revenue," said Port of Seattle Commissioner John Creighton.
Seattle's cruise business is currently leading all cruise homeports on the US west coast in passenger volume, and is responsible for over $500 million in annual business revenue. It's also provided over 4,000 jobs and $18.9 million in state and local taxes.
SaveSave