Just over 40 years ago, a new TV show about romance, shenanigans, and adventure set on a cruise ship premiered. Today, "The Love Boat" continues to be a beloved part of the culture of television, and the ensemble cast along with Princess Cruises will be honored by the Hollywood Chamber of Commerce.
The Hollywood Chamber of Commerce is the superintendent of the Hollywood Walk of Fame, and will honor Princess and the show's original cast during a ceremony on Thursday, May 10, 2018 in front of the Dolby Theatre on Hollywood Boulevard.
"What an unexpected thrill for our cast to be honored with Princess Cruises on Hollywood Boulevard," said Gavin MacLeod, aka Captain Merrill Stubing and 30-year brand ambassador for Princess Cruises. "'The Love Boat' offered us many opportunities to see the world, create lifelong friendships and of course introduce the joys of cruising. People still approach me and say that the show gave them something to dream about – falling in love, finding happiness all while sparking the desire to travel. Now more than 40 years later, cruising is a vacation option for everyone and the growth of the industry just proves that dreams really do come true," he added.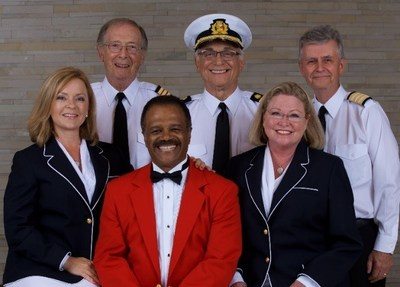 Some Love Boat History
In the mid-70s, television producer Douglas S. Cramer decided to transplant his popular comedy vignette series, "Love, American Style," from its studio setting to a modern cruise ship. The result was "The Love Boat," which has been credited with introducing millions of viewers to the concept of a contemporary cruise vacation and boosting the industry's growth.
After the 1977 pilot, which was shot aboard the original Sun Princess in Mexico, Cramer teamed up with top producer Aaron Spelling, and "The Love Boat" went on to enjoy massive success, continuing for 10 seasons as one of the highest-rated television shows in the country. Princess Cruises became a household name as the primary setting of the show, and continues to be known as the "Love Boat" line. Pacific Princess and Island Princess were the two original ships, but as the show grew, episodes were filmed aboard many different Princess vessels around the world.