Princess Cruises is hosting their fifth annual Entertainer of the Year competition, and they'll soon crown the top guest entertainer for 2015.  Four finalists have been chosen from the large number of onboard performers, including comedians, vocalists, magicians, and other acts.  They will compete for the title during Princess' upcoming Entertainer of the Year cruise.
The cruise will sail on March 6 aboard the Caribbean Princess to the western Caribbean, and guests will be able to vote for their favorite performer in the running for the title.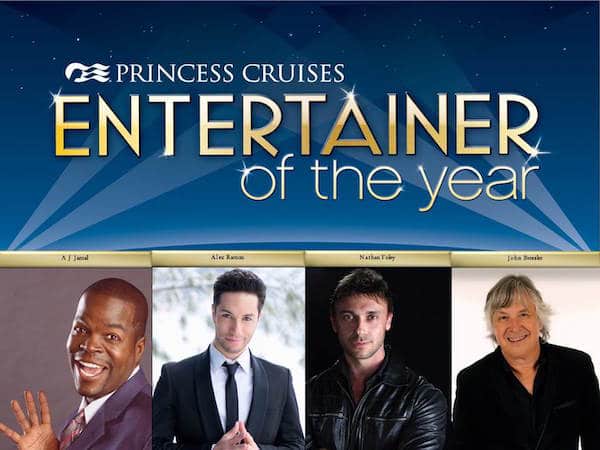 The four nominees are:
A.J. Jamal – the self-proclaimed "King of Clean" comedian is known for appearances on Jay Leno, HBO's Comic Relief, Showtime at the Apollo, and Comic Justice.  The performer is full of energy, sharp wit, and a clean style.
Alex Ramon – The recipient of the Christopher Illusionist Award, magician Alex Ramon is one of only twenty to receive that recognition.  He's been in the Ringling Bros. and Barnum & Bailey Circus and has toured the world with Disney Live.  He also created a piece of magic for Taylor Swift, which was featured at the AMAs.
Nathan Foley – Hailing from Sydney, Australia, this triple threat sings, dances, and is a musician.  He's had 23 years of stage and TV experience and has received several awards, including three Logies (Emmy equivalent), five Arias (AMA equivalent), and a Helpmann Award (Tony equivalent).  As a soloist, he has also won other awards, including Best Young Entertainer and Best Young Artist of the Year.
John Bressler – This multi-talented piano player and keyboardist is known for his exuberant stage presence.  His performances feature a culmination of passion, talent, wit, and likability, making his show a unique must-see.
The finalists have been chosen by the Princess Cruises entertainment department based on guest surveys and audience responses during their cruise.  The winner will be announced the final evening of the special cruise and receive a $5,000 cash prize.
The Entertainer of the Year voyage departs from Houston on March 6 and visits Key West, Freeport, Bahamas, and Princess Cays.  It is a seven-day cruise and fare starts at $689 per guest.  For more information, visit princess.com.