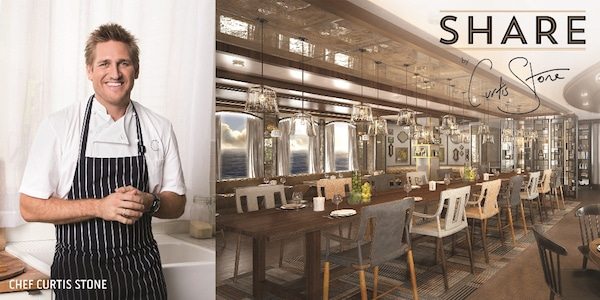 Princess Cruises has created a new video series with award-winning chef and partner Curtis Stone.  The video series will go in depth with Chef Stone as he shares his vision behind SHARE, the recently announced specialty restaurant debuting aboard Ruby and Emerald Princess next month.  He will also share his inspiration behind the culinary experience, plus a few surprises.
The eight-part series will be rolling out over the next two months, and highlight Chef Stone's favorite ingredient, a special recipe, his personal culinary journey, and his love of travel.
Princess' partnership with Chef Stone is the perfect pairing because of the shared belief that when good food brings people closer together, guests can experience the world in a new way, and create happiness and memories; much like travel.
The SHARE cruise dining experience, designed by Chef Stone, will feature dishes such as a Charcuterie starter course, composed salads, handmade pastas, premium quality meats, an array of decadent desserts, and more.
Following the debut of SHARE aboard Ruby Princess and Emerald Princess, it will debut aboard Sun Princess, which will bring Chef Stone's restaurant to his home country, Australia.
To watch Chef Curtis Stone's video series, visit princess.com/curtisstoneshares.
For more information on Princess' partnership with Chef Stone, visit princess.com/curtis-stone.