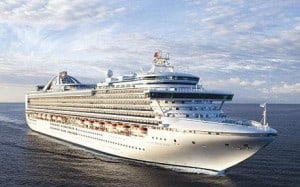 Princess Cruises is returning the Crown Princess back to Port Everglades a couple days early because of an outbreak of Norovirus.
The company released the following statement:
"The increased incidence of gastrointestinal illness that occurred during the previous cruise of Crown Princess has reappeared on the current voyage which departed Saturday, February 4, despite rigorous sanitization measures.
In consultation with the US Centers for Disease Control (CDC), who has informed us that there are widespread outbreaks of Norovirus occurring in the US, it was agreed that the best course of action to stop the spread of the illness is for the ship to undergo a two-day extensive sanitization. To accomplish this, Crown Princess is now returning to Fort Lauderdale where the cruise will end on Thursday, Feb. 9. The ship was scheduled to return on Saturday, Feb. 11.
We sincerely regret having to cut short our passengers' cruise vacations because of this highly-unusual situation. We will, of course, be refunding their cruise fare, arranging flights home, including covering change fees if air was not booked through Princess, providing hotel accommodation if necessary, and offering a 25% future cruise credit."
On the current sailing 198 passengers (6.43% out of 3,078) and 62 crew (5.26% of 1,178) have reported gastrointestinal illness. On the previous cruise, 364 passengers (11.73% of 3,103) and 30 crew (2.57% of 1,168) were affected.
Source: Princess Cruises
Subscribe to our Cruise News Updates.